Chamber AM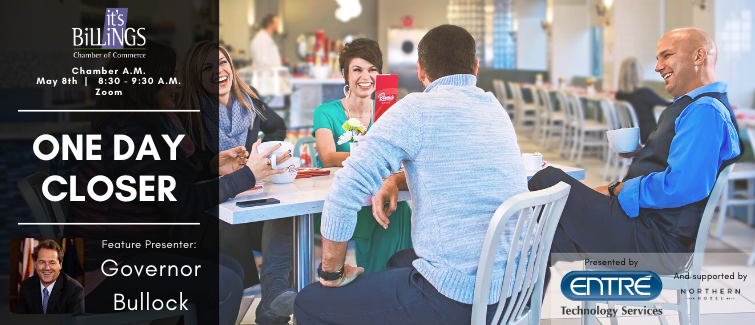 Join us for the third in a new series of events offered by the Billings Chamber of Commerce: Chamber A.M.
This quarterly event focuses on the Chamber's strategic priorities and allows you, our members, to learn more about these important topics.
Join the Billings Chamber of Commerce on Friday, May 8th at 8:30AM for our first Chamber A.M. via Zoom. There is no cost to join us for this important event.
We'll discuss the Yellowstone County business restart strategy, including ways you can be part of the solutions and action. Governor Bullock will join the discussion, we'll talk about the Open and Safe campaign and other ways the business community is working together to rally, and spotlight how the state of Montana is moving forward. And, we promise some fun along the way, with giveaways and more. Click here to register, then, check out our list of businesses open for coffee and breakfast! On Friday May 8th, we encourage you to get breakfast for you and your team from one of these businesses, then log on to our Zoom Chamber A.M. for one hour of business focused energy.
Thank you to Entre Technology Services for sponsoring our Chamber A.M. series, and to the Northern Hotel who, in normal circumstances, would be hosting this event."
Chamber AM is sponsored by: