Billings Shop Local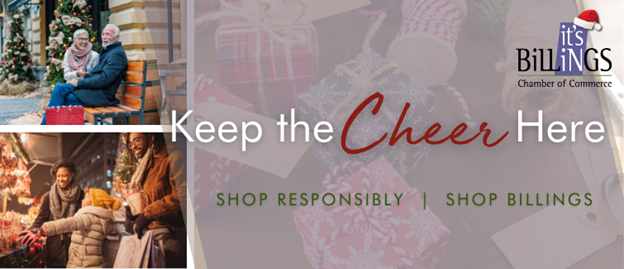 The Keep the Cheer Here campaign is a five week shop local campaign running from November 16th – December 21st and focuses on shopping responsibly and shopping Billings.
We understand that our small businesses need us now more than ever. Our goal is to remind the Billings community to support their friends and neighbors and help keep our economy and community healthy.
HERE IS HOW YOU PLAY!
Pickup up a game board at participating businesses, or by CLICKING HERE.
Visit any of the participating businesses listed on this page, and have them initial your game board.
Visit any ten businesses and receive one entry for the weekly prize basket. Participants can submit weekly.
Get a Bingo and receive two entries to win a weekly prize basket! A Bingo consists of collecting all businesses in a row vertically, horizontally, or diagonally. Participants can submit weekly.
Take a picture of your game board and email it to info@billingschamber.com to be entered to win the grand prize each week.
Shopping online or in-store? Share how you shop responsibly this holiday season to also be entered to win a prize. Use the hashtags: #BillingsChamber #BillingsShopsLocal #MontanaAware #ShopResponsibly #VisitBillings
Contest Rules and Regulations:
The Billings Chamber of Commerce/Convention and Visitors Bureau and all associated entities are not liable for any incidents, accidents or mishaps associated with this giveaway. Information collected will be the sole property of the Billings Chamber of Commerce/CVB and will not be sold or distributed. The Billings Chamber of Commerce/CVB reserves the right to collect information for promotional purposes. Entrants must be 21 years of age or older. Eligible participants must submit a valid, completed game card containing official verification of visit to create a bingo (vertical, horizontal, or diagonal). No purchase necessary. Giveaway consists of prize baskets each containing merchandise and/or gift certificates from participating Small Business Saturday businesses. Value and content of baskets are subject to change without notice. Winners will be drawn and prizes awarded weekly. Winners will be notified via email or phone. Winners will also be announced via the Chamber Facebook Page.
Here is the list of our participating businesses:
Bar MT
Billings Seafood Guys
Yesteryears Antique Mall
Sanctuary
The Joy of Living West End
The Joy of Living Downtown
Black Dog Coffee
Seafood of the World
Montana Brewing Company
Hooligan's Sports Bar
Pita Pit- Westend
Pita Pit- Downtown
Zest Billings
Granite Health & Fitness
Hallmark
The Grand Escape Room
Vande' Studios 
Aspinwall Mountain Wear
Jiffy Lube- Henesta
Jiffy Lube- Shiloh Crossing
Jiffy Lube- Heights
Redneck Pizza
Total Nutrition
Canna of Eden
Walkers Tapas Bar & Grill
The Red Door Lounge
MARS of Billings
Simply Local Marketplace
Real Deals
Uberbrew
By All Means
MacKenzie River Pizza- Westend
MacKenzie River Pizza- Heights
Bull Mountain Grill
Alberta Bair Theater
SOMETHINGchic
Stonefly Studio
The Annex
The Fieldhouse
Rae Rae's Gluten Free Bakery
Mosaic Threads
Northern Boutique
Auto Trim Design
Swanky Roots
Hail Team 6
Travel Café
Residence Inn
Ranch House Meat Co & Sausage Co
Parlour 406
ZooMontana
Rock Creek Roasters
Downtown Billings
Thirsty Street Brewing
Yellowstone Cellars & Winery
Red Wing Shoes
DoubleTree by Hilton
Sagebrush Trading Post
The Ohana Poke Company
Freefall Brewery
Candy Town USA
Together, we will strengthen our community by continuing to support the Shop Small Business Saturday® initiative on November 28th, 2020.
What is the Small Business Saturday Movement?
Small Business Saturday was started in 2010 by American Express in hopes of building a day dedicated to shopping small businesses and offers a fun way to celebrate the holiday shopping season. For the past several years the Chamber added a fun spin to the shopping day through the Shop Small game board, allowing us the opportunity to promote our small business members and help drive sales by engaging our community. In fact, Small Business Saturday 2016 reported $15.4 billion in sales for independent retailers and restaurants on that day alone.

American Express encourages area Chambers of Commerce to champion their city's Small Business Saturday so they can link together small businesses across the city, help coordinate media and marketing, and ultimately champion the drive for consumers to get out and shop small businesses. And, now we need you to rally with us! Explore the questions and answers below to learn more about the program.
Q: When is Small Business Saturday?
A: Small Business Saturday is November 28th and marketing for this campaign will be promoted throughout the month of November.
Q: What is the Small Business Saturday Game and how do I play?

A: The Small Business Saturday Game is a way for you, the consumer, to get out, shop with small businesses, and enter to win gift cards from the participating merchants! The game actually lasts all weekend – meaning you don't have to cram all your shopping into Saturday. Start on Saturday, November 28th-30th. At each stop, have an employee mark your board. Once you've visited ten participating merchants, leave your game board there. We'll pick them up on December 1st and draw winners by December 4th!

Q: Can anyone participate in the game?

A: No. Participants must be 21 years of age or older. Complete Rules and Regulations available here.

Q: Do I need to purchase something at each of the ten merchants?

A: No. No purchase is necessary.  Complete Rules and Regulations available here. 
A little more on the subject of small business:
The Billings Chamber is based on small businesses; in fact, 88% of our membership base is comprised of small businesses. The Billings Chamber supports all businesses through a combination of advocacy, facilitated business connections, and opportunities for growth. In particular, our advocacy efforts aim to be a voice for small businesses in general, speaking out in favor of the legislation, policies, and movements that are pro-business, and advocating against those that will do harm to small businesses. Small Business Saturday and our Shop Billings movement are a perfect example of these efforts. Before going online this holiday season, support your friends and neighbors. Shop Billings!