By Brian Brown, First Interstate Bank, Billings Chamber of Commerce Board Chair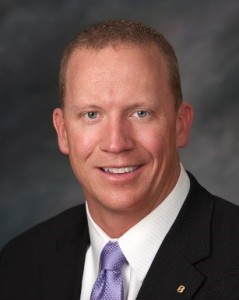 With the start of a new fiscal year, the Billings Chamber of Commerce is re-shaping priorities, identifying and actively pursuing new goals and continuing the transformational work the organization is known for. Our team of professionals both at the board and staff level continue to deliver exceptional work that moves the needle for our community and our personal lives.
I am a Montana native. I grew up in Columbus, MT and graduated from the University of Wyoming. I currently serve as the Billings Market President for First Interstate Bank, where I have worked for my entire banking career of 20 years. I am proud to be a part of two great organizations, First Interstate Bank and the Billings Chamber of Commerce, that are community oriented and looking to help Billings and our surrounding community be the best that it can be now and going forward.
The goals we set as an organization can't be achieved overnight. We're making long-term commitments to projects and developing action plans to secure the successes Billings demands. We're working for you, our members, and look forward to sharing the milestones as well as the smaller goals we'll realize along the way.
Read on to learn about the five areas we're focused on this year and what that means for you:
Elections Matter: We're committed to electing business-friendly candidates who are job creators, problem solvers and community leaders.
Evaluate candidates in local and state elections by seeking their input on issues of importance to Billings Chamber members and sharing the candidate positions.
Host candidate forums to allow Chamber members to access candidates running for public office.
Consider endorsement of candidates in local and state elections.
Public Safety: Together, we will enhance public safety by working directly with Billings businesses on environmental improvements that will deter criminal activity.
Launch the Criminal Prevention Through Environmental Design (CPTED) program as a benefit of Billings Chamber of Commerce membership and an opportunity for business engagement in public safety.
Monitor and evaluate public safety funding needs as the opportunity arises
Participate in Yellowstone Substance Abuse Connect.
Spotlight public safety through member communications as a means of educating the membership on current issues.
ONE Big Sky District: The Strategy Partners are committed to the development plan, and the Billings Chamber will focus specifically on Montana Station Convention Center this year.
Continue work with the Strategy Partners (Big Sky Economic Development, Billings Chamber of Commerce, City of Billings, Downtown Billings Partnership, and Visit Billings).
Support work in seeking additional developers interested in the existing development plan.
Support the development of Montana Station Convention Center and build upon the $500+ million tourism economy supporting Yellowstone County.
Develop action plan for 406 Impact District Legislation ahead of the 2021 legislative session.
Air Service: The community is eager to see the recent additions of new service with American and Frontier Airlines as well as the facility remodel taking place. The Chamber continues to be a key supporter of both these process with an eye toward future opportunities for growth.
Continue efforts to increase and maintain existing service through direct meetings with air lines.
Support the airport facility renovation.
Educate locally and regionally the need for increasing airplane seats purchased to drive the demand for more flights.
Workforce Development: The Billings Chamber is your expert in growing and retaining your existing workforce through leadership development programming. Through programs like Leadership Billings, Trailhead Leadership Academy, Youth Leadership Billings and Billings NextGEN, the Chamber is the premier professional development option in the community.
Chamber programs like NextGEN, Leadership Billings and mentorships support existing talent, increasing retention of talent and helping to attract new talent.
BillingsWorks is growing the talent pool in Yellowstone County by working with both K-12 and higher education, promoting internships and marketing Billings as a great place to live and work. The Chamber supports this program financially and with staff time.
Early Childhood is a critical stage of human development, with 80% of the human brain developing by age 3. Access to quality child care is a two-generation workforce concern: children must experience quality care and early childhood development in order to ensure proper brain development, and parents in the workforce must have consistent, reliable and quality care for their children in order to be productive members of the workforce. In fact, 42% of Montanans not in the workforce site family responsibilities as the reason they are not working. The Chamber is beginning to explore these issues and how we can assist in solutions that will positively impact business.
The Billings Chamber actively supports higher education, particularly MSU Billings, City College and Rocky Mountain College. Connecting their degree programs with workforce demands, internship and job shadow opportunities returns graduates ready to hit the ground running upon graduation.
The Billings Chamber represents you, our 1,200+ members who employ over 50,000 people. We are a catalyst for business growth, convening leaders and influencers to impact issues and champion a stronger community.