Why Join?
As a member of the Billings Chamber, you gain a network of business partners who work together to help and promote Billings' growing economy.
At the Billings Chamber, a number of networking and educational events are planned regularly to help you get to know people and to get to know how the Chamber works. When you work on a committee, you are working together toward a common goal aimed at achieving the same purpose – to build a network. Once you develop relationships with fellow Chamber members, they will begin to feel comfortable with you and either do business with you and/or refer you to others.
The other side of your Chamber membership is supporting an organization that works for the greater good of the Billings community. Membership dues allow Chamber staff to spend thousands of hours annually working on Business Advocacy and Tourism issues directly affecting the business climate and overall health and wealth of the Billings community. From legislative and educational issues to visitor growth and community branding, your membership dollars are an investment in a key, forward-thinking community organization.
Some of the Chamber member benefits include:
Networking Opportunities
Connections/Leads Groups
Collaborate Work Group
Business After Hours
Annual Meeting
Business Showcase
Ag Appreciation Banquet & Ag Tour
Chamber Breakfast
Chamber Open Golf Tournament
Maximize Your Membership events
Committee & Task Force participation
Educational Opportunities
Business Development Network
Leadership Billings
Leadership Billings Alumni Network
Women's Network
ENCORE
Billings NextGEN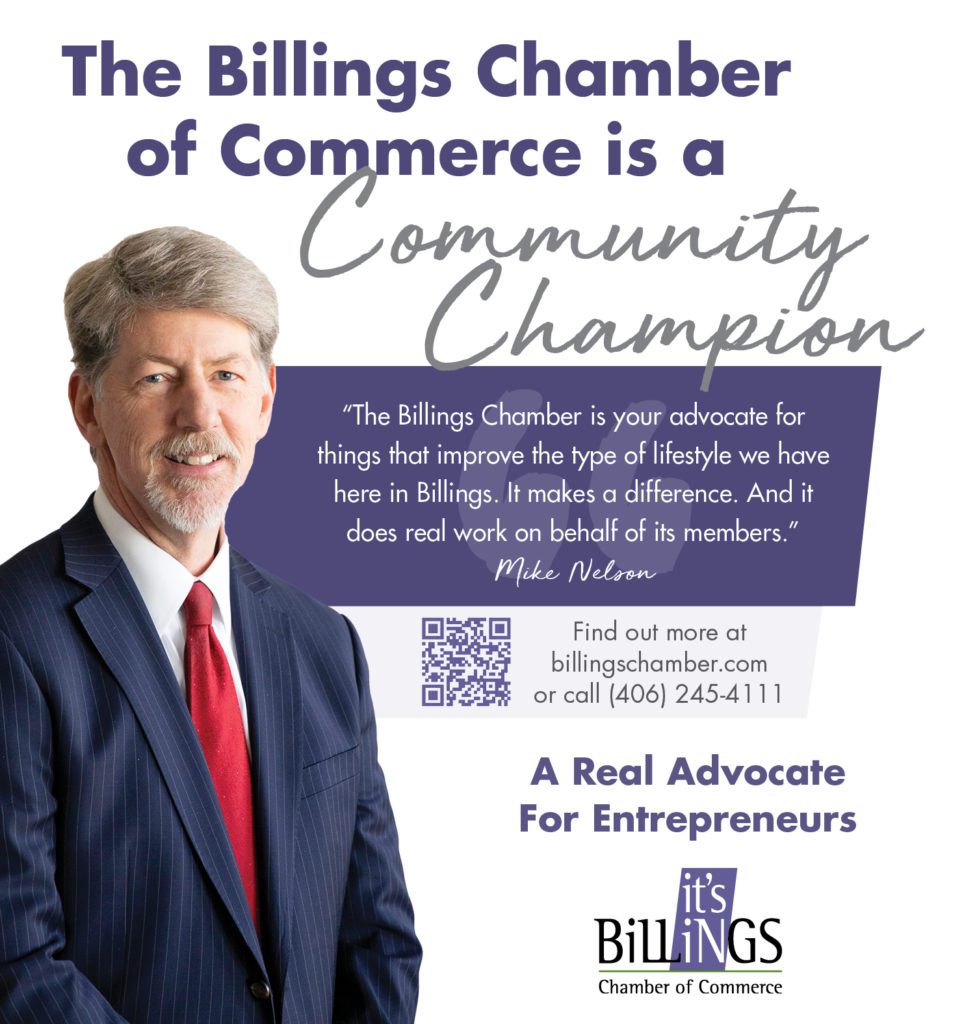 Other Important Benefits
On-line website information about your business at www.billingschamber.com, as well as a link to your website.
Chamber and Visitor Information Center referrals.
All members may display the Chamber logo on your business correspondence, storefront and web site to tell everyone that you belong to one of the area's most dynamic business organizations. For a copy of this logo please contact Kelsi Gambill at Kelsi@billingschamber.com
The bottom line is that with your Chamber membership, your business will gain great exposure. Tens of thousands of website visitors view Chamber sites, www.billingschamber.com and www.visitbillings.com, annually. Chamber members and employees receive countless direct referrals from within the Chamber office and Visitor Information Center, and your membership dollars also help sustain an association that is a positive advocate for Billings business and the community.
The Chamber staff is committed to helping you make the most of your membership. If at anytime you would like to become more active, or if you have a question about any of your member benefits, please contact us at 406-245-4111 or info@billingschamber.com.