ChamberCast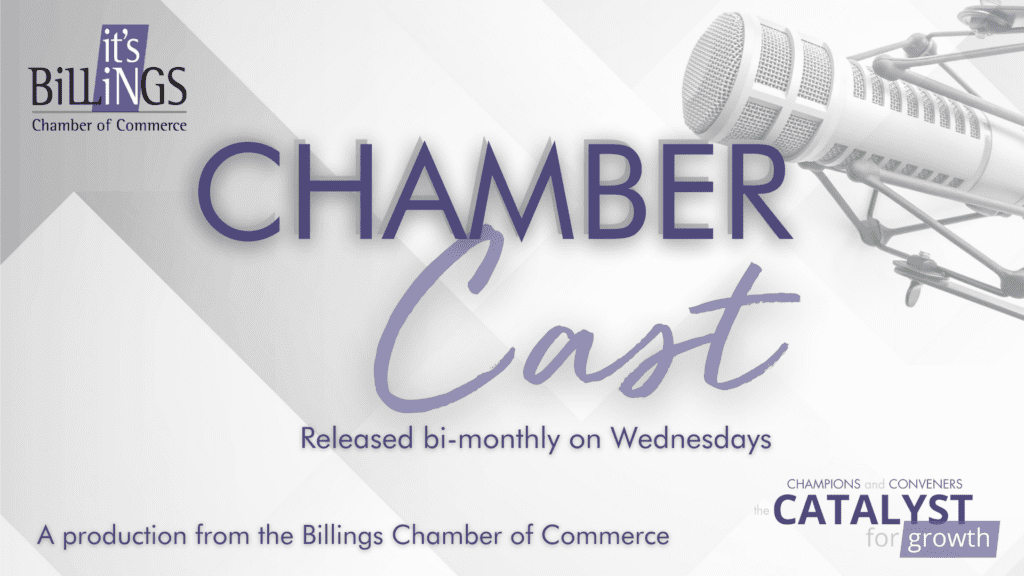 Join the Billings Chamber every other Wednesday for our podcast, ChamberCast. We are thrilled to offer yet another opportunity for you to engage with your Billings Chamber and find out the latest news! We have a lot of exciting things in store for you. We'll talk to elected leaders about issues that impact everyone in Billings. You'll hear from experts and people on the ground on the local economy, Chamber issues, diversity, entrepreneurship, leadership development, tourism, and so much more! We have some really exciting episodes planned for you – subscribe and listen in on your favorite podcast player, because there's something here for everyone.
January 25, 2023 Episode 47: Yellowstone Valley Electric Cooperative
Featuring guests Brandon Wittman and Dave Kelsey of Yellowstone Valley Electric Cooperative
January 11, 2023 Episode 46: Agriculture Celebration Week
Featuring guests Mike Phillips of Little Horn State Bank, Courtney Kibblewhite of KGHL/Northern Broadcasting, and Alyssa Voeltz of Billings Chamber
December 28, 2022 Episode 45: Calling for an ENCORE
Featuring guests Becky Bey of KLJ and Jennifer Reiser of the Billings Chamber
December 14, 2022 Episode 44: Fighting for Your Business in Helena
Featuring guest Rebecca Meyers, lobbyist for upcoming session, and Dan Brooks of Billings Chamber of Commerce
November 30, 2022 Episode 43: Keep the Cheer Here
Featuring guests Tiffany Miller-Obrien of Frae Everyday Goods and Linda Brooks of SOMETHINGchic
November 16, 2022 Episode 42: Catch the Spirit of Giving
Featuring guests Felicia Burg with Family Promise, Lindsay Richardson with Downtown Billings Alliance, and Gabriel Denio.
November 1, 2022 Episode 41: No Whoa In Winter: Tourism's Impacts and Importance
Featuring guests Aly Eggart of Visit Billings and Brenda Maas of Visit Southeast Montana with Kelsi Gambill of Billings Chamber of Commerce
October 19, 2022 Episode 40: Creating Autism Friendly Spaces and Places
Featuring guests Michelle Williams of Billings Depot, Shelli Mann of Boothill Inn with Alex Tyson of Visit Billings
October 5, 2022 Episode 39: Benefits of Belonging
Featuring guests from the Billings Chamber of Commerce membership team Jennifer Reiser, Rene Beyl, and Isiac Hammer
September 21, 2022 Episode 38: A Lasting Legacy
Featuring guests Jim and Chris Scott
September 7, 2022 Episode 37: YOU Belong In Billings
Featuring guests John Brewer, Julie Seedhouse, and Jeremy Vannatta
August 24, 2022 Episode 36: A Win-Win Partnership: Seeing Success in Venue Management
Featuring guests Mayor Paul TenHaken and Finance Director Shawn Pritchett of Sioux Falls, SD
August 10, 2022 Episode 35: Member Spotlight on Erro Coffee Roasters
Featuring guest Packy Tagliaferro of Erro Coffee Roasters
July 27, 2022 Episode 34: Rocky Vista University
Featuring guest Dr. David Park of Rocky Vista University
July 13, 2022 Episode 33: Member Spotlight: America First Response
Featuring guest John Briggs of America First Response
June 29, 2022 Episode 32: Introducing Our New Board Chair
Featuring guest Julie Seedhouse, new Board Chairperson of Chamber Board of Directors
June 15, 2022 Episode 31: Takeaways from Tough Conversations
Featuring guests Toby O'Rourke of Kampgrounds of America, Inc. and Shelli Mann of Boothill Inn
June 1, 2022 Episode 30: Something in the Air
Featuring guest Kevin Ploehn of Billings Logan International Airport
May 18, 2022 Episode 29: On the Trail with Southeast Montana
Featuring guests Brenda Maas and Cassie Solberg of Visit Southeast Montana
May 4, 2022 Episode 28: Surf & Turf
Featuring guests Shane Flowers of Ranch House Meats and Marguerite Jodry of Zest
April 20, 2022 Episode 27: Back to our Swanky Roots
Featuring guest Veronnaka Evenson of Swanky Roots
April 6, 2022 Episode 26: Jeff the Nature Guy
Featuring guest Jeff Ewelt of ZooMontana
March 23, 2022 Episode 25: Proudly Simply Local
Featuring guest Jenny Barriger of Simply Local Magazine
March 9, 2022 Episode 24: The Cure to Cabin Fever
Featuring guests Kristin Hoyer of GoUnite and Mechelle'Lae Mann of After Rage
February 23, 2022 Episode 23: Your Trail Guide to Billings
Featuring guest Luke Ashmore with Visit Billings
February 9, 2022 Episode 22: Flipping the BURD
Featuring guest Zack Terakedis with the East Billings Urban Renewal District
January 26, 2022 Episode 21: Celebrating Agriculture
Featuring guests Mike Phillips of Little Horn State Bank, Jess Peterson of Western Skies Strategies, and Alyssa Voeltz, Member Experience Manager with the Chamber
January 12, 2022 Episode 20: Ever Thought About Running For Office? Here's How
Featuring guests Hannah Olson of DOWL, Daron Olson of TDS Fiber and Dan Brooks, Business Advocacy Director with the Chamber
December 29, 2021 Episode 19: NextGEN – A Network of Emerging Leaders
Featuring guests Colton Welhaven of Buchanan Capital and Cathy Grider, Workforce Development Manager with the Chamber
December 15, 2021 Episode 18: Sports Tourism in South Billings
Featuring guests Alex Tyson, Executive Director of Visit Billings and Dick Zier with South Billings Urban Renewal Association
December 1st, 2021 Episode 17: Base Camp
Featuring guest Scott Brown, owner of the Base Camp
November 17, 2021 Episode 16: Ace Hardware
Featuring guest Skip King, owner of King's Ace Hardware stores
November 4, 2021 Episode 15: Workforce Issues
Featuring guests Mike Wilson of Whitewood Transport and Brad Anderson of Anderson Management Group
October 20, 2021 Episode 14: All Things Agriculture
Featuring guests Callie Coolie with MSU Extension and Bonnie Deverniero with the NILE
October 6, 2021 Episode 13: CyberSecurity for All
Featuring guest Dena Johnson of PayneWest Insurance
September 22, 2021 Episode 12: Election 2021
Featuring guest Councilwoman Kendra Shaw
September 8, 2021 Episode 11: Covid-19, Masks, & Billings Public Schools
Featuring guests Dr. Michelle Pierson, Superintendent of SD2 Greg Upham and Sean Lynch of the Pub Station
August 24, 2021 Episode 10: Billings Trails
Featuring guest Lynn Harper of Billings TrailNet
August 11, 2021 Episode 9: Leadership Billings Alumni Network
Featuring guest Jennifer Reiser, COO of Billings Chamber and Heidi Davey of Altana FCU
July 28, 2021 Episode 8: Chamber's New Board Chair
Featuring guest Nichole Mehling of Billings Clinic
July 14, 2021 Episode 7: Downtown Billings
Featuring guest Mehmet Casey of the Downtown Billings Alliance
June 30, 2021 Episode 6: Diversity & Inclusion
Featuring guests William Henry of Be Better World and Carmelita Dominguez of Montana Allergy and Asthma Specialists
June 16, 2021 Episode 5: Public Safety Part 2
Featuring guests Chris Kukulski, Billings City Administrator and Billings Police Chief, Rich St. John
June 2, 2021 Episode 4: Public Safety Part 1
Featuring guests Chris Kukulski, Billings City Administrator and Billings Police Chief, Rich St. John
May 19, 2021 Episode 3: Visit Southeast Montana Tourism
Featuring guest Brenda Maas, Marketing Director for Visit Southeast Montana Tourism
May 5, 2021 Episode 2: Small Business Appreciation Week
Featuring guests Kris and Mariah Carpenter of Sanctuary Spa, Joy of Living, and Black Dog Coffee House
May 5, 2021 Episode 1: Welcome to ChamberCast
Featuring guests John Brewer, President/CEO of the Billings Chamber of Commerce and Mike Nelson of the Northern Hotel