Priorities
Quality of life—and the reasons people choose to move to and stay in a community—are driven by quality of schools, crime rate, available housing and recreation. Parks, trails, community amenities, sports venues, and those ah-ha moments are essential to a growing, vibrant and economically moving community. People choose to stay in a community based on what they can do and experience, but also how they are treated and how they feel are made to feel "at-home." And we need those who are adding to our community's story by bringing diversity of thought, culture, heritage, ability and experience to want to stay.
Employers in Billings need workers. (4,192 job openings according to the Montana Department of Labor & Industry, July, 2022; unemployment is 2.3% as of May, 2022). Our area is a destination for post-pandemic-era migration. In 2020 alone, new residents to Billings (primarily from the west coast and Colorado) numbered just under 2,000. People are moving to Billings to fill jobs, but are they welcomed and finding Billings to be their home by connecting with people and their scene? In FY 2022-23 the Chamber will focus on growing the retention rates of new resident-workers through connections and community growth.
Our 2022-2023 and Beyond Strategic Priorities:
You Belong In Billings Campaign
Partner with employers to identify new resident-workers (past two years) and connect them to their community and their scene. Provide HR staff with a "toolkit" and checklist to help onboard new resident/employees to Billings and the region. We will establish a satisfaction baseline from new resident-workers with a goal to grow satisfaction and retention by telling our story and making connections. Key to success will be business engagement (providing connections to new residents and allowing the employee to take time to engage with us); and by investing in the program through the Chamber.  
Connecting to Community (People)
We will continue our focus on fostering a community that is welcoming to all via all Chamber avenues including our programing, networks, public policy leadership, political candidate support and more. We will connect new resident-employees to individuals, groups and activities such as cultural, heritage and lifestyle groups (human relations coalition, LGBTQ+ community, Mexican-American community, etc). We will enhance and repurpose the "Please Be Kind" campaign.
Finding Your Scene (Places and Experiences)
To retain residents/workers we must build a stronger quality of place by focusing on community amenities and our built environment. Further develop the Billings scene to include new event venues (SBURA Sports and Recreation Center) and well-managed facilities (Metra private management) that appeal to individual passions and family activities. Advance our trail system by creating the Marathon Loop and continuing work on our parks (like Coulson along the Yellowstone River) and downtown catalytic projects. Funding alternatives must be addressed.
Policy and People Matter
Many of the decisions that determine quality of life and resident retention require support from our state legislature and local government. It is import we are all engaged in the process of selecting representatives to serve us who are business friendly and community minded. Elections matter, and the Chamber will interview candidates and provide the business community with information on where they stand on issues important to our economy while launching a PAC to provide support in key races.
The Billings Chamber does not exist to sell memberships, services, and seats. We exist to move Billings forward and help your business grow.
Strategic Objectives 2022-2023
Advance Quality of Place

Grow Workforce and Develop Leaders

Lead Visitor Growth
Influence Public Policy
Spark Success in Members
Exceed Organizational Expectations
---
Our Mission: To develop a strong business climate and vibrant economy by serving the community in a leadership role thereby enhancing the quality of life.
Our Vision: To achieve excellence in community leadership and growth.
Champions and Conveners, The Catalyst for Growth. The Billings Chamber represents our 1,150 members who employ nearly 50,000 people. We are Champions of our community; the Convener of leaders and influencers, the Catalyst for business growth.
Our Team Promise: Our brand speaks loudly of change, energy, and excitement. As a team we will consistently deliver the wow factor; innovative ideas, knowledge, integrity, leadership, and laughter. We're proud of what we do and where we live. Let's SHOUT it out!
Core Competencies
Business Advocacy: Lead local, state and federal legislative issues impacting business and our quality of life; and proactively support business-friendly elected leaders that drive those policies;
Tourism Marketing: Promote Billings and the region as a preferred destination for visitors, business travelers and sporting events;
Connect & Grow Business: Provide opportunities for our membership relating to education, leadership development, networking and value added services.
Your Chamber
The Billings Chamber has received the highest award that a chamber can receive from the United States Chamber of Commerce: 5-Star Accreditation. Less than 1% of the 7,000 chambers in the U.S. have this designation. The Billings Chamber was recognized as the 2015 "Chamber of the Year" by the Association of Chamber of Commerce Executives. We are a non-profit 501(c)6 representing and serving 1,150 members who employ more than 50,000 people. Your Board consists of community leaders representing small and large businesses and diverse business interests. We are governed by 19 voting members and seven ex-officio members who provide expertise in their fields and connect us to local government, higher education, economic development, and arts and culture. Your staff consists of 17 professionals who are enthused, engaged in the community and full of great ideas and energy. The Chamber has strategic management agreements to further the regional travel industry with the Montana Office of Tourism and Business Development (lodging tax); Visit Billings; Billings Tourism Business Improvement District (TBID); and Visit Southeast Montana Tourism (SEMT).
Our Story
Billings is Montana's Trailhead: it is the starting point for business growth, development, and the gateway to finding community and raising a family. Billings enjoys a large trade area (500,000 square mile retail trade area covering four states) with a diverse economy (healthcare, agriculture, tourism, natural resources). Educational opportunities (Montana State University Billings, Rocky Mountain College, a strong pre-K-12 system) are abundant as are our recreational and scenic surroundings. Residents and visitors alike enjoy "River to the Rims" beauty (from Swords Rimrock Park to the Yellowstone River); cultural attractions (Yellowstone Art Museum, Western Heritage Center, Yellowstone Kelly Interpretive Site, ZooMontana, etc.); and an increasingly vibrant downtown (the heart of our community). A short drive places you in the heart of international icons and beauty, heritage, and the old west (Pompeys Pillar, Yellowstone National Park, Little Bighorn Battlefield). Employers tout a strong employee work ethic, short commute and satisfied workforce. As with any community on the move, Billings faces challenges such as: talent availability; an aging population; being an urban area in a rural state/region; taxing structure equality; air service; lack of facilities (event space, attractions, sports, infrastructure); crime rates, meeting worker needs (workforce housing, childcare).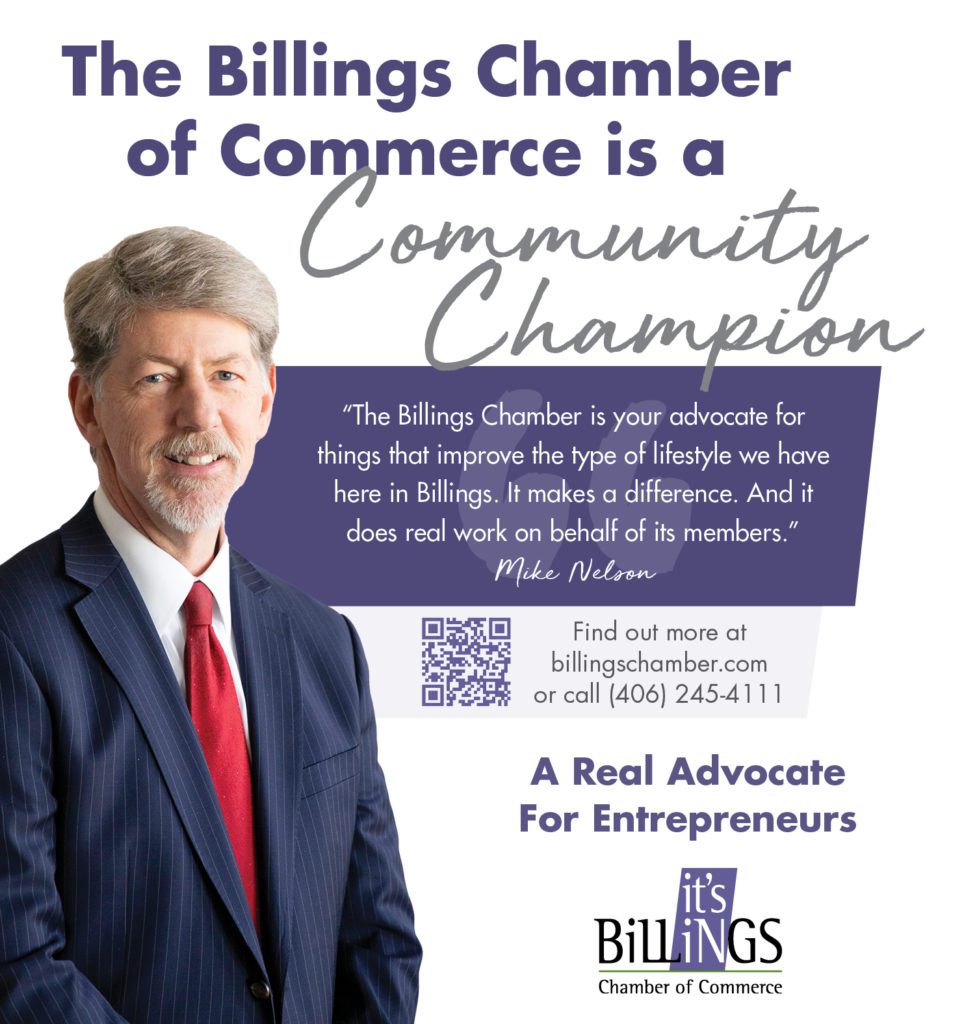 Challenges for Progress
Collective Community Vision: Develop a vision for Billings that defines success, goals, and roles with our strategy partners in order to accomplish greater objectives with a shared vision.
Develop Consistent Funding Mechanism: Fight for a local option sales tax while securing alternative funding in the interim.
Tell Our Story: Increase celebration of community and economic successes and instill an overall sense of community pride and place.
Elected Representatives: Support those running for public office who possess strength, vision and true leadership. Montana and Billings struggle with partisan politics. We need leadership with drive and focus that will use their influence, collaboration, and cooperation to move our community and economy forward.