Priorities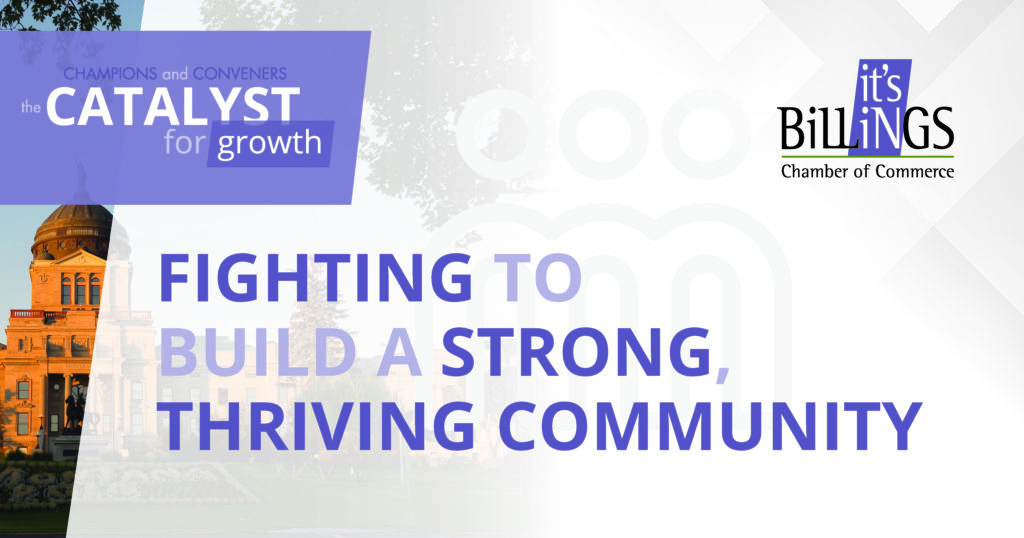 The Billings Chamber of Commerce Board of Directors and staff proudly share the Chamber's mission and vision to nurture a healthy business climate, community, and overall quality of life for area residents.  At the same time, our priorities focus on offering Chamber members venues for continued growth and success.
The Billings Chamber is working toward a post-pandemic community where businesses thrive; its resident-workforce is healthy, happy and successful; and a place where families and individuals want to relocate. The priorities below focus on addressing issues that grow our economy and workforce and create greater quality of life for all. Many across the country may be looking to relocate to communities that are healthy, safe, accepting and less crowded destinations. Being under the Big Sky can be a motivating factor, but it's not enough. These priorities require immediacy, investment and allocation of significant Chamber resources.
Our 2020 and Beyond Strategic Priorities:
COVID-19: Improving the Health of Business— The Chamber exists to support local businesses. How we do that is evolving rapidly. The world has changed and the Chamber will continue to be in front of change as well as reactive to unforeseen situations. Economic recovery may be a series of surges and declines that will follow the public health trend line. The health of the 8,200 businesses in Billings requires support in the form of financial resources, marketing, connectivity and clear, trustworthy and timely communication.
Equality of Opportunity—"Open and Safe" is only a start to recovery. To become nationally competitive for talent and entrepreneurship, Billings must be "Open for All." In a recent membership poll, 72% of respondents stated Billings must do more to allow people of color, differing religions, races, and LGBTQ+ populations to feel welcome and safe. The path forward requires our community to do better by intentionally identifying this as a priority, seeking to listen, learn and improve, and embracing diversity and inclusion in all areas of work.
A Safer Billings—Public safety in a community (real and perceived) is an important determining factor of resident quality of life and relocation. It directly impacts consumer motivation in wanting to frequent business areas of high risk. There are many contributing factors and potential solutions to crime and safety including addressing mental health and addiction, law enforcement, incarceration, and environmental design. In addition, public safety funding remains an area of concern due to racial tensions and officer-involved shootings across the country.
Policy and People Matter— In January 2021 the people we elect to set policy will meet in Helena to act on business, community and societal issues. Selecting business-friendly candidates to serve as elected leaders is the first step to developing business-friendly policies.  Our comprehensive public policy agenda will address impacts to business post-COVID-19, taxation, public safety, needed community placemaking legislation, public private partnerships and more.
Organizationally, the Chamber aligns its resources to meet current demands, while understanding that demands of tomorrow may look different from today. Our leadership and decision making process is both proactive and responsive, and unapologetically decisive, when difficult decisions must be made for the good of our business environment and community.
The Billings Chamber does not exist to sell memberships, services, and seats. We exist to move Billings forward and help your business grow.
Strategic Objectives 2020
Advance Billings as the Dynamic Regional Center
Grow and Recruit Trained Talent
Click here for the 2020 State of the Workforce Report (BillingsWORKS)
Lead Visitor Growth
Click here for the Visit Billings tourism website
Click here for the Visit Southeast Montana tourism website

Influence Public Policy
Enhance Value to Members
Click here for Chamber member benefits and networking opportunities
Click here for ways to get involved with your Chamber
Exceed Organizational Expectations
---
Our Mission: To develop a strong business climate and vibrant economy by serving the community in a leadership role thereby enhancing the quality of life.
Our Vision: To achieve excellence in community leadership and growth.
Advocate. Connect. Grow. The Billings Chamber represents our 1,200 members who employ 50,000 people. We help you grow your bottom line by connecting you to opportunities and advocating for your business and our community.
Our Team Promise: Our brand speaks loudly of change, energy, and excitement. As a team we will consistently deliver the wow factor; innovative ideas, knowledge, integrity, leadership, and laughter. We're proud of what we do and where we live. Let's SHOUT it out!
Core Competencies
Support business needs including leading local, state, and federal legislative issues impacting business and our quality of life;
Promote Billings as a preferred destination for visitors, business travelers, and sporting events;
Provide opportunities for our membership relating to education, leadership development, networking, and value added services.
Your Chamber
The Billings Chamber received the highest award that a chamber can receive from the United States Chamber of Commerce: 5-Star Accreditation. Less than 1% of the 3,000 chambers in the U.S. have this designation. The Chamber was recognized as the Chamber of the Year in 2015 by the Association for Chamber of Commerce Executives. We are a non-profit 501(c)6 representing and serving 1,200 members who employ more than 50,000 people. Your Board consists of community leaders representing small and large businesses and diverse business interests. Your staff consists of 15 professionals who are enthused, engaged in the community, and full of great ideas and energy. The Chamber has strategic management agreements to further the regional travel industry with the Montana Office of Tourism (lodging tax); Billings Tourism Business Improvement District (TBID); and Visit Southeast Montana Tourism (SEMT).
Our Community
Billings enjoys a large trade area (500,000 square mile retail trade area covering four states) with a diverse economy (healthcare, agriculture, tourism, natural resources). Educational opportunities (Montana State University Billings, Rocky Mountain College, a strong K-12 system) are abundant as are our recreational and scenic surroundings. Residents and visitors alike enjoy "River to the Rims" beauty (from Swords Rimrock Park to the Yellowstone River), cultural attractions (Yellowstone Art Museum, Western Heritage Center, ZooMontana), and an increasingly vibrant downtown (the heart of our community). A short drive finds international icons of beauty, heritage, and the old west (Pompey's Pillar, Yellowstone National Park, Little Bighorn Battlefield). Employers tout a strong employee work ethic, short commute, and satisfied workforce.
As with any community on the move, Billings faces challenges such as: public safety, air service, workforce (2.6% unemployment; skills gap, housing, aging population), being an urban area in a rural state/region, taxing structure equality, and lack of (or aging) facilities (event space, attractions, sports, infrastructure).
WHAT IS IMPORTANT TO OUR MEMBERS (Source: Hight Consulting; Dr. Larry Swanson)
The quality of our community
The quality of our workforce
The quality of our surrounding environment