Crime Prevention Through Environmental Design (CPTED)
Crime Prevention Through Environmental Design (CPTED) is the proper design and effective use of the built environment that can lead to a reduction in the fear and incidence of crime and an improvement in the quality of life. Ultimately the goal is to reduce opportunities for crime that may be inherent in the design of the built environment. When implemented effectively, communities can realize a drastic decrease in committed crime and an increase in the perception of safety.
The term CPTED was first used in 1971, when criminologist C. Ray Jeffreys wrote the first book on the subject. Today numerous communities throughout the world, the Department of Homeland Security, states, counties, cities, school districts, and businesses implement CPTED strategies to provide additional security.
CPTED Explained
So what is CPTED? CPTED is a method of analyzing the design of the built environment to identify and address areas that may unintentionally allow improper and unsafe use of the space. CPTED acknowledges that all space has a defined purpose and can either function to promote appropriate use, or in the event of bad design, let abnormal behavior take place. By assessing the elements of natural surveillance, access control, territorial reinforcement, and maintenance, simple alterations can increase public safety.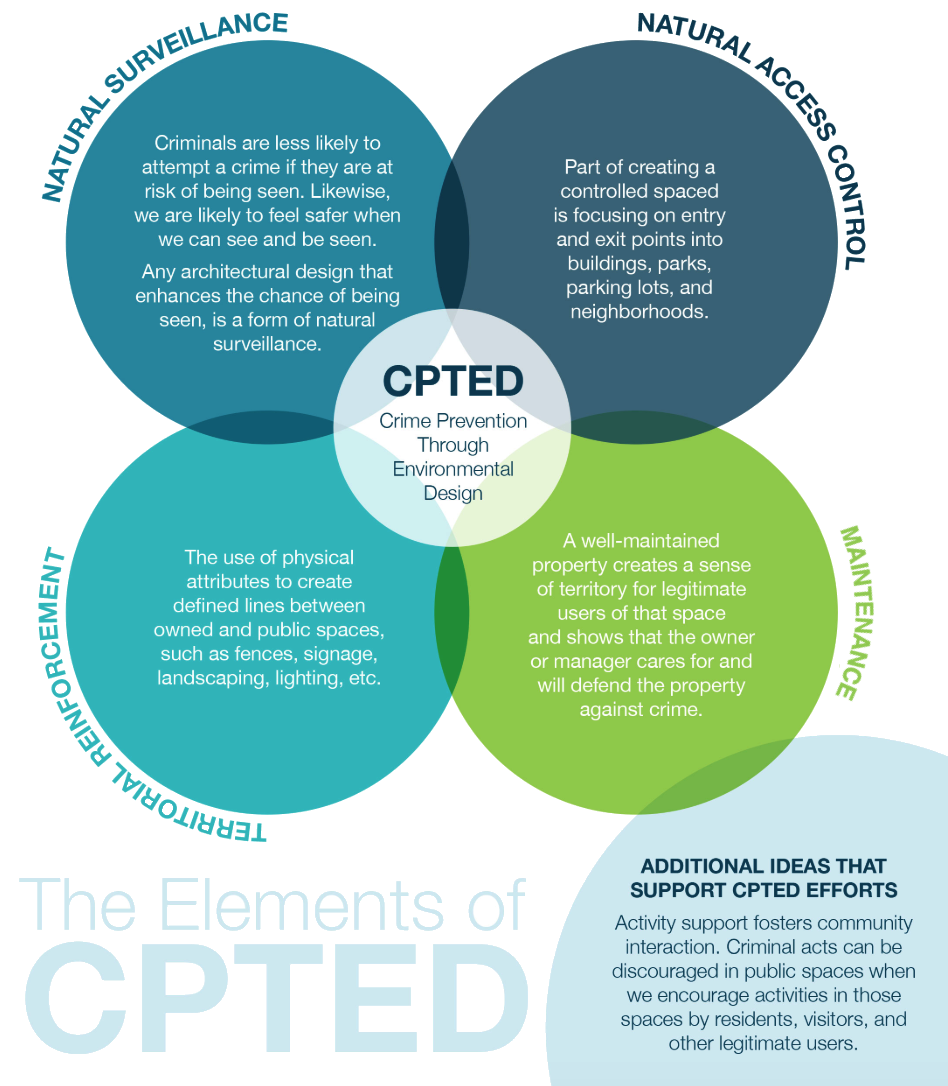 Image credit: cityofalbany.net
Why have a CPTED survey done?
There are numerous benefits, but we think three stand out:
Positively impact the safety in your neighborhood.
Provide safer experiences for clients and shoppers.
Workforce that feels safer is more productive.
CPTED Security Surveys
The next step is to reach out to the Billings Chamber and sign up for an evaluation. Our staff, who has recently been certified by the internationally recognized National Institute for Crime Prevention (NICP), will work with you to schedule an evaluation. That process is outlined below:
Initial interview with business (1 hour)
CPTED security survey (dependent on property size, between 1- 3 hours)
Presentation of CPTED security survey recommendations and written report to business (within 14 days 30 min)
Evaluation of recommended CPTED improvements (dependent on diligence of businesses to implement recommendations)
Other Ways to Help Out
Schedule us to give a CPTED presentation to your organization.
Send a Security or Facilities Director to get CPTED certified.
Write to City Council and ask them to incorporate CPTED principles in city ordinances and planning. Getting the design of our city done right from the start will have more impact and public safety benefit than fixing issues later.
Reach Out to Learn More:
daniel@billingschamber.com
CPTED Certified Partners
Thank you to our Public Safety Initiative Investors!