Agriculture Committee
Nominations now open for 2023 Billings Chamber Award for Agriculture Excellence
The Billings Chamber Agriculture Committee exists to inform and educate the membership and community regarding issues and changes related to agriculture.
Committee Leadership

Jennifer Sayler, Chair – Yellowstone Valley Electric Cooperative
Alex Schimke, Co Chair – C&B Operations
Chamber Staff
Committee Meeting Schedule
7 – 8 a.m. first Friday of each month
*All committee members must be Chamber members in good standing.
Committee Focus
To INFORM and EDUCATE the membership and community regarding issues and changes related to agriculture.
To PROMOTE and attendance-build for annual Agriculture Appreciation Banquet, Ag Tour, and other Ag Committee endeavors.
Interested in connecting with the Agriculture Committee? Join our group on Facebook!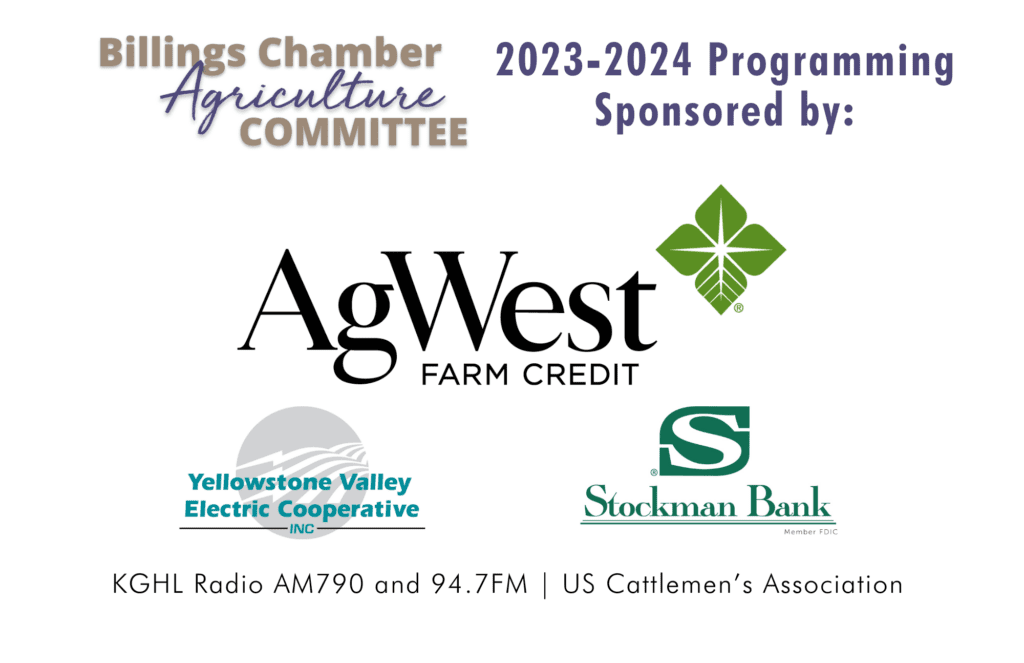 The Billings Chamber Ag Committee annually hosts the Agriculture Celebration Banquet and the Adventures in Agriculture Annual Ag Tour. If you're interested in getting involved in the event or sponsoring it, please email Isiac@billingschamber.com.
Award for Agriculture Excellence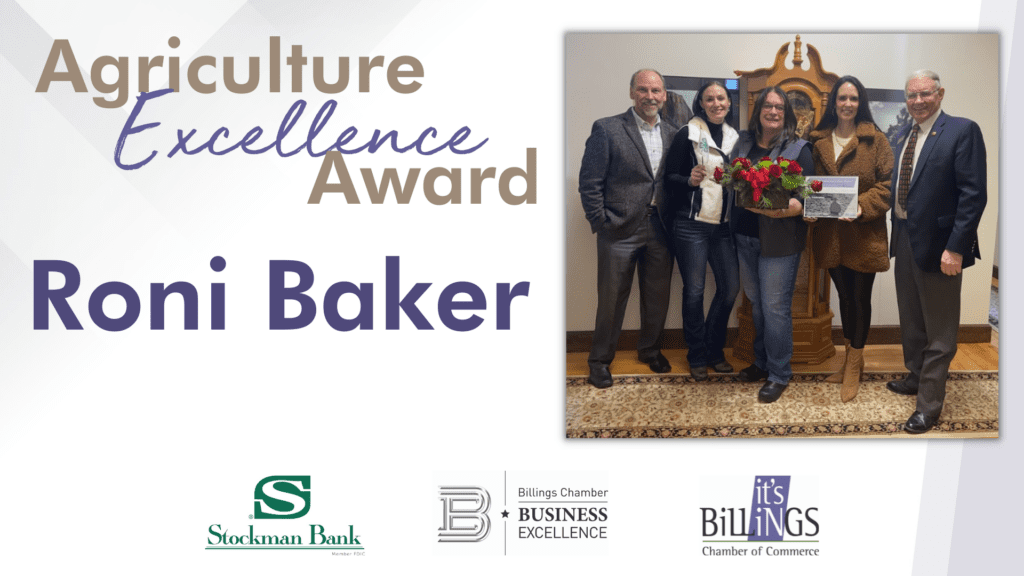 The 2022 Ag Excellence Award recipient is Roni Baker.
The Billings Chamber Award for Agriculture Excellence recognizes an individual, business or organization that has made outstanding contributions to the Billings area agricultural community. Recipients are nominated by their peers for demonstrating excellence in their involvement in agriculture, leadership ability, and participation in civic, service and community organizations.
The recipient shall be an individual who plays a critical role in agriculture, one of our area's top industries. The nomination should showcase the nominee's deserving personal qualities, share examples of how their work has impacted the agriculture industry and indicate the ways the nominee stands out from other exceptional representatives within the industry.Nominees must be members in good standing of the Billings Chamber of Commerce; be a positive force for community growth; and generally supportive of the Chamber Ag Committee and Chamber's strategic direction. A nominee may not be a past Ag Excellence Award winner. A nominee may be a retired former member of the Billings Chamber. For a current list of Chamber members, visit our membership directory.
The Billings Chamber Award for Agriculture Excellence has been presented since 2010, and the effort began with the recognition that many outstanding individuals exist within Montana's number one industry. The Billings Chamber and the Chamber's Ag Committee worked together to establish this award as a small way to pay tribute to the many individuals who go above and beyond to provide for our region.
Previous recipients include:
| | |
| --- | --- |
| 2010 Butch Bratsky | 2016 Bruce MacIntyre |
| 2011 Taylor Brown | 2017 Steve Lackman |
| 2012 Justin Mills | 2018 Leroy Gabel |
| 2013 Dan Downs Family | 2019 Al McCormick |
| 2014 Darren Miller | 2020 Karen Yost |
| 2015 Dave Kelsey | 2021 Bill Dutcher |
| 2022 Roni Baker | |
Prior to the Chamber and the Chamber Ag Committee establishing this award, Stockman Bank had a long history of selecting an "Agricultural Advocate of the Year" to recognize during the Chamber's Ag Appreciation Banquet annually.
Nominations for the 2023 Ag Excellence Award are open as of September 15.