2022 Ag Celebration Week

The Billings Chamber is excited to announce its second annual Ag Celebration Week, presented by Yellowstone Valley Electric Cooperative, focusing on awareness and appreciation of the region's number one industry, agriculture. This week offers insights into how the agriculture industry affects our daily lives and celebrates the community that works tirelessly to provide us with fabulous food and clothing. It's about education, admiration and gratitude for the area's farmers, ranchers, and consumers as well as agri-business and agri-business research representatives.
WELCOME TO AG CELEBRATION WEEK!
JANUARY 24TH-28TH
Learn about the Ag Industry, support local Ag businesses, win amazing prizes,
and engage with the Chamber, all in one fabulous week!
2022 AG APPRECIATION CELEBRATION BANQUET
Awareness and appreciation: That's why the Chamber is excited to close out the Ag Celebration Week with the Ag Appreciation Celebration Banquet, presented by Yellowstone Valley Electric Cooperative.
Join us for the first time since 2020 on Friday, January 28th at the MetraPark Pavilion from 5:30-8:00 pm!
AG CELEBRATION WEEK GAME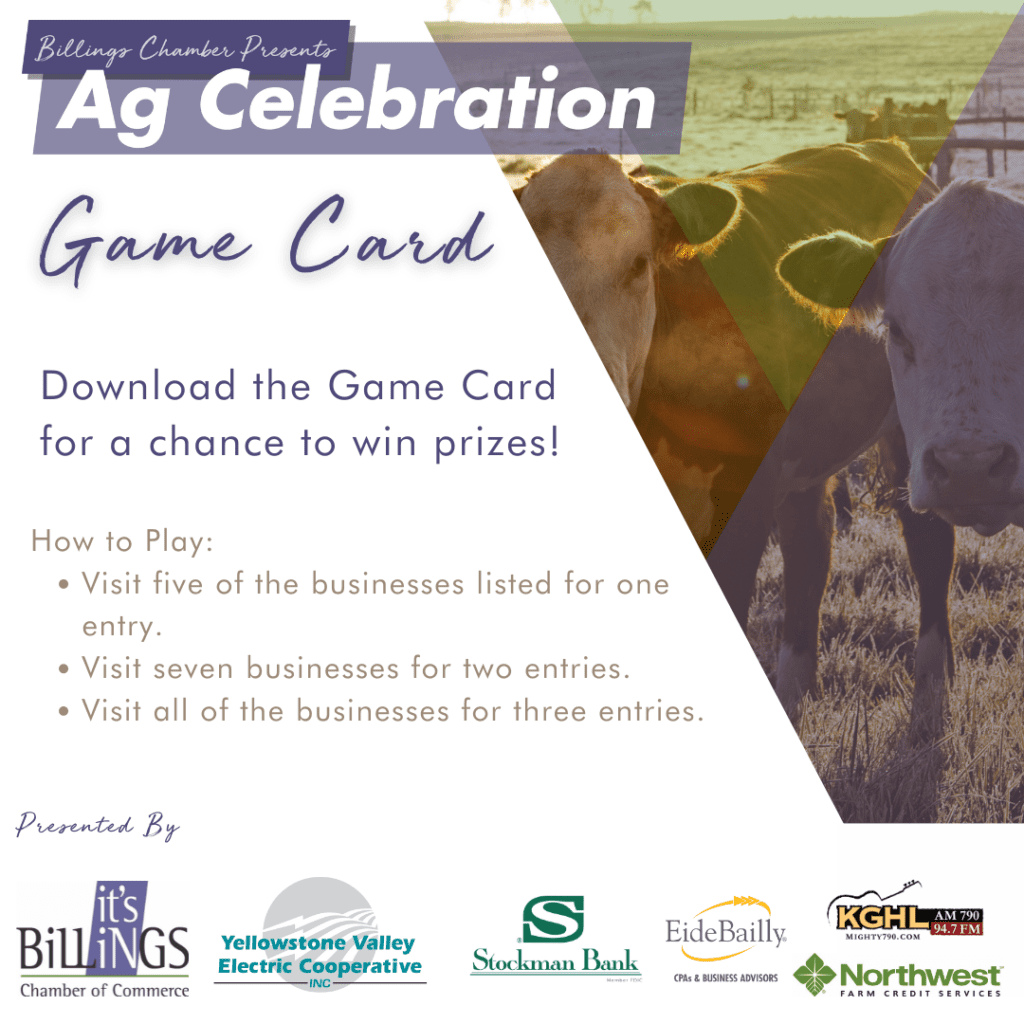 HERE IS HOW YOU PLAY!
Download the game board by CLICKING HERE.
Visit any of the participating businesses listed on this page and have them initial your game board.
Visit any five businesses and receive one entry.
Visit any seven businesses and receive two entries.
Visit all the businesses and receive three entries.
Take a picture of your game board and email it to info@billingschamber.com by end of business on Monday, January 31st to be entered to win the grand prize for the Ag Celebration Week!
MAYORAL PROCLAMATION OF AG WEEK IN BILLINGS
ANNOUNCING OUR 2021 AG EXCELLENCE AWARD RECIPIENT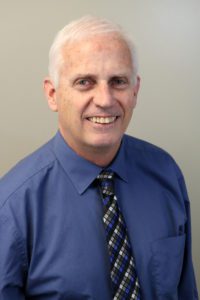 Bill Dutcher, retired general manager, MetraPark
Presented by Stockman Bank, this award recognizes an individual, business or organization that has made outstanding contributions to the Billings agricultural community with a nod to their demonstrated excellence in their involvement in agriculture, leadership ability, and participation in civic, service and community organizations.
Congratulations to all of our previous Ag Excellence Award recipients:
2010 Butch Bratsky
2011 Taylor Brown
2012 Justin Mills
2013 Dan Downs Family
2014 Darren Miller
2015 Dave Kelsey
2016 Bruce MacIntyre
2017 Steve Lackman
2018 Leroy Gabel
2019 Al McCormick
2020 Karen Yost
2021 Bill Dutcher
ALL ABOUT AG BLOGS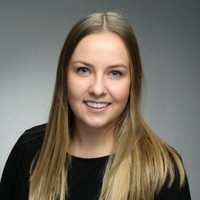 Check out this great blog by Callie Cooley, Yellowstone County Agriculture Extension Agent about the Ag Committee as a great place to network, meet local leaders, and learn about what is happening within the local agriculture industry!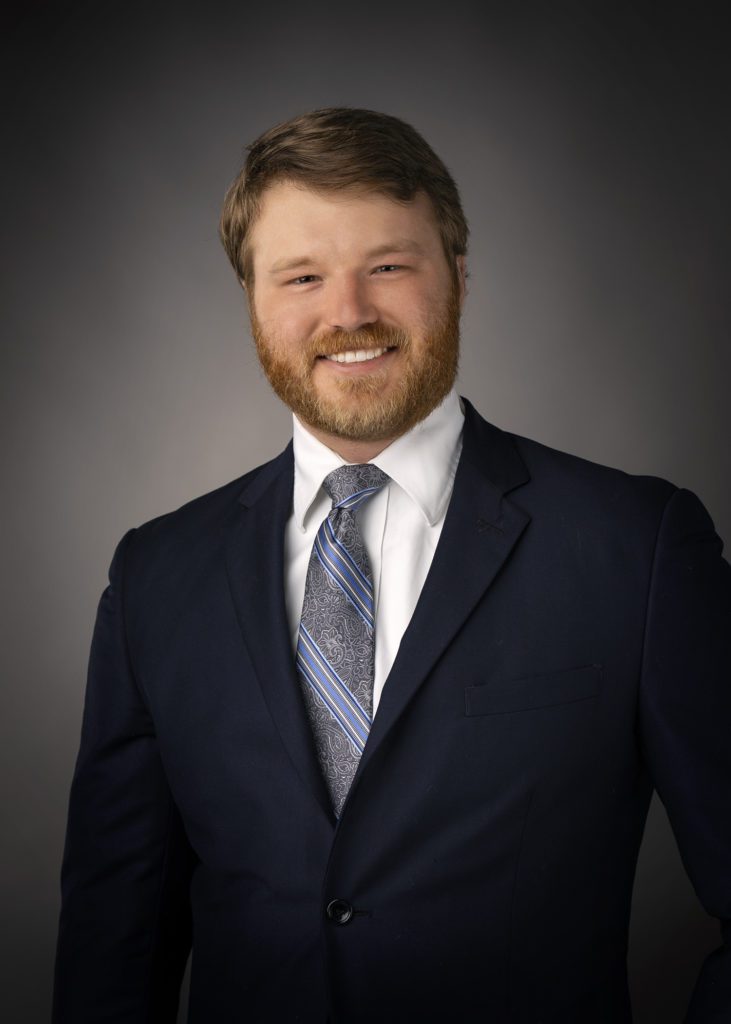 How Agriculture Impacts Our Daily Lives
This week is Agriculture Celebration Week in Billings. You will very often hear that Agriculture is Montana's number one industry, meaning that it makes up the lion's share of the local Gross Domestic Product (GDP), but it is so much more than that. Agriculture provides the food and fiber we too often take for granted; the farmers and ranchers in rural Yellowstone County and beyond contribute mightily to the urban economy in Billings; and Agriculture, in many ways, serves as the foundation of our local history and culture. Read more about agriculture's impacts in this blog by Jack Jennaway, Business Advocacy Coordinator.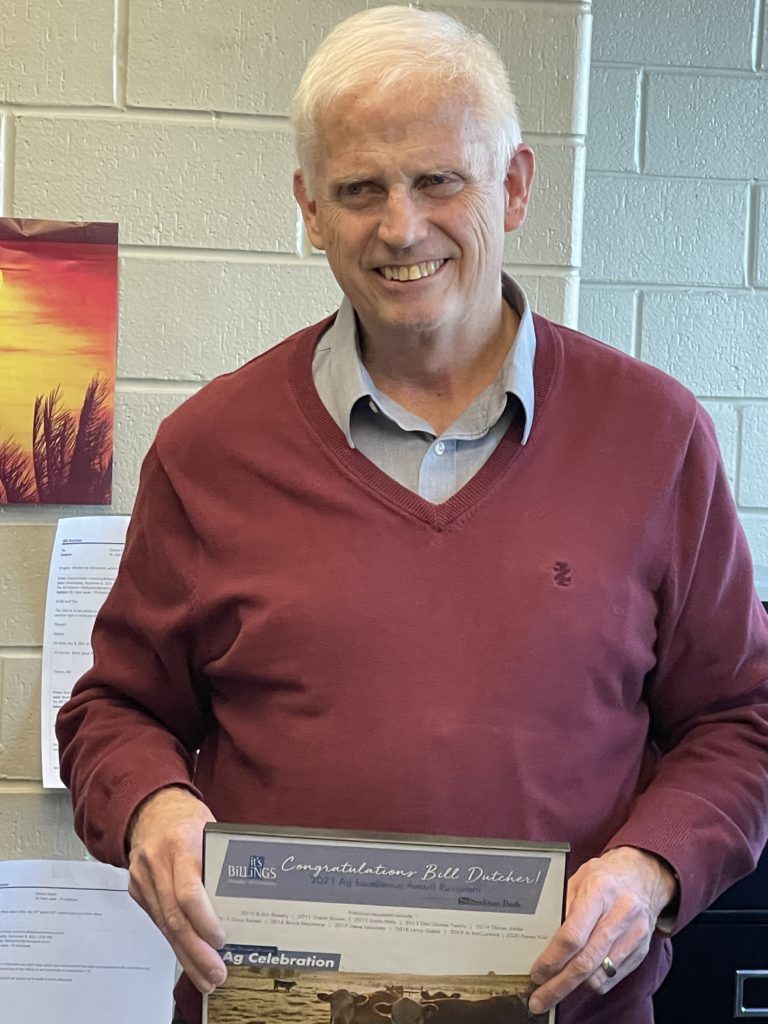 Bill Dutcher Honored as 2021 Agriculture Excellence Award Recipient
The Billings Chamber of Commerce's 2021 recipient of the Award for Agriculture Excellence is Bill Dutcher, the recently retired general manager of MetraPark.
With 40 years of commitment to MetraPark, the Billings community, and the agriculture industry, Dutcher truly embodies this award. Read more in this blog by Kelsi Gambill, Communications and Marketing Specialist.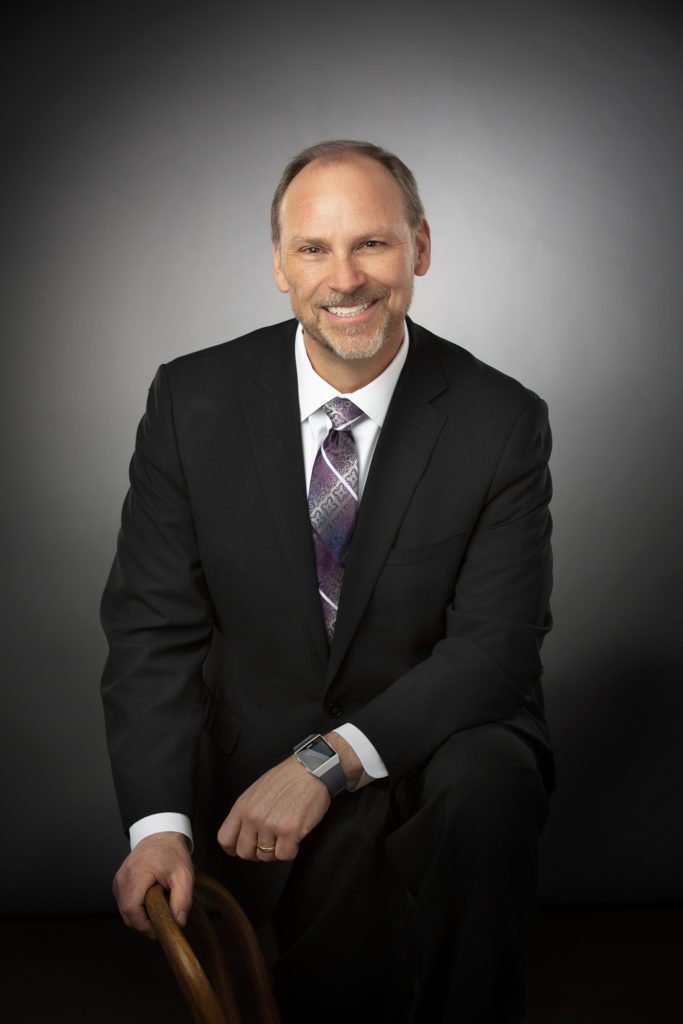 Heartfelt Appreciation for Agriculture
To those farmers, ranchers, suppliers and all who support the agriculture industry in our area: THANK YOU!
In Montana it feels that we are all no more than "one degree of separation" in Montana's number one industry: agriculture. By "one degree" I mean that you are either directly employed in agriculture, have a close family member or friend in the industry, your business benefits from the industry, or you eat food. Read more in this blog by John Brewer, President/CEO Billings Chamber of Commerce.
EXPERIENCING AG VIDEO SERIES
Follow our Ag Celebration Week activities with host Jess Peterson of Western Skies Strategies and also a Chamber board member, as he guides our awareness this week of this essential industry.
TUNE IN
You can also tune into KGHL (AM790 and 94.7FM) to hear announcers Nick Tyler, Josh Rath, and Taylor Brown interview Ag Celebration Week committee members, sponsors and more!

Check out the latest interviews:
RESOURCES
Find more resources and information about Montana agriculture:
http://www.montana.edu/culinaryservices/sustainability.html
https://www.nass.usda.gov/Publications/AgCensus/2017/Online_Resources/County_Profiles/Montana/cp30111.pdf
https://www.nass.usda.gov/Statistics_by_State/Montana/Publications/Annual_Statistical_Bulletin/2020/Montana-Annual-Bulletin-2020.pdf