Business After Hours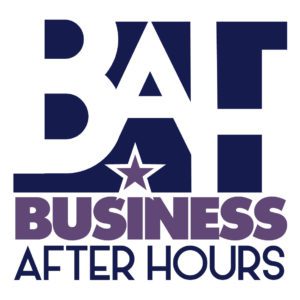 Business After Hours is the premiere networking event for business professionals in the Billings area. It is held on the second Wednesday of each month from 5 – 7 p.m and the cost to attend is just $8. This two hour time frame gives you the opportunity to discuss and share ideas while learning about and touring other local businesses. The regular event is a relationship-building experience held in a relaxed setting that benefits you and your company through added contacts and resources.
Stay for 20 minutes or enjoy the full two hours of networking time. Get out there! Give people the chance to get to know you so they will want to do business with you. Support Billings business and support your Billings Chamber.
$8 includes two complimentary drink tickets, hors d'oeuvres and great conversations! Don't forget your business cards!
Frequently attending Business After Hours? Consider a VIP Card, now available for $60. Cards offer 10 punches, a wonderful savings of $20!
  Upcoming Business After Hours Networking Events:
November 8th, 2017: Camelot Ranch Events, Vande Studios & Magic City Productions, 8736 Camelot Ln.
December 13th, 2017: Territorial Landworks, 3333 2nd Ave. N. Ste. 230
January 10th, 2018: Highgate Senior Living, 3980 Parkhill Dr.
February 14th, 2018: Advanced Care Hospital of Montana, 3528 Gable Rd.
March 14th, 2018: Clark Marten Photography, 2606 Montana Ave.
April 11th, 2018: Adult Resource Alliance, 1505 Avenue D.
Interested in hosting Business After Hours? Contact the Billings Chamber at 245-4111 or jessica@billingschamber.com for all the details about getting on our waiting list for this high demand event.
Thank you to our most recent Business After Hours hosts: Wise Wonders Children's Museum, Hilton Garden Inn, Beartooth Bank, Big Sky Pet Resort, Beartooth Harley, Heights Eyecare, MSU Billings Foundation, Henry's Garage & Edward Jones, Heights Family Funeral Home and Yellowstone Bank.