BY DANIEL J. BROOKS, DIRECTOR; BUSINESS ADVOCACY
We are less than a month away from closing the book on this terrible, terrible … terrible 2020, a year many of us will be happy to leave behind. Murder hornets were an actual thing. Megafires scorched the earth. The tragic death of George Floyd tore open a deep national wound far from healed. And a global pandemic steadily killing our fellow Americans rages on uncontained because politics and party trumped country.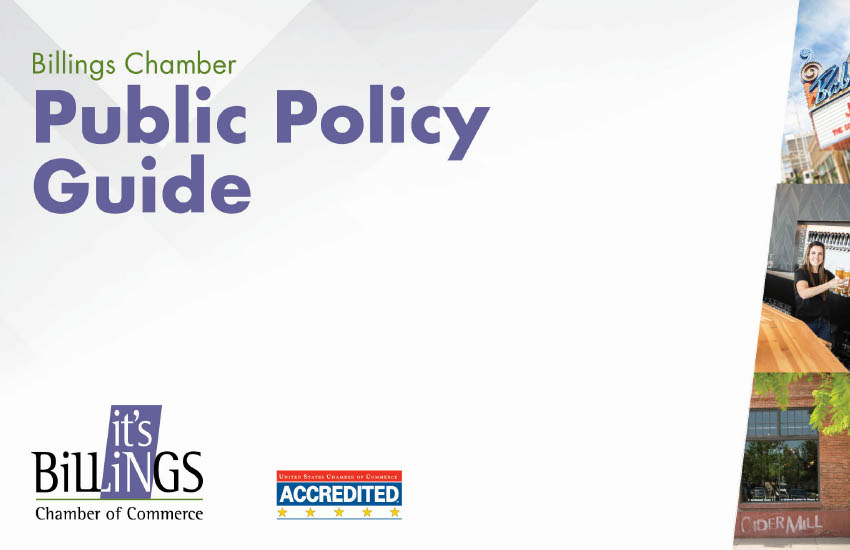 While we're eager to close the book on 2020, we encourage you to open another—our latest Public Policy Guide. I give you my personal guarantee that compared to the metaphorical 2020 book, it will be so normal you're likely to be bored. Which is exciting, right?!
It's been said there are only two things you can control: your actions and your preparation. Despite all that is out of our control, this is part of our effort to be prepared for the next two years, including the upcoming legislative session. We start with a membership survey, asking businesses to weigh in on a host of issues, including what is most important to them. That information is taken into account as two advisory boards compile a draft document that will go to the Chamber's board of directors, 19 business leaders from our community, for ultimate approval.
I encourage everyone to read the whole Public Policy Guide at Billingschamber.com/public-policy, when they get a chance. For now, I've put together a few highlights:
REDUCE THE COST OF DOING BUSINESS IN MONTANA
Whether it's decreasing tax rates on businesses or revising the law to make it easier for businesses to operate, we want to eliminate unnecessary burdens and reduce their cost of doing business. As an example, last session we supported bills revising the taxation for certain oil production to lower the tax rates and hopefully allow for more effective extraction. We also supported a bill requiring timely licensure if your job requires a state-issued license, reducing the time to get people the required credentials they need to work, whether they work for a business or want to start their own.
SUPPORT SAFE HARBOR PROTECTIONS FOR BUSINESS REGARDING COVID EXPOSURE
I covered this in depth in the last LiNK issue—you should check it out. Here's the short version: according to the law firm Hunton Andrews Kurth, Huntonak.com, nationwide COVID complaints have exceeded 5,600 with 22 listed in Montana. We want to make sure that businesses following guidelines and making good faith attempts to protect workers and customers are protected from unnecessary lawsuits.
INCREASE PUBLIC SAFETY RESOURCES SUCH AS POLICE AND FIRE PERSONNEL
Taxpayers recently passed a mill levy that helped to balance the city's budget which otherwise would have needed funds from reserves and cuts to services such as city parks. We now face the next step of passing another levy to add police officers that can help to address our increasing violent crime. The Billings Heights needs an additional fire station to adequately service that area of Billings. We want to make sure our public safety personnel are adequately staffed and have the resources they need to address the challenges we face.
We look forward to working for our businesses in this difficult time and are happy to chat if you've got additional feedback or questions. Thank you for your membership, which helps us conduct this work. Together we'll make progress and improve things for our business community.
Shoot an email to Jack@BillingsChamber.com if you haven't received your copy of our Public Policy Guide, or CLICK HERE for the pdf version.
8 DECEMBER 2020 – FEBRUARY 2021 | LiNK BUSINESS QUARTERLY