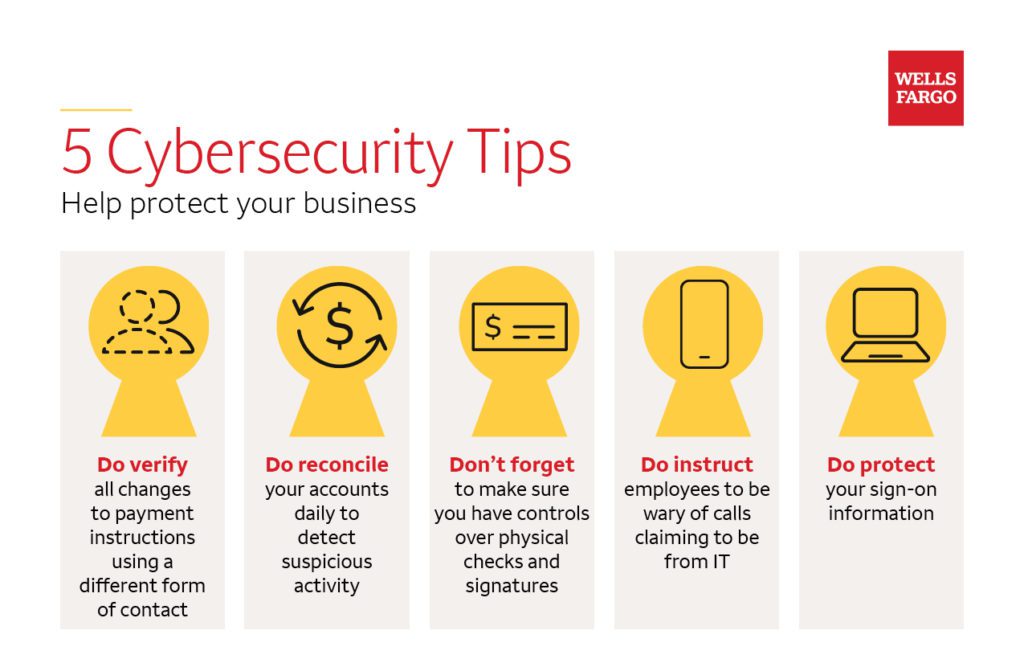 With National Cybersecurity Awareness Month coming up in October and with more people interacting digitally and working remotely due to the pandemic, here are a few cybersecurity and fraud prevention tips for consumers and businesses from Wells Fargo.
Cybersecurity awareness takes on even greater importance this year as fraudsters look for opportunities to capitalize on increased digital financial activity.  Notably:
As of Sept. 13, the Federal Trade Commission has reported 198,000 instances of consumer fraud and $138M in total consumer fraud loss related to the pandemic.
On the business side, according to a recent global survey by Taniem, 90% of IT leaders surveyed said they experienced an increase in cyberattacks due to the pandemic.
Cybersecurity Tips for Consumers:
Don't respond to unsolicited phone calls, texts, emails and pop-ups – confirm requests for your information.
Don't open attachments or sign on to your bank account from a link in a suspicious message.
Monitor your bank accounts online and set up account alerts to help you spot unusual activity.
Install the latest antivirus software and keep all software programs and apps up to date.
Choose strong passwords with unique mix of letters and numbers.
Cybersecurity Tips for Businesses:
Verify all payment requests and changes to payment instructions. Use a different method of contact to make sure it's authentic.
Reconcile your accounts daily to detect suspicious activity. Most banks offer positive pay for checks and ACH payments that incorporate separate review and approvals.
If you issue and print checks, make sure you have adequate controls over your physical checks and signatures.
Instruct your employees to be wary of incoming calls claiming to be from information technology and asking them to click on links or share account information.
Protect your sign-on information. Be cautious of unexpected authentication prompts or on-screen messaging and don't select links in emails or text messages.