BY JENNIFER REISER, CCE, IOM CHIEF OPERATING OFFICER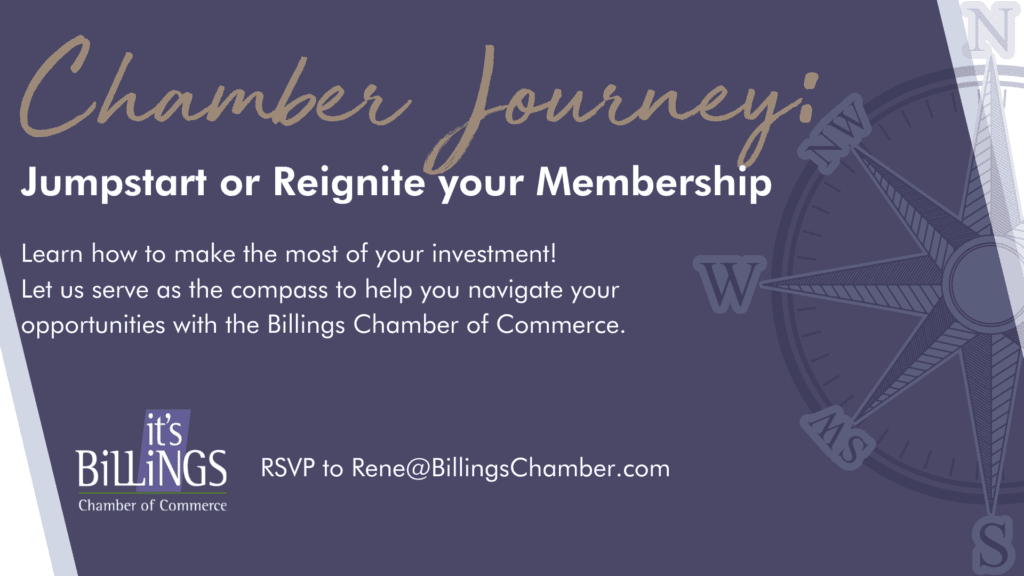 Membership organizations strive to provide meaningful value for your investment. The Billings Chamber is committed to building relationships with our members through ongoing interactions. Our hope is that we add to your lives and capture your attention enough to demonstrate the role we play in supporting your business and growing our community.
We know our members join for a number of different reasons including access to information, advocacy, education, networking, and marketing. However all of our members have one thing in common—the desire to see the return value that justifies your membership investment.
With dozens of benefits, we believe your membership is packed with value; however, the list can seem overwhelming when you're already tasked with running a business, engaging employees and visioning for the future. Consider what is important to you, and what motivates you. Review the Engagement Checklist, mark your interests, and then determine the best route to take. Select one, two or three things you'd like to try. After a while, take some time to reflect on those you selected and review the results. Your business needs and personal interests will change over time and you can return to the engagement check list to review your benefits at any time.
For new members, the new member packet is your "welcome kit"—take the time to review its contents, make notes, and develop a plan. We encourage new and existing members to attend Chamber Journey—a member orientation that is offered monthly. Whether you've been a member for two weeks or twenty years, this is a great place to start (or restart) your engagement with our organization.
Communication is key. If you aren't getting what you need or we aren't meeting your expectations, please say something. Reach out to any one of our team members, and let's work together to make sure you get the best experience from your membership.
We won't stop working for business or for Billings. Your investment in the Chamber is what allows us to do all the important work we're delivering. During this time of uncertainty, we've been a reliable, trusted source for information, delivering you access to leaders and decision makers, convening industries to ask questions and secure guidance to opening and operating safely.
If you have any questions about your membership, your benefits or the work we are doing on your behalf, connect with us at (406) 245-4111.
ENGAGEMENT CHECK LIST
Pick a few to get started, and contact Rene@BillingsChamber.com for guidance!
Connections Groups—limited to one person per industry/weekly meetings
Collaborate—supportive group that helps with referrals/weekly open to all members
Business After Hours—hosted by chamber businesses/monthly
Annual events:

Ag Banquet-Jan.
Chamber Breakfast-Mar.
Ag Tour-Jun.
Chamber Open Golf Tournament-Jun.
Annual Meeting-Sep.

Trails Committee—supporting outdoor activity in our community/quarterly
Event Volunteer for Billings Chamber and Visit Billings
Agriculture Committee—Be informed & educated on the #1 industry/monthly
Business Celebrations—ribbon cuttings, member open houses/no meeting
BillingsWorks —join their workforce council and receive BW communications
Local or Federal and State Advisory Board—aid in shaping issues and policies
MARKETING
Uplift your business and increase visibility, tell your story.
Chamber Mailing Database—send out information about your business
Member Information Center—look up other members, update data, enter jobs or deals
Chamber Jobs Board & Hot Deals
Ribbon Cuttings—includes Facebook slideshow and commemorative plaque
Advertising Package—radio, television, newspaper and social media offers
Sponsorship Opportunities—promotion with events that are important to you
Small Business Saturday/Shop Small Promotions—November
Leadership Growth—develop yourself and your staff
NextGEN—young professionals group, no limit to participation based on employer
Leadership Billings—eight-month course, to learn about our business climate and community perspectives.
Women's Leadership Network—ENCORE unique programming, focus on personal and professional growth and explore current issues facing female leaders, monthly sessions
Business Development Network—timely business topics to assist small businesses, developing relationships to benefit business and explore opportunities for growth, monthly sessions
EDUCATION
Learn through the Chamber to enhance your skills.