Leaping into the Second Half of Session
The legislature is back in full swing this week, returning after transmittal break with a final count of 42 legislative days remaining. The official calendar gives lawmakers until May 5th to conclude business but they will likely finish up by the end of April, especially if they resume their first-half average of 150+ bill hearings each week. One of the bill hearings this week is HB 652, a bill revising the duration for unemployment insurance benefits. Currently, Montana allows for up to half a year, 28 full weeks, of unemployment insurance benefits which is one of the longest in the United States. This bill would reduce that duration to 20 weeks.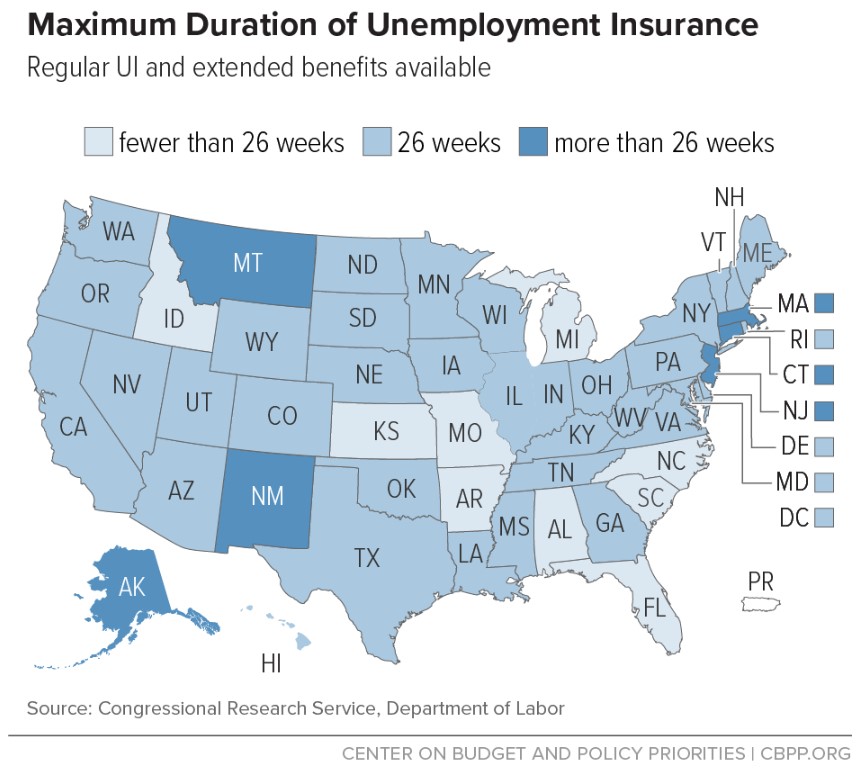 There are a couple considerations to keep in mind regarding unemployment benefit duration. On the one hand, we want unemployed people to find a good job match—not just any open job—that allows them to be highly productive, which is generally considered a benefit to the greater economy. On the other hand, extended benefit durations can negatively incentivize people to engage in fruitless prospects and unproductive job pursuits, knowing they have a lengthy time to remain on unemployment.
Intuitively, we expect that reducing the length of unemployment benefits will return people to the workforce sooner. That gut instinct appears accurate considering a review of the studies on this topic suggests, "Reducing the maximum duration of unemployment benefits increases the job finding rate of the unemployed." Finding and retaining workforce is one of the biggest challenges facing our businesses. We hear about it often from our businesses and their concern is reflected in data put together by the U.S. Chamber of Commerce on their Workforce Shortage Index ratio. Relative to other states, Montana is one of the most severely impacted by the workforce shortage, with only 48 available workers for every 100 job openings.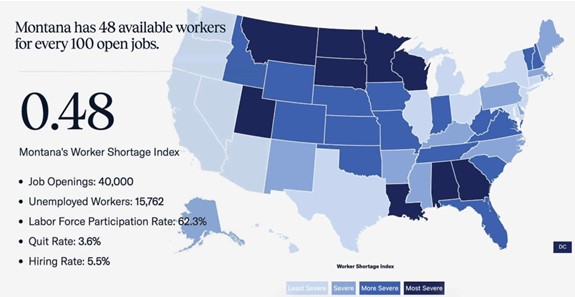 To illustrate the scale of the workforce shortage challenge, consider the U.S. Chamber's Workforce Shortage Index data identifies approximately 16,000 unemployed workers, with 40,000 job openings in our state. Which means, even if the provisions of HB 652 were to incentivize every unemployed person back into the workforce, our businesses still wouldn't have enough workers to fill job openings. The Billings Chamber of Commerce supports policies that improve our business climate. We believe that reducing unemployment benefit duration will have a meaningful impact to our businesses while more remains to be done in order to ensure our businesses have the workforce needed to grow. We ask that Montana lawmakers pass HB 652 as a part of their overall efforts to address the workforce shortage.
---
Working for You
House Bill 652
Revise UI law relating to benefit duration
Rep. Steven Galloway (R) HD 24
Billings Chamber: SUPPORTS
With almost 60 co-sponsors, this bill revises the duration of unemployment benefits from 28 weeks—1/2 a year—to 20 weeks. Currently, Montana has one of the longest unemployment benefit durations in the U.S. Our businesses face continual workforce shortage challenges, reflected in the U.S. Chamber of Commerce's Workforce Shortage Index, designating Montana as one of the most severely impacted. A reasonable reduction in the length of unemployment benefits is likely to result in more unemployed people returning to the workforce and helping our businesses. This bill will be heard in (H) Appropriations on March 16.
---
House Bill 546
Reauthorize coal trust multifamily homes loan program
Rep. Dave Fern (D)
HD 5
Billings Chamber: SUPPORTS
The Chamber has been strongly supportive this session of pro-housing legislation aimed at reducing housing regulations and governmental barriers that make it more difficult for the private sector to address our affordable housing crisis. At the same time, we also support successful programs that can help aid the provision of attainable, workforce housing. This bipartisan-sponsored bill would authorize an additional $15 million of coal tax trust monies to fund loans for multifamily housing. The program was originally passed in 2019 and has resulted in the provision of 252 affordable apartments in Montana, including some in Yellowstone County.
---
Legislative Videoconferences
Noon – 1:00pm
January 19th
February 2nd: Billings REALTORS
February 16th: Big Sky EDA
March 2nd
March 16th: Downtown Billings
March 30th
April 13th
Videoconference sessions will be held in the Liberal Arts Building, Room 208 at the MSU Billings campus, where individuals will have the opportunity to hear from, and ask questions of, our local legislators. There is a limit of 25 people for each in-person session and a box lunch will be provided for those who RSVP. Come and hear from our local legislators about what is happening in Helena and give your feedback. Thanks to MSU Billings and our sponsors: Billings Association of REALTORS, Big Sky Economic Development, Downtown Billings Alliance, and the newly certified LEED Gold, City of Billings.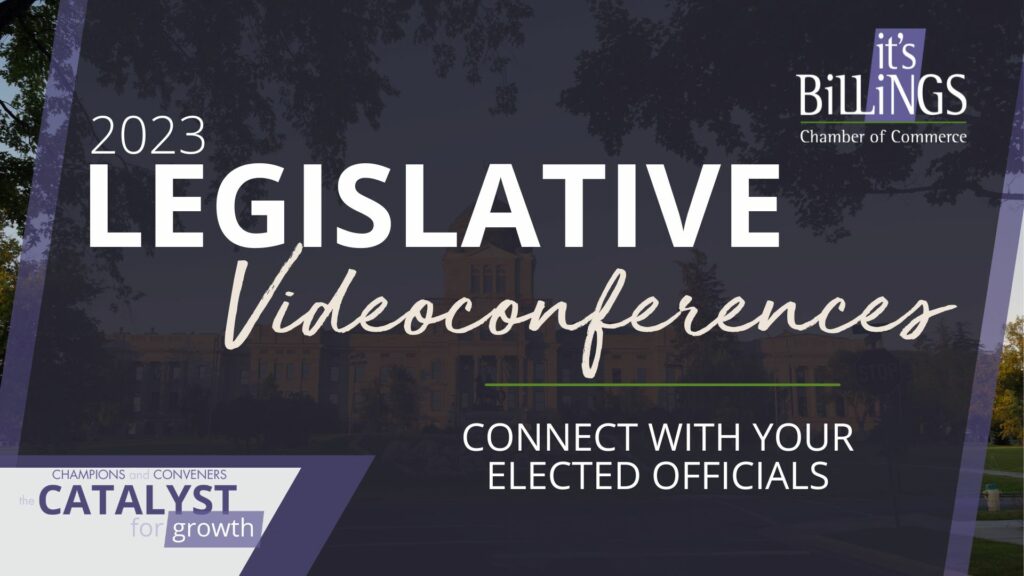 Virtual Testimony Makes It Easy
You will be able to select from the bills scheduled for the next 3 days.
By 5PM the day before the hearing, you will be able to submit your written testimony, write a brief message, or request a Zoom link to testify in the bill hearing.
Fill out the form with the pertinent details and submit. You will receive an email confirmation.
You do not have to testify in order to submit written comments. Written comments received by the deadline will be distributed to all committee members. However, if you request a Zoom link, we request that you write a brief message in the event of technical difficulties so that your name will be entered into the record.
If you wish to submit written testimony after the 5PM deadline, please call the Information Desk at (406) 444-4800 for assistance​.
Rules of decorum must be followed, and the Presiding Officer will call on you when it is your turn to speak. Follow the Zoom directions and raise your hand to let the Remote Committee Coordinator know when you want to speak. We will not assume that because you requested the Zoom link that you automatically want to testify. There may be limits placed on how many people are allowed to testify remotely on each bill.
---
Additional Resources
---
Business Advocacy Sponsors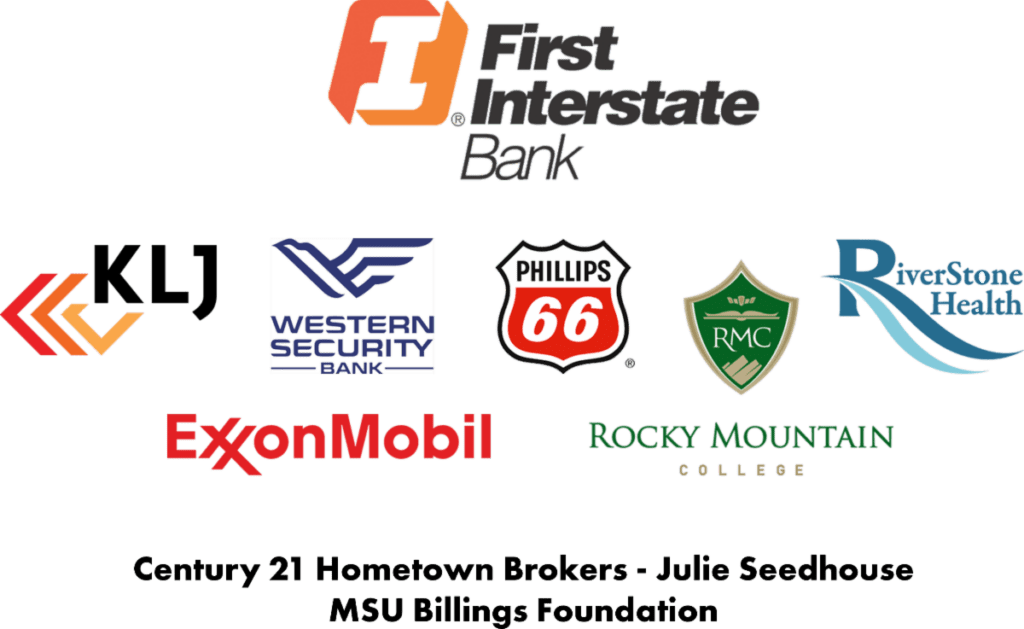 ---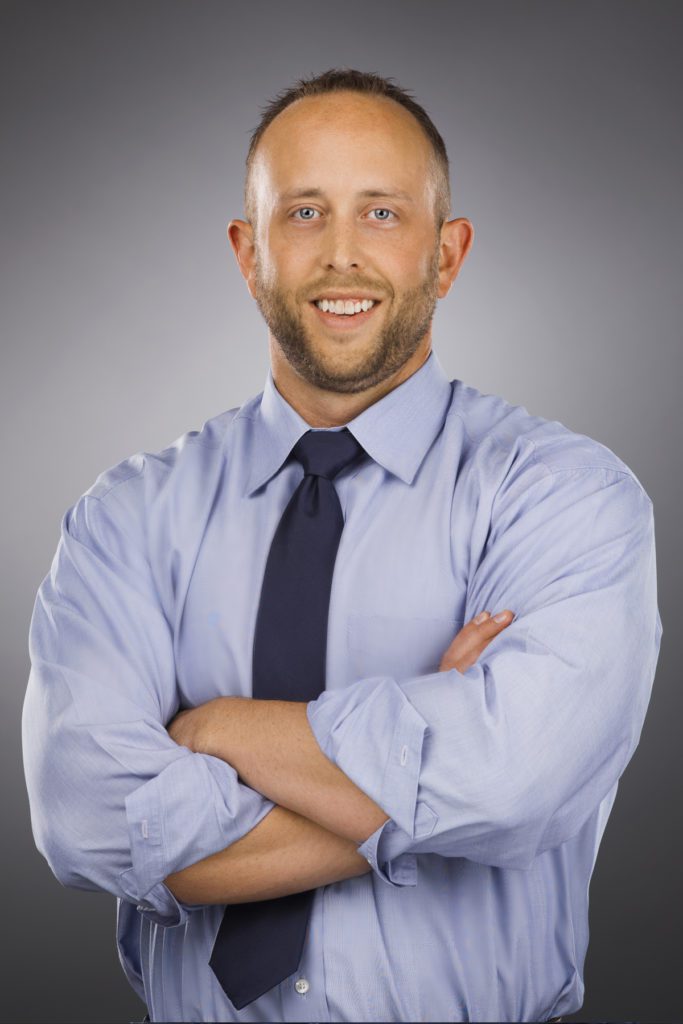 Please don't hesitate to reach out to the Billings Chamber's Business Advocacy Director, Dan Brooks, with questions, comments, or if you just want to chat about the legislature.

Email Dan at daniel@billingschamber.com