Activate Billings
Challenges in Hiring Trained Talent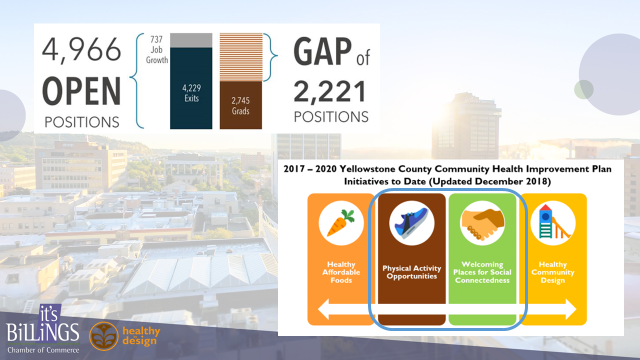 Billings faces multiple challenges. Yellowstone County is not the healthiest in Montana. In fact, 2 in 3 residents are overweight, 1 in 3 are obese, 1 in 3 have symptoms of chronic depression, and 1 in 4 have diagnosed depression.
We are the largest city in Montana, but we are 11th in the state for millennial attraction. Projections anticipate zero population growth in the 25-64 year old age group over the next three years. Yellowstone County boasts less than 4% unemployment for the past three years. A consistent trend within the last five years indicates that over half of local businesses are considering hiring due to growth, but finding qualified employees is both difficult and time consuming.
If next year every local high school and college graduate decided to stay in Billings, which would be naïve to think, that's nearly 2,800  potential candidates. But many high school graduates will continue on to college. Many college graduates will leave town. No matter how you slice it, Billings will fall short. And with all of these challenges, the big question is "how will we fill all these jobs?"
We know what employees want, and we have the natural partnerships to make it happen.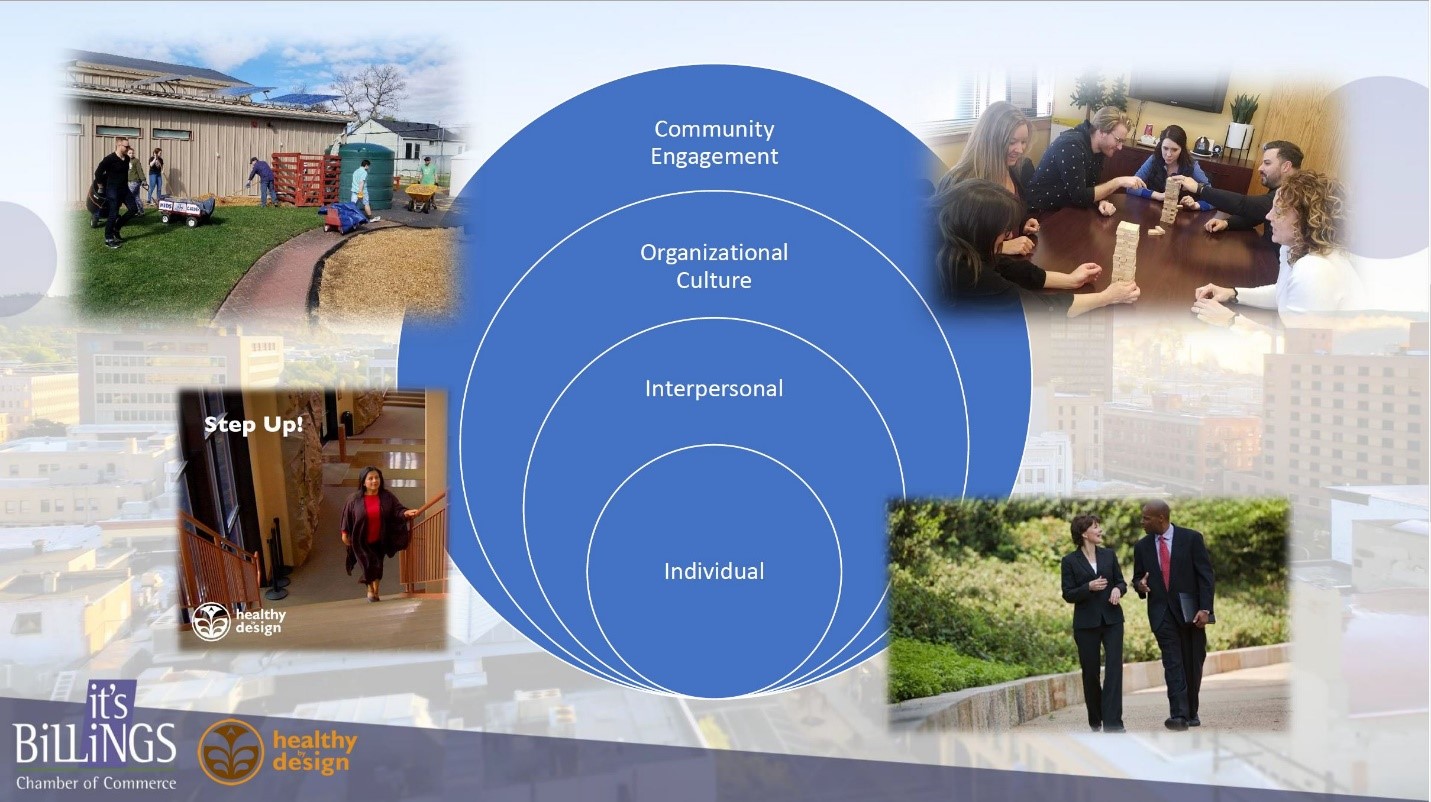 The BillingsWorks State of the Workforce Reports consistently highlight quality of amenities as important considerations for hiring. Job seekers also desire to be connected to their leader, be a part of a team, do meaningful work and have access to quality recreational activities. This directly aligns with our current Community Health Improvement plan strategies of increasing physical activity and social connectedness. Billings is at a critical turning point.
The Billings Chamber and Healthy By Design can help connect the dots between employee wants and employer needs AND we have the ability to leverage partnerships to Activate Billings. Billings HAS to do something and HAS to do it differently. We need to innovate. As multiple community partners work to make Billings a community of choice, we are looking to our businesses to become employers of choice.
We have designed a series of learning sessions that will help you focus on the individual employee, team dynamics, corporate culture, and community engagement as we work together to Activate Billings.
We invite you to join us in the upcoming Activate Billings Learning Lab series. Together with Healthy by Design, the Billings Chamber will guide you through a series of six half day workshops designed to help you improve your position as an employer of choice. Details on the Learning Labs are as follows:
| | |
| --- | --- |
| October 10, 2019; 1 – 5 p.m. | Session 1 – Employers as Activators of Health – Worksite Wellness |
| November 14, 2019; 1 – 5 p.m. | Session 2 – Employee Engagement, Fulfillment, and Social Connections |
| December 12, 2019; 1 – 5 p.m. | Session 3 – Organizational Culture, Systems, and Environment |
| January 9, 2020; 1 – 5 p.m. | Session 4 – Community Engagement |
| February 13, 2020; 1 – 5 p.m. | Session 5 – Sustaining the Work and Building Momentum |
| March 12, 2020; 1 – 5 p.m. | Session 6 – Final Class – Celebration and Next Steps |
For more information about this program, please contact Jennifer Reiser at jennifer@billingschamber.com.