DEII Immersion Program
DIVERSITY EQUITY INCLUSION IMPLEMENTATION 2022 IMMERSION PROGRAM
February – May 2022
Our Diversity, Equity, Inclusion, Implementation (DEII) Immersion Program is the first of its kind for our Billings community. It convenes people and businesses to improve individuals and workplaces through awareness and advancements in diversity, inclusion, and equity.
WHO SHOULD ATTEND?
Business leaders, employees and individuals wanting to start their personal journey, begin to develop organizational foundations to do better, or simply desiring more connections and information on diversity, equity and inclusion.
THROUGH THIS PROGRAM, PARTICIPATING BUSINESSES AND INDIVIDUALS CAN:
become a place to work that retains and attracts talent
create an inclusive and productive work environment
facilitate diverse and inclusive interactions
learn how to have difficult conversations
grow their network
Our inaugural class of 2021 was comprised of 54 business leaders from 17 organizations representing over 13,107 employees making a difference in Billings, Montana.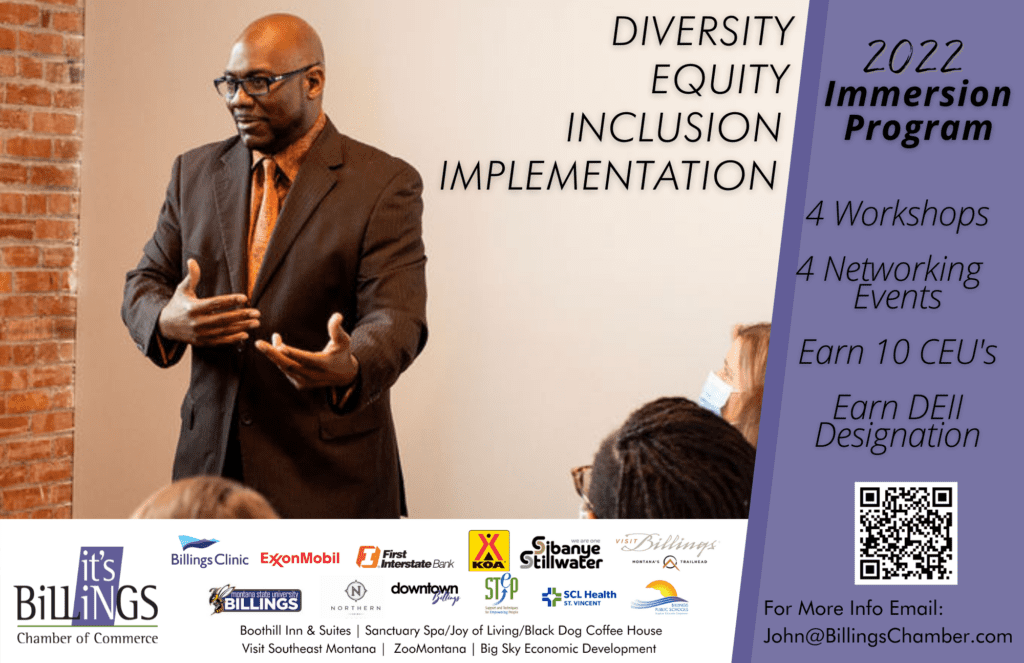 THIS FOUR-MONTH PROGRAM INCLUDES:
four 2.5-hour long workshops
four 2-hour long networking/panelist events
10 CEU's through Society for Human Resource Management (SHRM) accredited classes
Earn the Chamber's designation of "A Workplace of Choice"
Workshops are centered on the four tenets of the program, with a different focus each time.
Networking/panelist events include a one-hour program, followed by networking time which includes light appetizers and beverages.
ARE YOU READY TO MAKE A DIFFERENCE IN THE WORKPLACE AND OUR COMMUNITY?
TUITION is $1,450 for first employee and $1,250 for each additional employee. A limited number of scholarships are available to those who show a financial need and a commitment to the DEII journey. Deadline to submit scholarship application is January 19, 2022 by 5 p.m.
Deadline to register is January 28, 2022 by 5 p.m. or unless classes fill early.
If you would like more information, please contact John Brewer at 406-869-3720 or john@billingschamber.com.
Interested in applying for a DEII scholarship? CLICK HERE.
REGISTER NOW

ARE YOU A DIVERSITY & INCLUSION CHAMPION?
Become a lead organization in our community to make tangible strides to improve our workplace through improvements in diversity, inclusion, and equity. Your investment not only provides direct benefits to your organization but also visibly shows your leadership in DEII, helping the Chamber continue to provide this community-wide program that benefits all. One hundred percent of your investment will be used to further the DEII program. Interested in applying or becoming a sponsor? Please contact John Brewer at john@billingschamber.com.
Thank You to our 2021 Sponsors