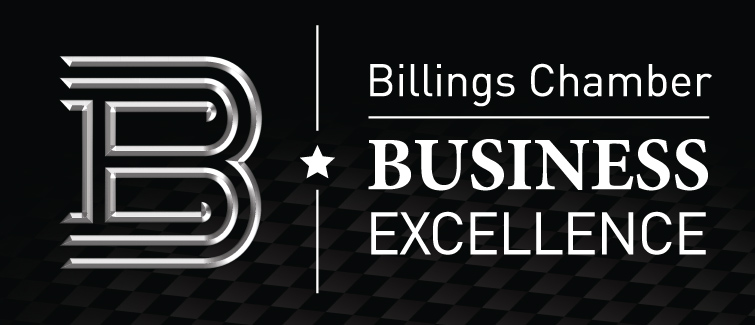 Every year the Billings Chamber of Commerce honors outstanding individuals in the Billings area that have made an impact on our business community.
We are pleased to announce the 2019 winners of the Billings Chamber Business Excellence Awards. The public nominated many outstanding businesses and professionals in a variety of categories, and the winners were selected by an anonymous voting process.
Award Categories
Employer of the Year: Awarded to a Billings business that has consistently provided a positive work environment including: benefits, training and job creation, has impacted the community through social services and added value to the community by making Billings a better place to work.
Business Person of the Year: Awarded to a business person who has made an impact to the business community through increased job growth and community service involvement.
Customer Service Excellence: Awarded to an individual who provides exemplary customer service or support on a routine basis.
Supervisor/Manager of the Year: Awarded to an individual who has demonstrated leadership skills in motivating employees to achieve their highest potential while helping to achieve the overall mission and objectives of the organization.
NextGEN Exceptional Emerging Leader: Awarded to a Billings young professional who demonstrates strong leadership, a sincere interest in peer development, excellence in professional, philanthropic and/or community investment, and ultimately inspires other young professionals to succeed.
Awards are presented at the 2019 Billings Chamber Breakfast at MetraPark on April 4th, 2019. Click Here to learn more.
2019 Business Excellence Award Winners
  
  Employer of the Year
Billings Clinic
Billings Clinic is Montana's largest health care organization serving Montana, Wyoming and the western Dakotas. A not-for-profit organization led by a physician CEO, Billings Clinic is governed by a board of community members, nurses and physicians. Billings Clinic is an integrated multi-specialty group practice with a 304-bed hospital and Level II trauma center.
As Yellowstone County's largest employer and one of the largest in Montana, Billings Clinic has more than 4,200 staff including more than 430 physicians and advanced practitioners offering more than 50 specialties. These professionals work together to provide coordinated and complete care.  As part of its mission of advancing health care, education, and research throughout the region, Billings Clinic launched Montana's first Internal Medicine Residency program in 2014, started the state's first and only psychiatric residency in 2018 and operates a nursing residency program.
Billings Clinic's vision is to be a national leader in providing the best clinical quality, patient safety, service and value. Physician leadership is embedded in the organization with a physician CEO and through its internal and community governing boards. Billings Clinic was the first Montana Magnet® -designated health care organization for nursing excellence and is a member of the Mayo Clinic Care Network. For more information, visit .
"As an employer, Billings Clinic's 4,200+ employees enjoy competitive wages, excellent benefits and an encouraging work environment that seeks to support all members of the team so that patients receive the best health care quality and value. Billings Clinic is a big reason that Billings, Montana is a great place to live and work!" – Award Nominator
  Business Person of the Year 
Andrew Newman – Newman Restoration & Cleaning
The restoration industry has always been a piece of Andrew Newman's life. He was first introduced to the business through his parents restoration company in his hometown of Sheridan, Wyoming.  Andrew recognized the opportunities to grow a business in Billings. He started Newman Built Quality Homes and Newman Restoration & Cleaning three years ago. After spending two months in Houston, Texas during the aftermath of Hurricane Harvey and restoring 15 homes, Andrew decided to focus his efforts on Newman Restoration & Cleaning. In the past year, the company has grown from three to a dozen employees.
When Andrew enjoys spending time with his wife, Becca, and his children Brianna, Noah and Charli. He stays involved in the community and multiple local charities, and is president of the Home Builders Association of Billings.
Involvement with the Billings Chamber of Commerce has been important since day one of owning a business for Andrew. Andrew continues to focus on being an active member of the chamber and in the community. Success for Newman Restoration & Cleaning is also success for the community. Andrew remains thankful for the connections and learning opportunities that come with being involved in the Billings Chamber of Commerce.
"Andrew is a great Leader…he is always pushing forward and leaning in to make a difference and grow the company!  Andrew shows his willingness to be innovative, courageous and bold and willing to take risks to be successful!  He has made a commitment as an individual, as a family man and as a company to give of his time, money and energy to many causes in our community." – Award Nominator
  Customer Service Excellence
Gustavo Belotta – This House of Books
Gustavo Belotta is the General Manager for This House of Books, a community-owned, independent bookstore and tea shop in downtown Billings, Montana.
Gustavo has worked in the book retail market for over 18 years and has read a few books here and there in that time. He will occasionally do some writing, some acting, some painting, or anything else creative that takes his fancy. He can be found playing board games or trying to convince people to play board games the rest of the time.
"Gustavo Belotta goes above and beyond. He takes the time to build relationships with his customers and he knows them by name and what they like to read. I believe Gustavo makes everyone who walks through the doors feel welcome. He truly cares about making people feel valued. Not only does he provide exceptional customer service, Gustavo reaches out to the Billings business community to provide outstanding cultural programs for our area." – Award Nominator
             Supervisor/Manager of the Year
Coralee Schmitz – Rimrock
Coralee Schmitz is the Chief Operations Officer at Rimrock. She holds a Master's Degree in Psychology, a Master's in Business Administration, and is licensed by the state of Montana as an Addiction Counselor. She also holds accreditation from the National Association of Alcohol and Drug Addiction Counselors as a Masters level Addiction Counselor and holds certification from CSAT (Center for Substance Abuse Treatment) for Motivational Enhancement Therapy for Adolescent Cannabis abusers. Coralee is also certified as by the Commission for Accreditation of Rehabilitation Facilities (CARF) as a surveyor.
Coralee is responsible for managing the general operations at Rimrock, to include Adult Treatment, Adolescent Treatment, Sober Housing, and the Treatment Court Programs.
"Coralee exemplifies integrity, compassion, empathy and honesty.  She works tirelessly to support the mission of Rimrock, and her efforts and passion make a positive difference in the lives of the clients as well as the team she supervises. She is always available and approachable for questions, is a great mentor and loves Rimrock and the purpose they serve. Coralee has created a team who lead by example, are accountable, and go above and beyond." – Award Nominator
  NextGEN Exceptional Emerging Leader
Karen Baumgart – BillingsWorks
With a BA in History, a Master's Degree in Public Relations, and a certification in Brain-Based Coaching, Karen Baumgart brings a multifaceted perspective to her work. Born, raised and educated in Montana, Karen is committed to the advancement of the Big Sky state. Karen currently serves as the Director of BillingsWorks, the workforce development branch, with Big Sky Economic Development. Her role is to facilitate solution-focused conversations and implement innovative strategies with community stakeholders to ensure Yellowstone County has an adequate and talented workforce.
Her work allows her to serve on many committees and boards including: NextGEN, STEM Billings, CTE Advisory Board, Career Services at MSUB, Alternatives' Personnel Committee, and the State Workforce Innovation Board (SWIB). By combining the different aspects of her education and professional experience, Karen has the perspective and insights that elicit enthusiasm for innovation and excitement for action.
"Karen delivers on her promises and emulates the qualities other emerging leaders should have.  Karen is eager to serve, learn and find out how things fit together for a good community.  Most of all, Karen is fun to be around! She never shies away from encouraging others to have fun and she has a youthful exuberance about her that is contagious.  We need more fearless people like Karen in leadership roles in Billings!" – Award Nominator