The Billings Chamber of Commerce announces that Mike Nelson is the recipient of the 2023 Legacy Award. This outstanding community leader and business owner will be honored during the 2023 Billings Chamber Annual Meeting presented by Marsh McLennan Agency, formerly PayneWest Insurance, on September 14, 2023, at Pub Station.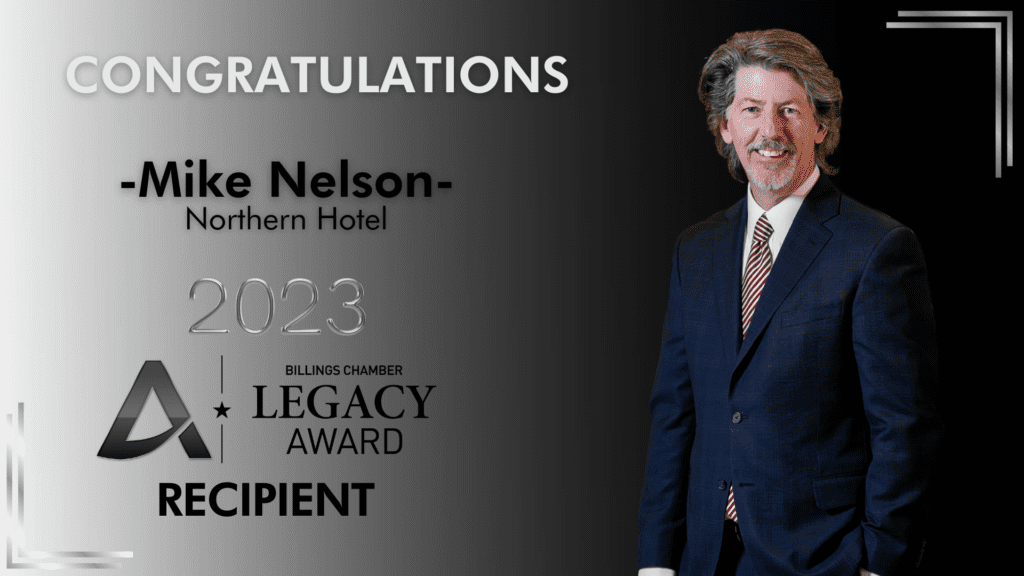 Mike Nelson is well known in the Billings community for his hospitality industry expertise, business acumen, and being a champion of downtown Billings. A born-and-raised Billings native, Nelson earned a degree in economics from Montana State University Billings, married his wife and lived in Las Vegas, Nevada for nearly three decades. There he worked in major strip hotels in the disciplines of human resources, administration, and operations.
Nelson capitalized on his hospitality industry experience and joined the family business, Zoot Construction, in the endeavor to renovate the then-shuttered Northern Hotel in downtown Billings in 2009. He led design and development efforts for the construction and re-opening of the historic hotel in 2013. Since it's opening with Nelson as the General Manager, the Northern Hotel became the first four-star hotel in the city, which was founded on the principle of being a good neighbor.
Coming back to Billings as a seasoned business professional, Nelson became involved with the Billings Chamber of Commerce and served as Chairman of the Board in 2020-2021. Nelson is truly an advocate for business, commerce, and workforce, serving as one of the founding members of the Billings Chamber's Diversity, Equity and Inclusion (DEI) Network Advisory Board. His community involvement spans from supporting young entrepreneurs and those in the culinary and hospitality industries, to advocating for business and public safety through his board service and philanthropic efforts.
One has to look hard to find someone who is prouder of our city than Nelson. "Thanks to Mike, he has breathed life back into Downtown, provided employment and opportunities to hundreds of individuals, positively impacted Downtown's economy by welcoming thousands of tourists, business travelers and visitors every year, and navigated intact through a pandemic," shares one of his nominators. "In addition, he generously donates to numerous charitable organizations, has partnered with Billings School District 2 and MSU Billings College of Business by supporting young entrepreneurs and those interested in culinary and hospitality and is a tireless advocate of small business in the community.
The Legacy Award is given to an individual who has consistently demonstrated success in improving the business and economic climate in addition to the quality of life for residents of Billings over their lifetime. Previous honorees include George Selover, Sam McDonald, Don and Marilyn Floberg, Ron Sexton, Joseph Sample, Michael Schaer, Jim Soft, Tom Scott, Karen Sanford Gall, Bill and Merilyn Ballard, Bruce MacIntyre, Bill and Mary Underriner, Ziggy and Stella Zeigler, Dr. Bob Wilmouth, Kris Carpenter, and Jim and Chris Scott. acumen
Nelson will be honored during the 2023 Billings Chamber of Commerce Annual Meeting on September 14, 2023 from 3:30- to 5 p.m. at Pub Station. Tickets for this event can be purchased at BillingsChamber.com.