Join us in celebrating these incredible women and their contributions to the ag community
---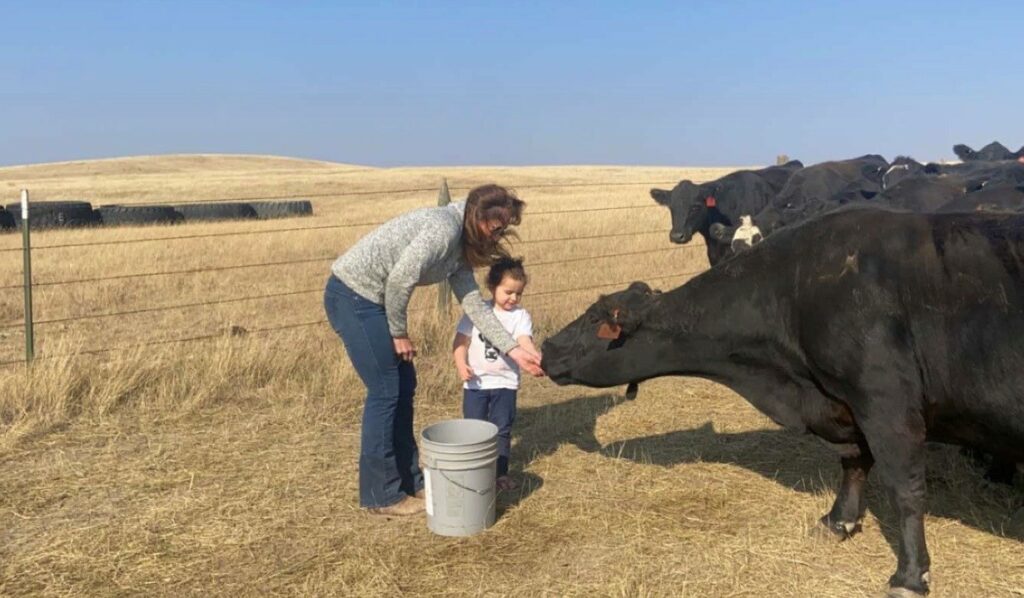 When did you become involved in agriculture?
I was fortunate to become involved in agriculture when I was born. I grew up on a cow/calf operation near Beach, ND and both sides of my parents' families were involved in farming or ranching.
How has your passion and involvement for this industry grown over the years?
Growing up on a ranch, you get to see firsthand the challenges as well as the blessings that come along with being involved in agriculture. The work ethic and lessons I've learned from my parents and watching others in agriculture is something I'll always be grateful for. I've been fortunate to continue to be involved in agriculture as an agriculture lender and Branch Manager with AgWest Farm Credit since 2008. I really enjoy working with our customers as well as be involved in Ag-related groups such as the Billings Ag Chamber committee and helping support agriculture in any way I can. Even though I live in Billings, I'm glad my kids can still have agriculture experience at the ranch and take items to their classrooms to help them learn more about agriculture as well.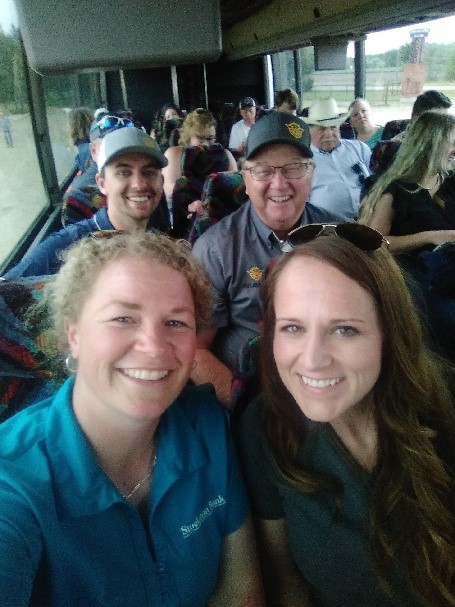 What is the greatest piece of advice given to you?
Actions speak louder than words – my dad has always been a great example to me of someone who is humble, hard-working and leads through his actions.
What advice would you give to women just starting out in agriculture or thinking about a career in ag?
It's okay to not know everything. Be okay with saying, 'I don't know but I'll be do some research and get back to you' and then make sure to follow up. People are very willing to share their knowledge if you ask questions and appreciate someone taking an interest in agriculture. I've learned so much going out with our customers to spend time with them on their operations and ride around in the combine or pickup.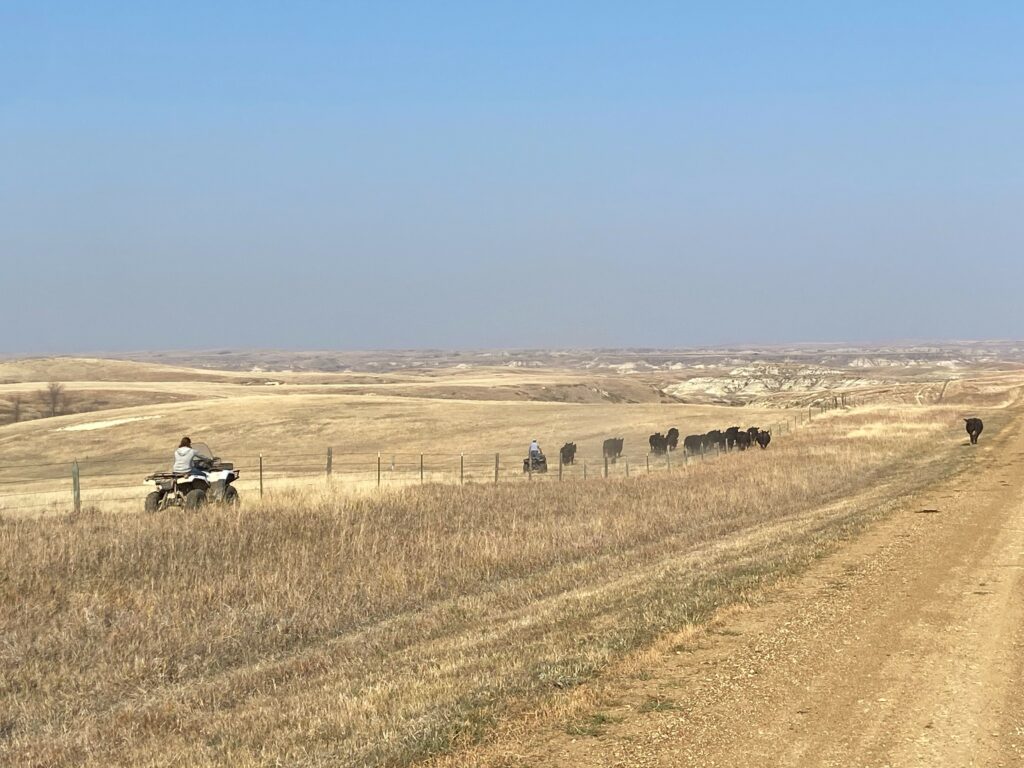 ---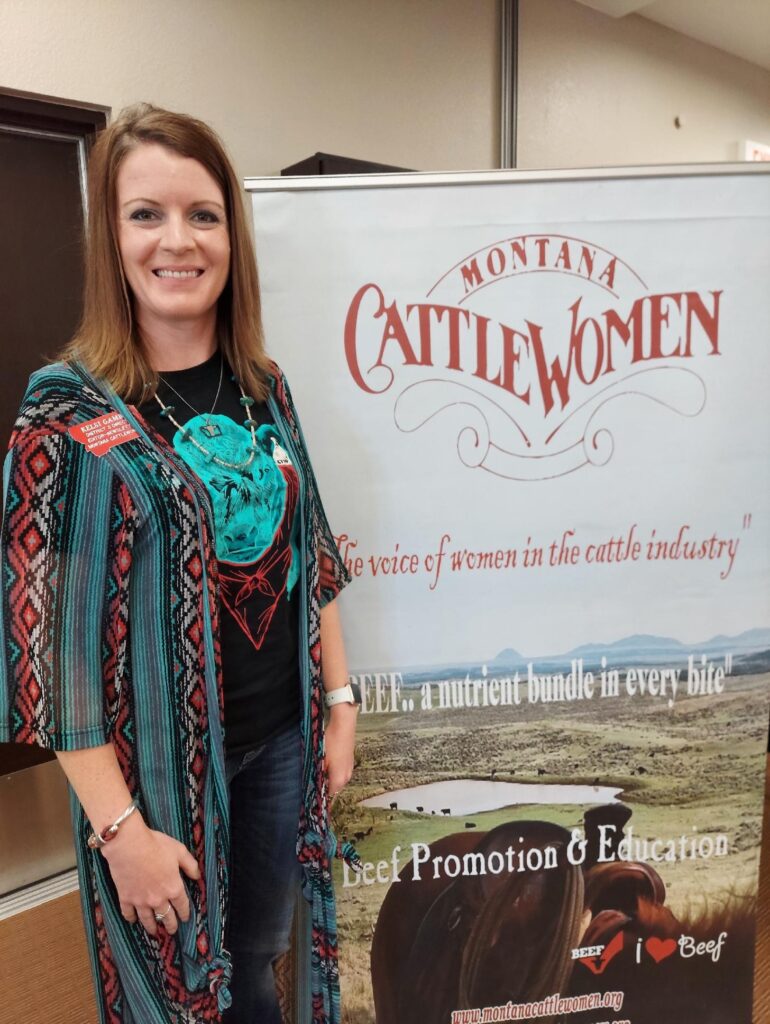 When did you become involved in agriculture?
I been involved in agriculture for my whole life as I was born on a ranch in southeastern Montana but didn't grow up on it. When my family sold the ranch in the late 1980's, we left the state and spent time in Oregon and Idaho, with chickens, horses, and I even raised a bucket calf. We returned to Montana in 1994, and my parents opened C&K Meats in Forsyth. This is where my gate to plate involvement in agriculture began as I got to experience raising livestock through 4-H and the life cycle of how they become the meat products we eat.
How has your passion and involvement for this industry grown over the years?
My involvement in the ag industry truly shaped the foundations of my life through involvement in 4-H, FFA and as a Montana Beef Ambassador. Belief in the importance of the industry and sharing agriculture's importance led me to obtain my associate's degree in Agriculture Communications at Northwest College in Powell, Wyoming and my bachelor's degree in Agriculture Education from Montana State University. My civic involvement continued through college at Northwest in Block and Bridle and NCW Show Team and at MSU with Collegiate CattleWomen, Young Farmers and Ranchers, Ag Student Council and as an Operation Main Street speaker with the Pork Producers Council. I remained close to the meat processing industry in my time at MSU as a teacher's assistant and working in the meats lab.
After graduation from MSU, I landed in Billings and worked in agri-business for KGHL and then the Northern International Livestock Exposition. My passion for agriculture and connecting the dots to where food comes from evolved into involvement with cattlewomen on the local, state, and national level. I currently serve as the Vice President of Yellowstone CattleWomen, Beef Promotion Advisor for Montana CattleWomen, and have been named to the public relations committee for American National CattleWomen.
In my job at the Billings Chamber of Commerce, I am the Communications and Marketing Manager and co-liaison to the Ag Committee. I truly love that as a Chamber we are champions for the ag industry and that I get to convene with committee members on a regular basis. The ag industry in Montana is truly built on relationships and connections and I am proud to be able to work and promote the ag industry daily, both personally and professionally.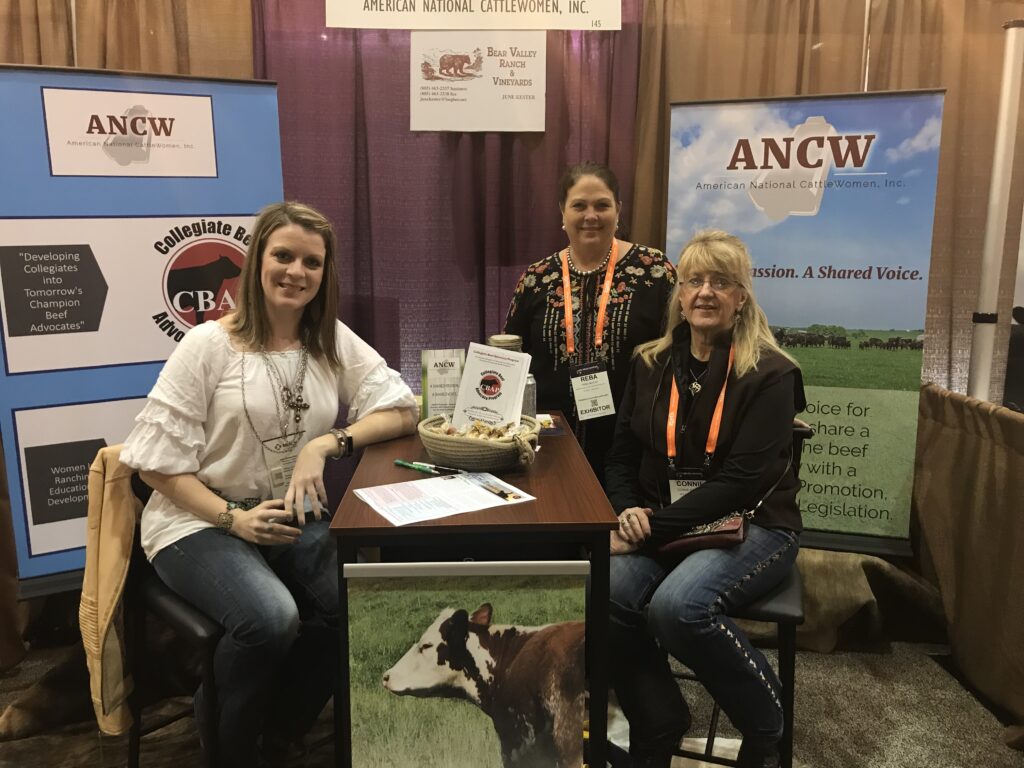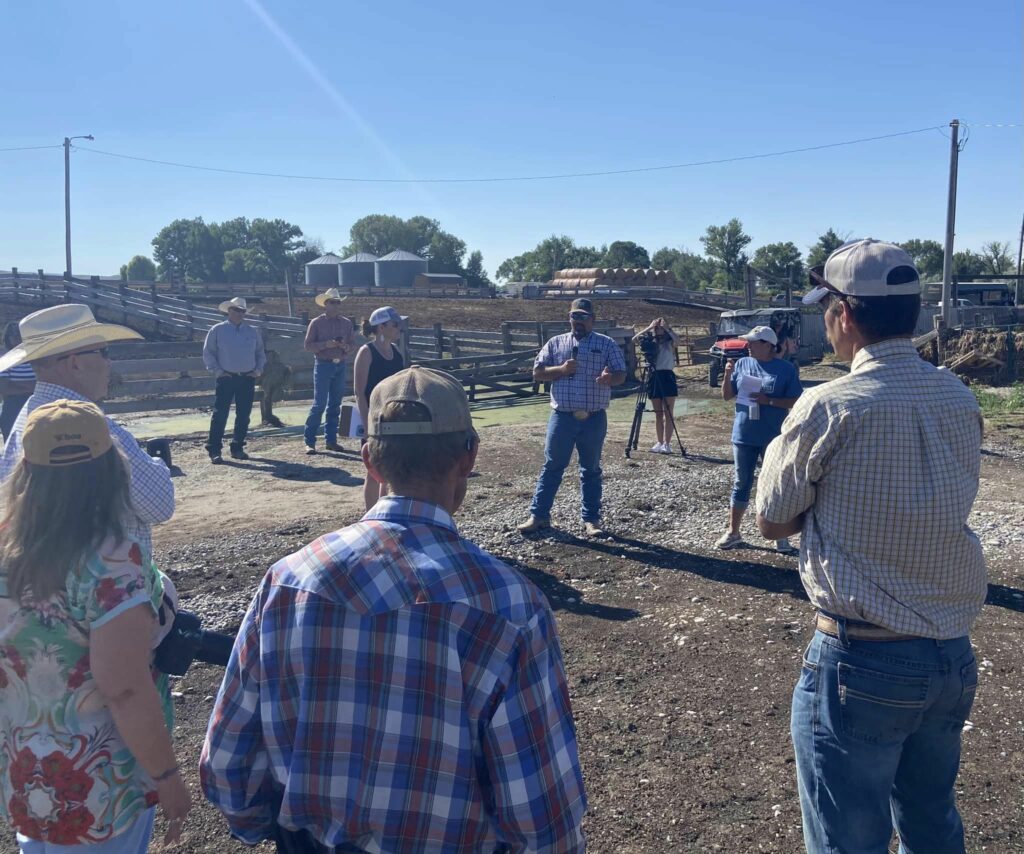 What is the greatest piece of advice given to you?
There is so much valuable advice that I've received from my parents, family, and mentors from their backgrounds in agriculture. A lot of the advice stems from values rooted in western heritage including but not limited to: living with honesty and integrity, listening carefully, respecting others, working hard, being thankful for what you have, and taking responsibility for one's actions.
What advice would you give to women just starting out in agriculture or thinking about a career in ag?
While doing my college internship in the extension service, my extension agent supervisor shared advice that I've never forgotten—"find the oldest farmer and rancher in the county and spend time with them. They'll help you acclimate and learn the county, the people, and are full of knowledge—win them over and they'll become your biggest fan." Today, this still applies to ag but can also be expanded—find a job you're interested in and explore it—find mentors along the way and rely on their experience to guide you and help you build a network! The ag industry is built on relationships. Don't be afraid to blaze your own path and stand out from the crowd. The ag industry is changing and evolving–it needs you and your involvement.
---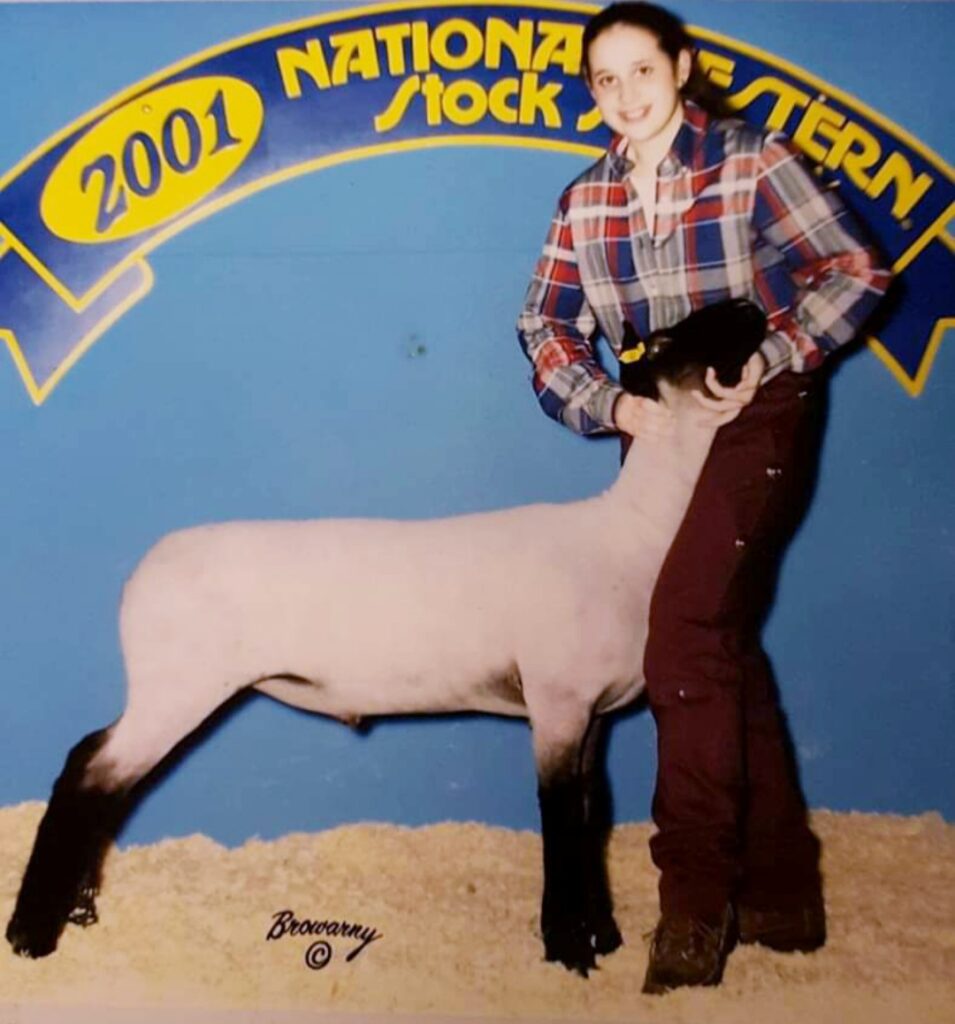 When did you become involved in agriculture?
I was born into Agriculture. Coming from two ranch and farm raised parents, it was not an option to start out in any other industry.
My parents met working at Livestock and Range Research Station (Fort Keogh) in Miles City, my dad was in charge of the Veterinary Hospital, feed rations, and herdsman, and my mom worked for the Genetic & Range Scientist and did programing in the Computer Lab. Shortly after they were married, my dad was offered the ranch manager position for a purebred Salers operation in Brenham, TX. A story that sticks with me is what the owner L.F. McCollum told my dad when he hired him, "You have every privilege to borrow as much money as you need to make this place work, and you also have every privilege to pay it back". That is just what my dad did and ran the ranch in the black the entire time.
My parents worked together to build one of the most successful purebred operations in the country to the point they sold a heifer for one million dollars at one of the production sales. The heifer was a peak, but high dollar cattle were normal for the operation by the time we moved back to Montana. Watching how my parents managed the ranch instilled in my brother and me how you treat ranching like a business but also about how pragmatism and passion can live in the same house. Our experience there was quite unique. Salers is a French breed and my dad oversaw three separate imports from France to the ranch in Texas. He was also the first man to send one of the imports to town, because she was not good enough. Which was unheard of at the time, taking an imported cow to the stockyard just was not done. Seeing not only the production agriculture but learning the regulatory side is not something many ranch kids can experience. Our time in Texas is where they instilled in us kids to love the land and the livestock while making those tough decisions that carried through to our move back to Montana.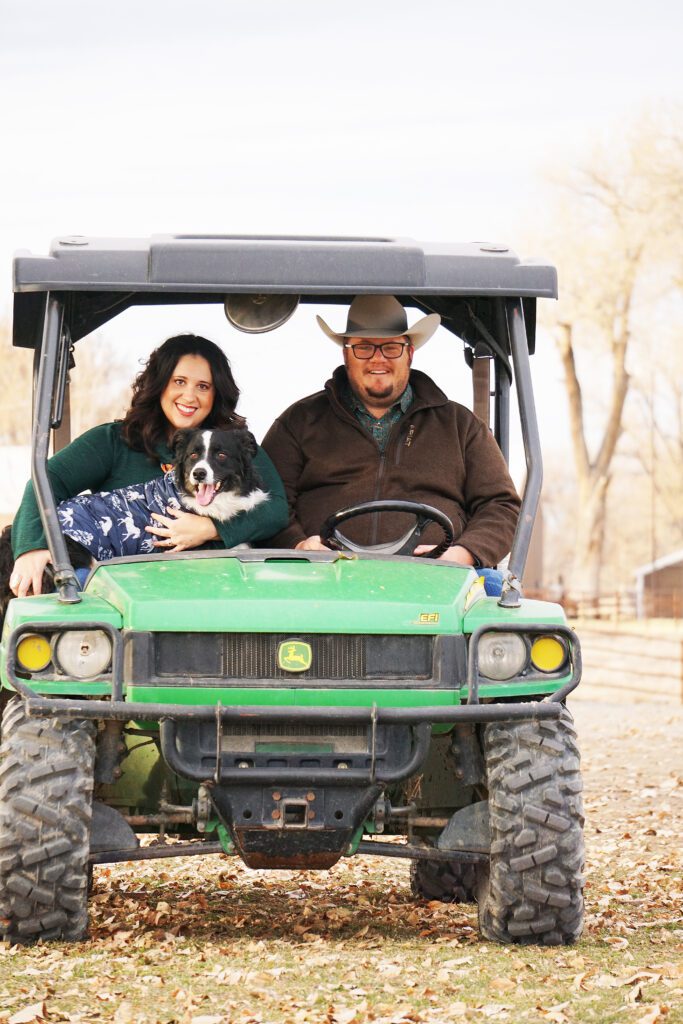 How has your passion and involvement for this industry grown over the years?
As soon as age would allow, I joined 4-H. I showed horses, cattle, sheep and countless indoor projects. I joined junior livestock associations as well. This afforded me opportunities to travel the country to various shows. Like most agriculture kids will tell you, these projects taught me the value of hard work and following through on commitments. It also was real life experience as well. Selling our livestock is not like the rancher in that the junior's premium is much higher. My parents were sure to give me a dose of reality delivered in the form of an invoice after the sale for the expenses they incurred during the show year.
It also gave me an opportunity to build relationships. Knowing that invoice was coming, I approached Patty Nissen. I would often buy some of my show lambs from her, and she also showed black Angus cattle. I would work for her during the NILE and I used the credit to purchase my lambs at her silent auction the coming spring. I appreciated the credit, but I valued the knowledge gained and the relationship more. Though I had an increasing passion for agriculture, I cultivated a passion for the performing arts as well. My parents put as much value in the hard working ranch life as they did in music, art, and foreign language. When university came, I found myself at Concordia College on a vocal performance scholarship. A year later, I transferred to North Dakota State University (Go Bison!) and studied Agriculture Communications. The simple fact – I missed my agriculture!
The networking I did through my involvement in organizations like Saddle & Sirloin and Agriculture Communicators of Tomorrow opened my eyes to the need for advocacy. It is remarkable how much of a disconnect there is between rural communities and that of urban areas. Our agriculture stories need to be told to a wider audience. My professional life led me to Montana Agri-Women and the public outreach they do to "promote the positive perception of agriculture" I am fortunate to work for a company like Nutra-Lix that provides me the outlet to support agriculture but they in turn support my passion for the industry through my day-to-day projects.
I recently celebrated five years of marriage and it has been fun to look back on how my husband and I have grown together in our agricultural pursuits. We are team and it is fun to set goals together and work towards them. Bit by bit we are building our purebred Limousin cattle operation and he supports my "crazy horse lady" ideas. We hope to break into the show lamb market in the near future as well. To have a life partner in him, is one of my greatest blessings.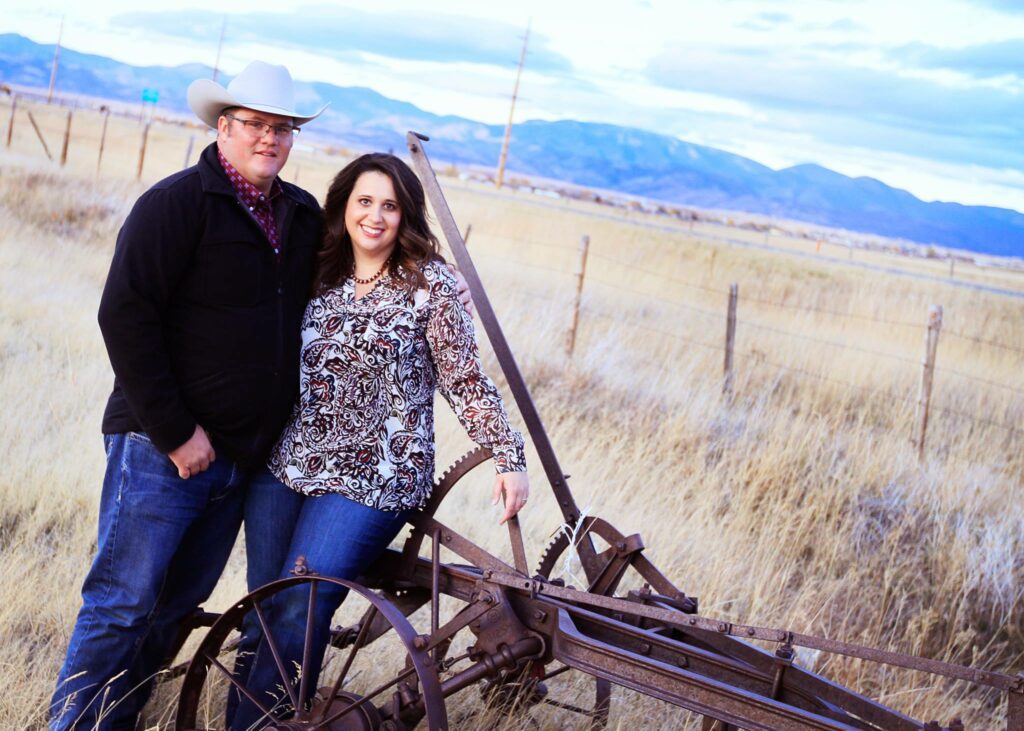 What is the greatest piece of advice given to you?
It is difficult to pinpoint the greatest piece of advice given to me. I have been given so much wonderful advice that truly left an impact on me. In keeping with the theme of Women in Ag, my livestock reproduction professor at NDSU, Dr. Kim Vonnahme, told me in much longer conversation about being in a largely male dominated industry is, "do not try to be a man in man's world – be a lady". That does not mean to be a wilting flower. Ladies are strong, smart, independent and fully capable of doing the work. If you show up and do the work you won't be known as the woman. Instead, you will be known as the person that gets the job done. I have never thought of being a woman as a disadvantage, it never crossed my mind. Probably because my parents never raised me to think of myself as less than. I could do everything my brother could do.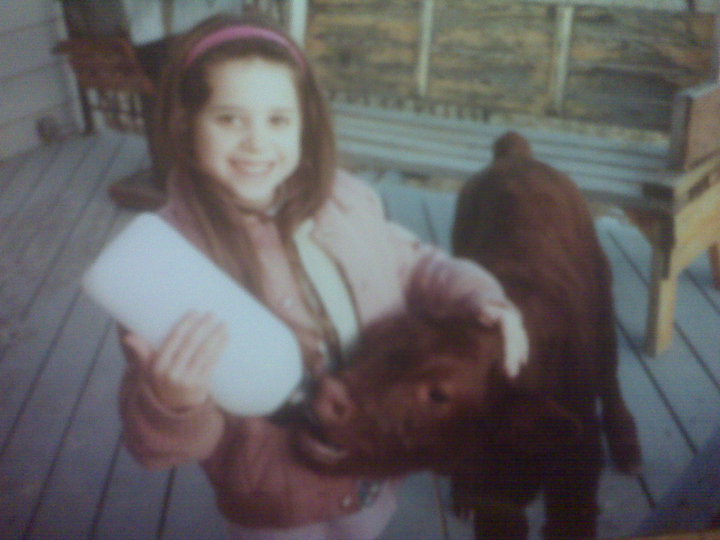 What advice would you give to women just starting out in agriculture or thinking about a career in ag?
I would reiterate what Dr. Vonnahme told me. You can be tough and relentless, but still show grace and class. In my lessons learned, showing grace also includes showing grace to yourself. I have made many mistakes and learning to take them as opportunities to grow is much more beneficial than trying to avoid failure all together. Failure happens to everyone, how you take that failure separates you from the rest.
Say yes as often as you can and take a step outside of your comfort zone. Outside your comfort zone is where you will build the relationships that can help you achieve your goals. Agriculture is not for the faint of heart, regardless of gender, but the rewards are far greater than the obstacles.
---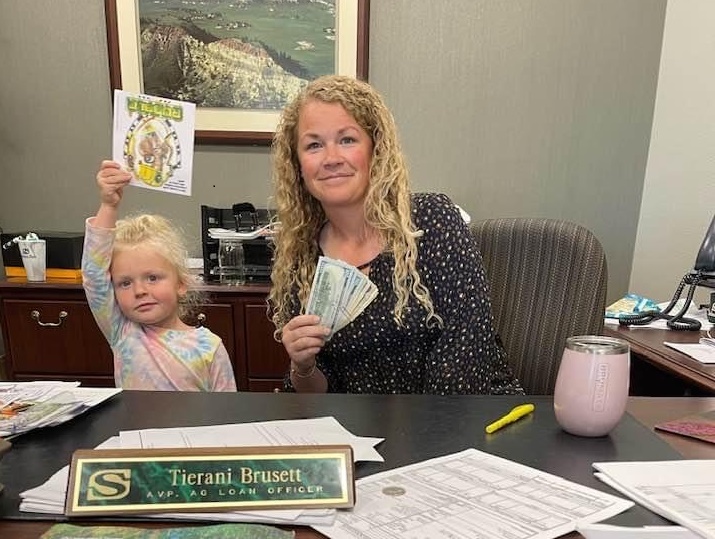 When did you become involved in agriculture?
I grew up on a farm/ranch in Brusett, MT so a while ago!!!
How has your passion and involvement for this industry grown over the years?
I've always had a huge passion for ag because that's all I knew growing up. My sisters and I started riding horses and driving tractors at a very young age and loved it (maybe not always sitting in a tractor)! Farmers and ranchers are some of the hardest working people I know. I get to be around a lot of them in the banking business and I see it firsthand how hard they are working. It's hard not enjoy this industry when you see the passion in all your customers.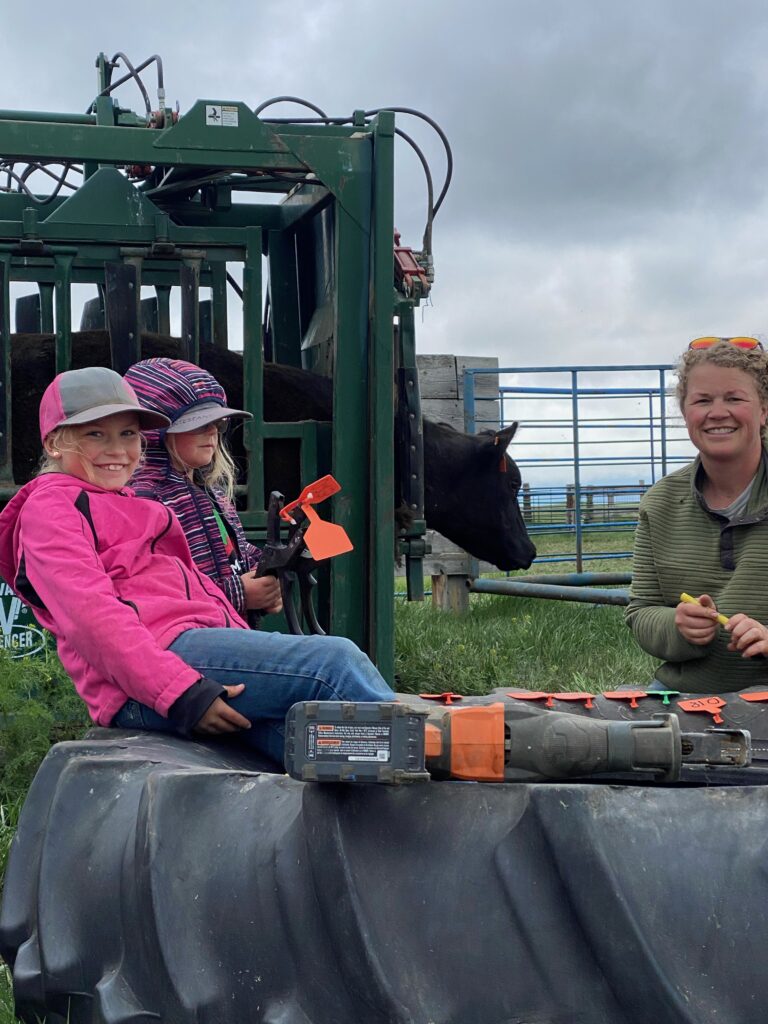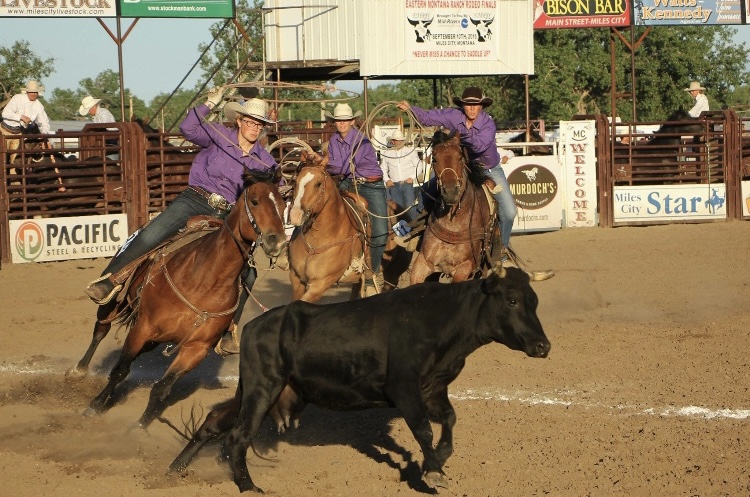 What is the greatest piece of advice given to you?
I don't have a specific one, but I would say it doesn't hurt to listen to everyone's advice because eventually some of it is going to payoff for you.
What advice would you give to women just starting out in agriculture or thinking about a career in ag?
Don't be afraid to just dive right in. If you're just starting out in agriculture, there is going to be a lot of things you won't know so don't be afraid to ask for a little help if you need it! Ag people are great people to work with and are more than willing to help a neighbor out!!!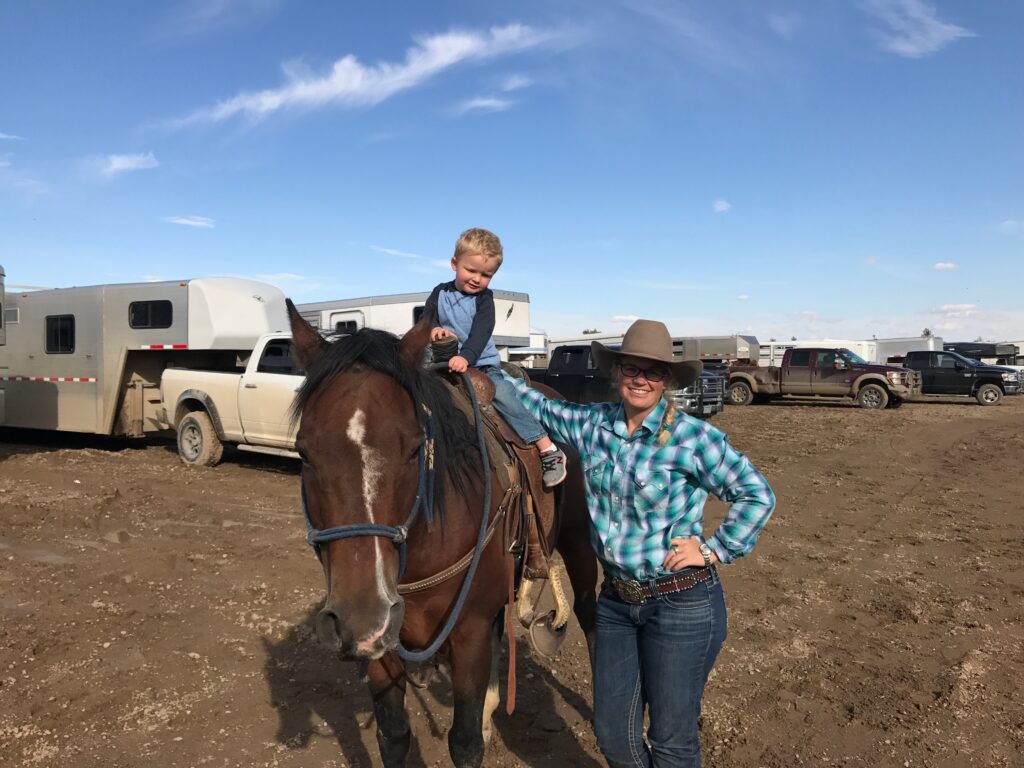 ---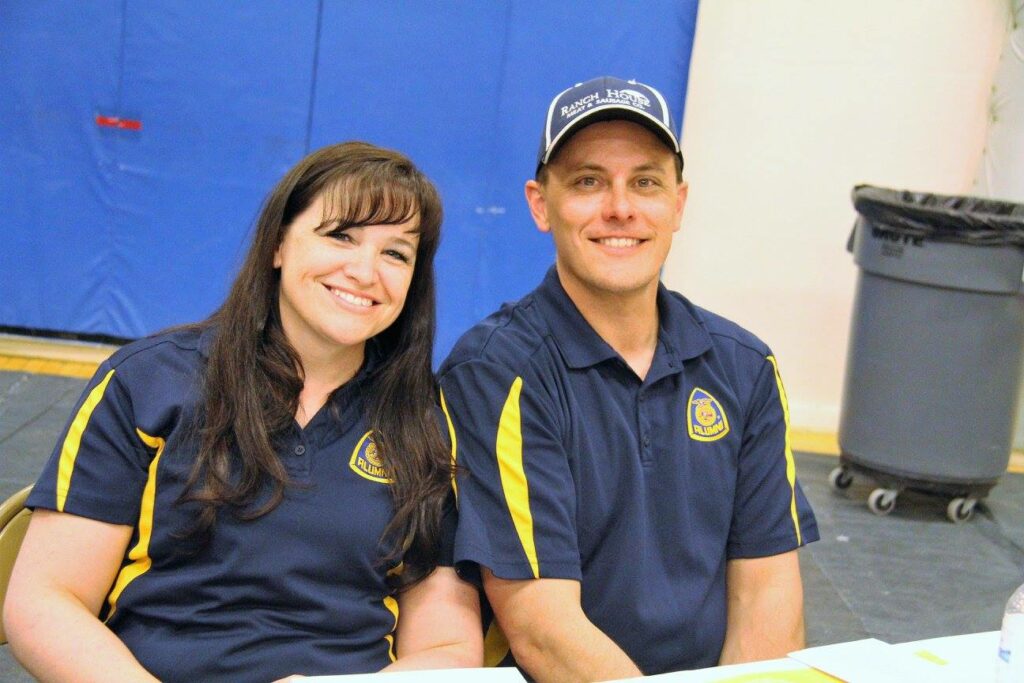 When did you become involved in agriculture?
I grew up outside of Cody WY on a small farm with cattle, horses, and a small variety of other animals. It was ran by my folks with the family helping out after school and in the summers. The work was quite rewarding, watching our herd grow, learning how to doctor the sick, and even butchering when needed.
How has your passion and involvement for this industry grown over the years?
After I moved to Montana and started a family, we knew we wanted our kids to have the ability to raise their own animals and learn the responsibilities that entails. All three of our children decided to raise beef, with breeding them all the way to showing and selling them for processing. We got an opportunity to venture into our own business in 2007. With our passion for agriculture and Shane's desire to own something, this meat processing facility was the right fit. Even today our children are still involved with our family business and continue to push us to greater heights. Our business went from 4 employees (two of them being Shane and I) to over 30 with three locations. Everyday seems to be a new adventure.
What is the greatest piece of advice given to you?
Here's two – one for business and one for personal:
"Making something people want includes making a company that people want to work for."
"The life in front of you is far more important than the life behind you."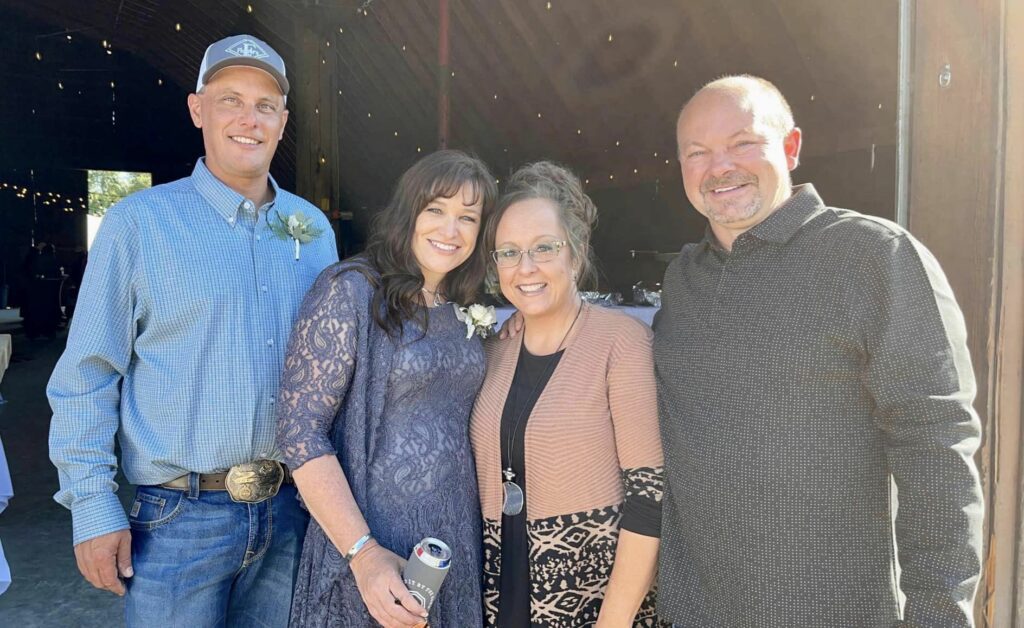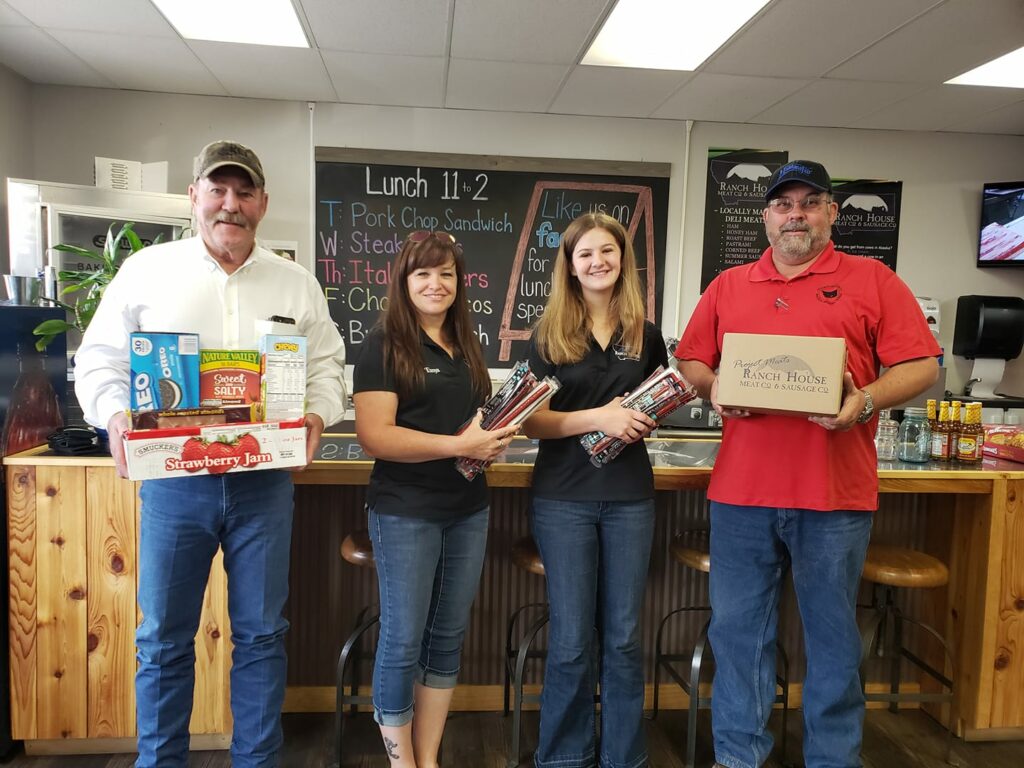 What advice would you give to women just starting out in agriculture or thinking about a career in ag?
It's a tough but rewarding necessity. Keep true to your passions and the rest will follow.
---