By Kelsi Gambill, MSPR, Communications and Marketing Specialist
The Billings Chamber of Commerce's 2021 recipient of the Award for Agriculture Excellence is Bill Dutcher, the recently retired general manager of MetraPark.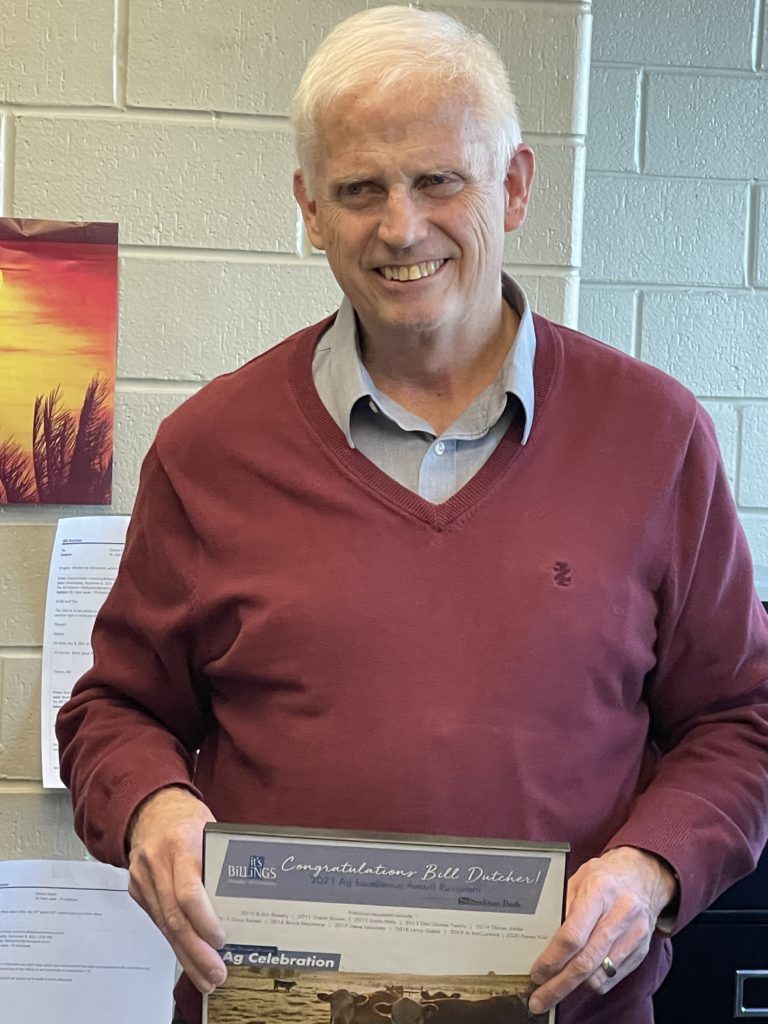 With 40 years of commitment to MetraPark, the Billings community, and the agriculture industry, Dutcher truly embodies this award. Presented by Stockman Bank, this award recognizes an individual, business or organization that has made outstanding contributions to the Billings agricultural community with a nod to their demonstrated excellence in their involvement in agriculture, leadership ability, and participation in civic, service and community organizations. The recipient is nominated by their peers and selected by the Chamber Ag Committee and Chamber Board of Directors.
Dutcher was raised in Billings, Montana as one of five children. He graduated from Senior High School in 1970 and later received a Bachelor of Arts degree in English/Literature from Rocky Mountain College. He attended the Public Assembly Facilities Management professional curriculum offered through Oglebay School, graduating in 1997. Dutcher received his Certified Fair Executive (C.F.E.) certification in 2010 from the International Association of Fair Executives (I.A.F.E.).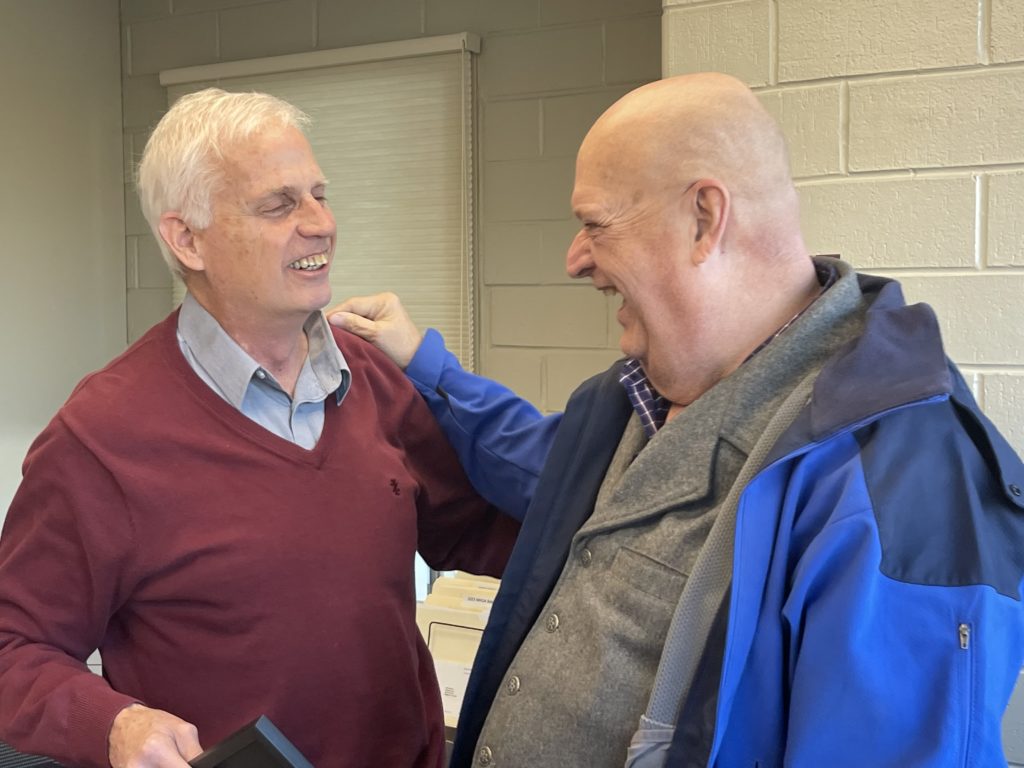 A champion of agriculture, events, and business, Dutcher has been a long-standing staple at MetraPark and worked his way up the ranks. His dedicated career began in 1981 on the maintenance crew, earning a promotion to Events Coordinator in 1994, then another promotion to Director of Operations in 1999, and rose to the top as General Manager in 2005, a position he has held ever since.
His nominator said, "No matter what event is coming up at MetraPark, Bill's enthusiasm for each event is like none other. His long history of promoting agriculture through his work in various positions at Metra is something we can all strive to achieve."
Dutcher's commitment to advancing the agriculture industry is evidenced through his vast service record, from pouring orange juice and flipping pancakes for youth breakfasts with the Chamber Ag Committee to serving in leadership roles for the Rocky Mountain Association of Fairs, IAFE, and numerous other boards and committees.
MontanaFair at MetraPark is truly a labor of love, at least in Dutcher's eyes, as they light up when he talks about this event. Each year, MetraPark staff dedicate themselves to planning and putting on the fair, alongside 4-H and the Extension Service as well as numerous other partners and sponsors. The annual nine-day event is held in August, sprawling over the 189-acre multi-purpose complex. As soon as the fair is done for the current year, efforts quickly shift into planning the next one.
In 2020, 80 percent of fairs didn't happen across the nation, but it did in Billings! Yellowstone County Commissioners and MetraPark Board of Directors determined that agriculture is too important to not to have a fair. Thus, the 4-H and FFA youth were able to come and exhibit their indoor projects and livestock at the pinnacle of their year. "We had a wonderful livestock sale, sans night shows, we made it through the 106th fair and the importance of ag was evident at all of the events. Now, it will be back with rodeo, commercial vendors, ag machinery and more," remarked Dutcher. In 2021, MontanaFair had an impressive attendance of 225,000.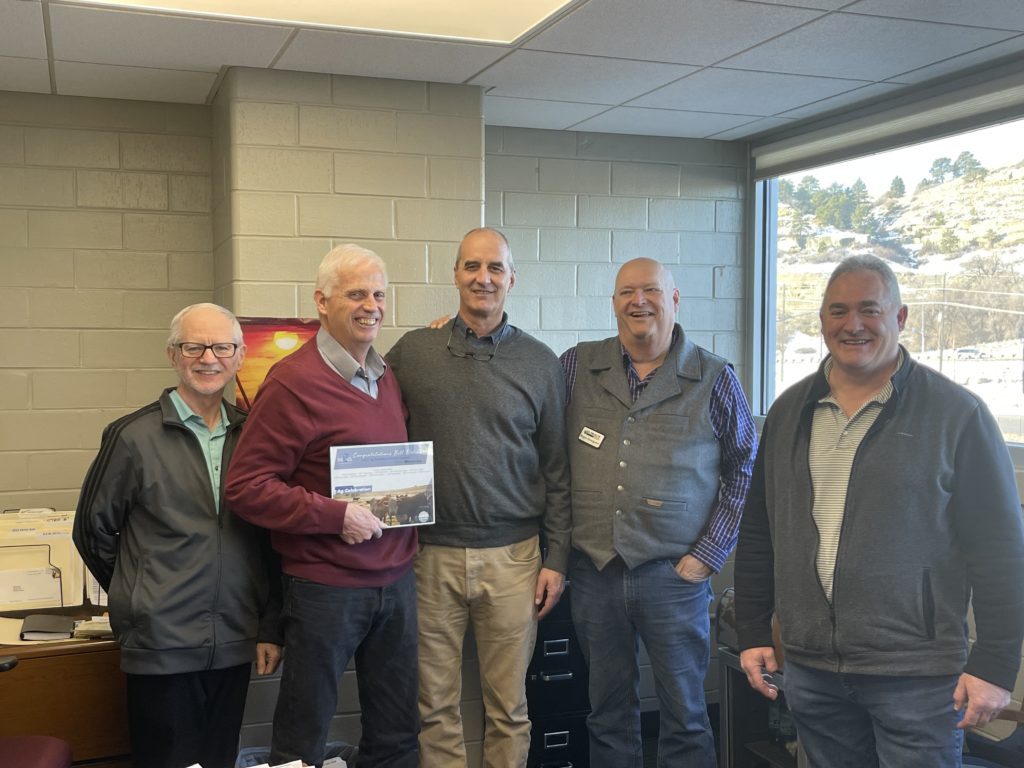 A ray of sunshine, he arrives to work early with a smile and often stays late, still smiling. Throughout his career, Dutcher was known as a family man, married for 36 years to his wife, Sue, and together they raised a daughter, Helen, and son, Michael, now 28 and 25 respectably.
As an employee and leader, Dutcher embodies many commendable qualities that are exemplified in ag and the western way of life—loyalty, working until the job is done, humility, and kindness.
His mentor and former general manager of MetraPark, Bill Chieza once said, "You can be so right you're wrong." These are words that Dutcher took to heart and embodied every day with a smile on his face: "You have to have fun in the day—find fun and the rest will fall in line."
Ag tours are a fond memory of his involvement with the Chamber Ag Committee. Each year exposed him to something he didn't know before, from touring the Colstrip Power Plant and taking a photo with the other 99 attendees in the large bucket that scoops coal, to power distribution at Yellowtail Dam and the moss catcher at Two Leggin's Canal, not to mention when the bus got stuck at lunch and had to be pulled out by the neighbor's John Deere tractor!
Traveling to see and experience agriculture and related industries in Southeast Montana was a highlight for a number of years, through the opportunity to attend the Chamber Ag Tour. Participants learned about ag businesses right in our backyard from Yellowstone Valley Electric Cooperative, to KGHL, both stockyards—PAYS and BLS, and Project Meats. Everyone should know what's in their backyard and the tour provided that learning opportunity.
Dutcher shared that the Chamber can be proud of their role in Senator Daines and Tester's involvement from the national level at the Ag Committee meetings. At the Midland Roundtable, attendees learn who's slated to win state in high school sports and at the Ag Committee meetings it's what the weight of calves are, tonnage of sugar beets, and what grain harvests are predicted to be, truly the pulse of happenings in the agriculture industry in the Billings area.
In Dutcher's own words, "wonderful relationships and partners, doers, and learning opportunities abound in this committee!" His words of advice for those starting in ag are "don't ever give up. The droughts will come and go, moisture will come and go, markets will come and go, but don't ever give up. Things are going to get better—hang in there. Good people help other people. Someone will always be there to help you through."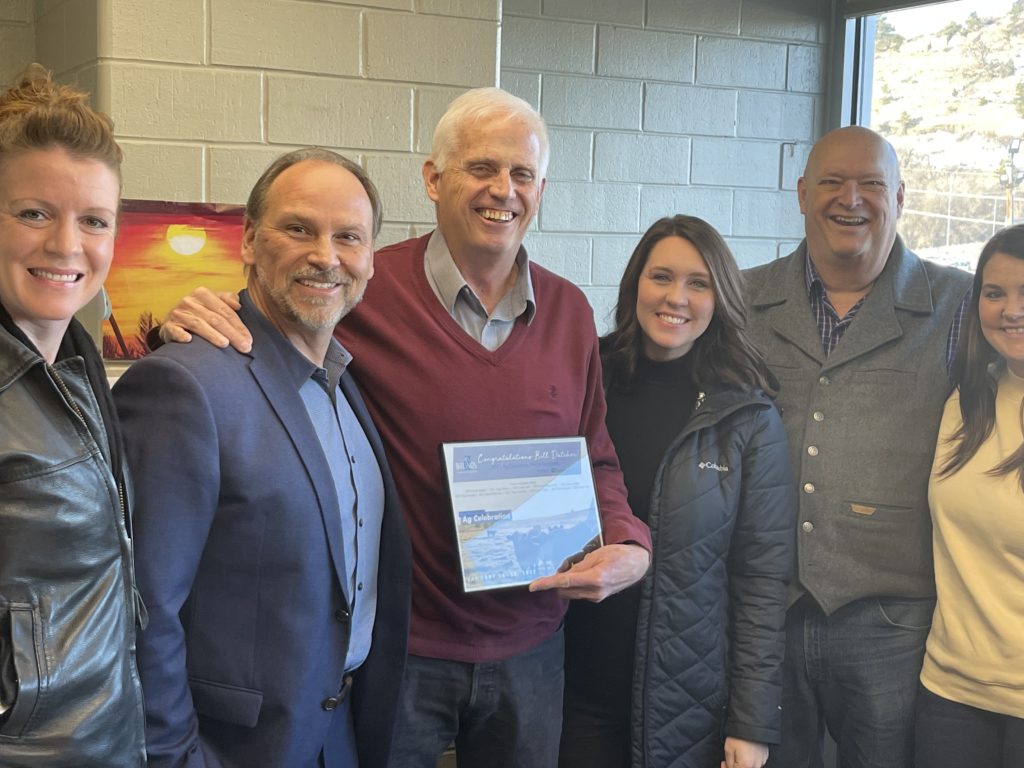 In December, members of the Billings Chamber staff, Ag Committee, and MetraPark staff surprised Dutcher with the news that he was selected as this year's award recipient. Caught off-guard, he was speechless, an occurrence that happens once in a blue moon for the man who is full of stories of events and meaningful relationships that decorate his career and life.
"I usually don't get my jaw dropped—and it fell to the floor. It was the last thing I was expecting. It was wonderful, I saw the staff all smiling, and you all. It was very nice and though I don't know that I deserved any of it, it was a total surprise and wonderful," said Dutcher.
Dutcher will be honored during the 2022 Billings Chamber Ag Appreciation Celebration Banquet on January 28, 2022 from 5:30 p.m. to 8 p.m. at the MetraPark Pavilion. This will be the first time since 2020 that the celebration banquet has been held. Leading up to this banquet, is the second annual Ag Celebration Week, January 24-28, 2022.