DO WE NEED A "STRONG MAYOR" FORM OF LOCAL GOV? …NO OFFENSE TO MAYOR COLE AND PREVIOUS MAYORS 🙂
At our most recent Coffee with Candidates event—thanks to all of you who came to see the Ward 3 candidates!—an attendee posed the question to prospective council members, "The statutorily required local government review is coming up next year. Would you support making changes to our City Charter?" Answers varied as candidates tend to differentiate themselves, but there was general agreement that Billings should consider all of its options.
Is a "council-manager" or "strong mayor" form of government the best for Billings? Are 11 council members too many? Should the city and county local governments be combined like Butte-Silverbow? Maybe, maybe not. But it's probably worth investigating to make sure our system of government is most ideal to serve Billings residents and appropriate for our growing city.
Tonight, Council will be discussing how to proceed on the topic. In 2021, Council approved an initiative to have the City Administrator draft a resolution for a vote to establish a Charter review committee. Although that has not happened, there are a few ways to establish a review committee.
Citizen petition: locals can gather signatures to call for a vote
Council initiative: the governing body can establish a Study Commission
10-year statutory vote: a mandatory vote is required every 10 years
The last option, the statutorily mandated review vote, is quickly approaching and the following timeline will likely be followed:
Feb/Mar 2024 – City Council adopts ballot question resolution
Jun 2024 – Voters decide whether to establish a Study Commission

(If voters oppose, process stops)

Jul/Aug 2024 – Citizens file as candidates for Study Commission
Nov 2024 – Study Commissioners elected. Meet within 10 days
Dec 2024 – MSU Local Gov Center offers training to Study Commission
Jan 2025 – Oct 2026 – Commission studies structure of local government
November 2026 – If changes are suggested by the Study Commission, citizens vote on recommended changes.
Billings voters have called for changes in the past, but not recently.
1974 – Statutory review vote, voters supported
1976 – Self-governing powers proposed & City Charter adopted
1984 – Statutory review vote, voters opposed
1994 – Statutory review vote, voters supported
1996 – Extending Mayor's term from 2 to 4 yrs, voters approved
2004 – Statutory review vote, voters opposed
2014 – Statutory review vote, voters opposed
2024 – Statutory review vote, voters … ?
Coffee with Candidates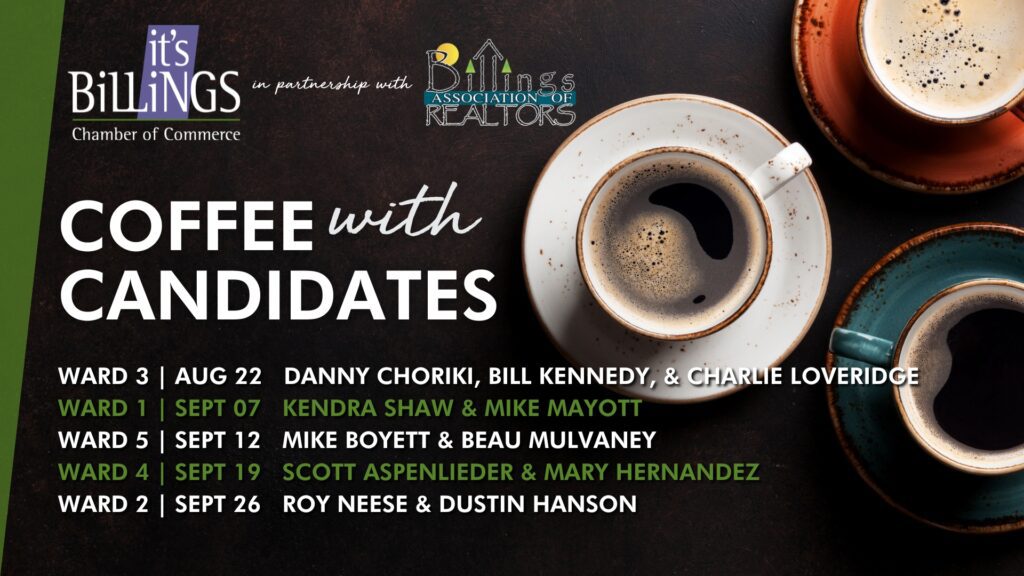 Hear from the candidates facing off in each ward and make sure you're ready to vote when ballots come out! Bring questions to ask during the time for audience Q&A.