MORE PARKS, LESS CRIME
Most everyone would agree that we work hard in Billings…except for us lazy Millennials…and we deserve great spaces to play hard, connect with others, or just relax. Despite having an incredible amount of open space, there's a ton of opportunity for improvement in our outdoor and recreation facilities. Castle Rock Park in the Heights needs to be fully developed. New trail projects are needed to provide connectivity with existing bike and pedestrian infrastructure. A community sports and recreation facility with two ice rinks, a 50-meter pool, and sports courts, located next to Amend Park would be a game changer for providing recreation opportunities to our community. Those are just a few of the identified projects City Council will be discussing tonight as they determine what to include in a bond package that will go to voters on November ballots.
The Billings Parks Department has identified $231,000,000 of potential new parks, trails, and recreation investments across Billings. However, due to state limitations on bonding, this question to voters can't exceed $150 million total. Council has already worked hard to narrow the list down to the most impactful projects and will discuss the contents of that smaller package of projects tonight.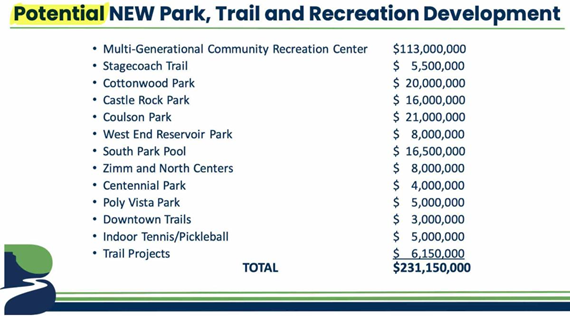 (Do you have suggestions for City Council? Email them here.)
In order to ensure a parks bond question gets on the November 7th ballot, council must pass a resolution at least 85 days prior to the election, making their deadline August 14th. According to the staff memo, the city intends for council to discuss the bond package tonight and then approve a resolution at their July 10th meeting, providing additional time for a community education campaign.
One element often overlooked when considering the importance of parks is their impact on safety. Through our CPTED work, we've witnessed how activating spaces with citizens, providing community surveillance of those areas, creates a natural deterrence that keeps crime away. Research suggests that "access to nature has a mitigating impact on violence in urban settings." The study, published in 2019, reviews evidence from 45 other research papers (essentially, a study of the studies) on urban green space and violent crime. Researchers found that qualities and features of green space like exercise area, clearly defined territory, and community enfranchisement lead to a host of mediating variables, collectively reducing criminal behaviors. It also bears mentioning that decreasing criminal behavior has the added fiscal benefit of reducing justice system costs.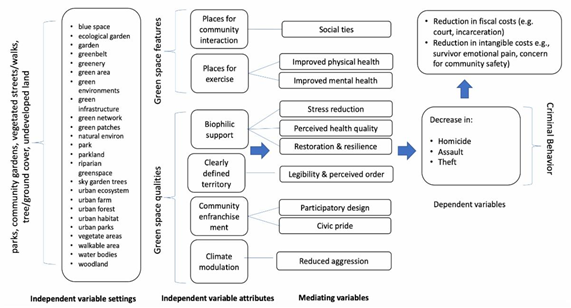 Another study provides insight into what criminals are looking for—or looking to avoid—in selecting areas to commit appointment robbery. Asked by researchers about robbing people in areas that are continually activated, one criminal responded, "I would hella not pick a place that is crowded and I would not pick a place is has a lot of people coming and going."
Billings Police Chief Rich St. John also identified public safety impacts of parks in tonight's staff memo (a few listed below):
When more people gather in parks, it increases community surveillance and deters criminals from targeting park neighborhoods.
Adequate lighting in parks is a proven deterrent against criminal activities.
Developed and improved parks attract people, creating "social capital or infrastructure" for the community, which fosters a sense of safety.
While parks alone cannot solve criminal activity, they are an integral part of the solution.
The Billings Chamber is supportive of City Council's bond initiative, especially the sports and recreation facility. A sports and recreation facility located adjacent Amend Park would enhance our identity as a sports community and provide a first class amenity for our residents who, after all their hard work, deserve nothing but the best.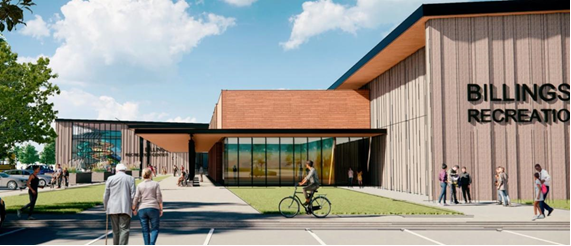 SEE ALSO:
Billings Chamber Public Policy Guide