RESIDENTIAL RUBBISH
A little over a year ago, the city swapped out the massive, shared 300 gallon trash bins with individual 96 gallon bins for residential use. As you would expect, the shared nature—a trash tragedy of the commons—of the 300 gallon bins led to numerous issues of overuse and anonymous dumping. Additionally, residents all paid the same fees, despite the differences in waste output, and reported occasionally being unable to use their own dumpster because it was full from neighbors and freeloaders.
The City of Billings is likely to take another step in the right direction for providing appropriate pricing, reducing waste, and increasing fairness when it comes to solid waste services. Tonight, City Council will decide whether to implement a new solid waste fee structure that includes the option for residents to utilize a smaller trash bin and pay a reduced fee for the trash pickup. Residents who don't generate 96 gallons of garbage each week can opt for a 64 gallon bin and save about $50 each year, compared to the 96 gallon bin. (See "FY24 – Recommended Program" below.)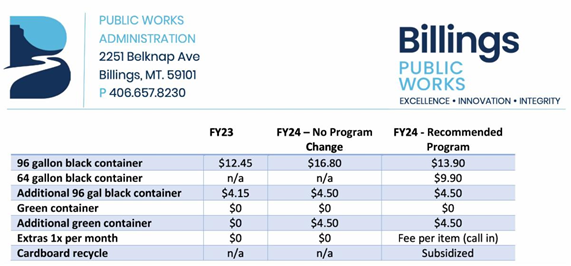 Even with an increase in the rate for monthly pickup of the 96 gallon bins, Billings' fees come in well below many peer cities.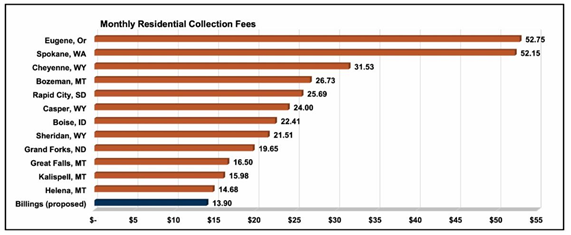 Amending solid waste pricing and including a smaller 64 gallon option with a reduced rate would provide a more equitable policy for providing and funding city services. Wherever possible, local government should adopt similar pricing schemes to promote fairness in how people pay for city services they utilize, or don't utilize. For instance, your water and sewer bills are based on the volume that you actually use when turning on the water or flushing toilets. On the other hand, paying for road maintenance through Billings' street maintenance district fee (which is assessed on residential lot size and has nothing to do with how often you use the roads, the number of vehicles at your property, or how large a vehicle you drive and the impact to the road on each trip) is a much less equitable way to fund and provide city services.
While things may not always be ideal, it's good to keep in mind that there are worse alternatives out there, including when the Simpsons did it.