HERE'S MY NUMBER, SO SELL ME, MAYBE
Regular readers of the Billings City Council Bulletin may recall that mid-November of last year, City Council passed a resolution to list several city properties for sale. The four properties recommended by staff and then approved by Council were:
City Hall: 210/220 N. 27th Street.
Park 1 Retail: 6 units near 2912 3rd Ave. N.
North Surface Lot: 27th St. (North of Burger Dive)
South Surface Lot: 27th St. (South of Burger Dive)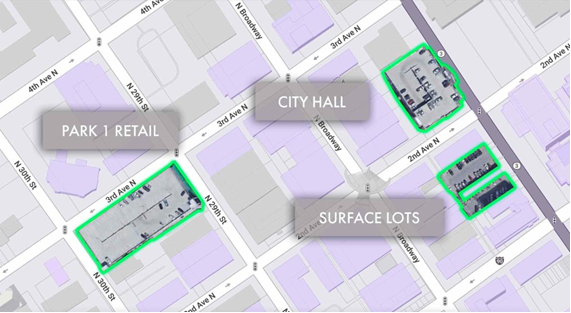 Tonight, Council is voting on a proposal to purchase the Park 1 Retail property at 2912 3rd Ave. N. The recommendation from the Council Operations Committee—consisting of Mayor Cole, Councilman Boyett, and Councilman Neese—is to reject all proposals, including an offer to purchase the 16,503 SF property for $750,000 ($45 / SF), which is within market rate for the size and condition of the property.
The applicant, Journey Willow Cottage LLC, outlined in their submission that, "Park 1 will be a multi-use property consisting of many different tenants and retailers. We would like to see diversity within our spaces from office space to restaurant space to retail space…Our goal is to fill Park 1 right away with tenants—this will increase the tax base for the city as well as decrease crime. Vacant buildings and spaces encourage the wrong kind of cliental."
Since it has been almost 12 months since Council authorized sale of the properties—and no word on submissions for the other properties listed—we thought it might be useful to look back on the timeline of events.
Nov 4, 2022 Legal ads placed and property owners within 300′ notified of the potential sale of properties.
Nov 14, 2022 Council approves resolution authorizing staff to advertise sale of properties.
Dec 7, 2022 City contracts with NAI Properties (Matt Robertson) as supervising broker.
Apr 14, 2023 Administration Dept. advertised an RFP for Park 1 Retail property locally and nationally.
Jun 16, 2023 Two proposals submitted.
Jun 28, 2023 Council Ops Cmte. recommended staff and NAI negotiate with Journey Willow Cottage LLC. for best agreeable price, increasing the initial offer from $700k to $750k.
Sep 14, 2023 Council Ops Cmte. meets with NAI and staff, determining negotiated sale price is too low and property should be re-listed.
Sep 25, 2023 Council vote tonight.
City Council watchers who tuned in last Monday witnessed the marathon discussion on edits to the ordinance which allows the city to dispose of property. Much of the issue focused on how much authority the City Council would defer to the City Administrator—frankly, a discussion worth having. However, looking at the length of time it's taken the City to go from notification of the sale of properties to a decision on whether to sell—almost a full year of process with little progress—there's clearly room for improvement.
UPCOMING EVENTS – ALL-CANDIDATE FORUM @ ABT (OCT 10)
Who Will You Vote For?
Do you know who is running for election in your city ward? The City Council members we elect this November will play a critical role in shaping Billings for at least the next four years as they make decisions that impact housing, taxes, public safety, parks, and other important issues. To give everyone in the community an opportunity to hear from all the candidates, we're hosting a City Council Candidate Forum
Date: October 10th
Time: Door open at 5 pm, program runs 6 – 7:50 pm
Where: Alberta Bair TheaterCost: FREE to attend, please RSVP below.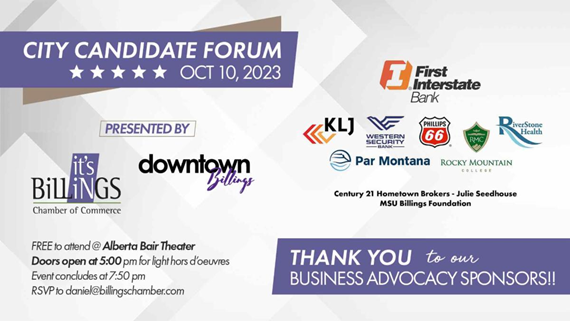 ---
SEE ALSO:
---
Thank you to our Business Advocacy Sponsors!