Kris Carpenter: A Legacy on the Move
By Kelly McCandless
Every community has a person, or group of people, it can turn to when something needs to get done. In Billings, you will almost always find Kris Carpenter among that group. She is a do-er. A person who sees an obstacle and promptly ignores it or finds a way past it to achieve her goal. She rallies others who can help reach the finish line and she cheers everyone along as a project moves forward. Kris gets important work done.
Kris Carpenter owns Sanctuary Spa and Salon and the Joy of Living. Over the years she's had other businesses, but these two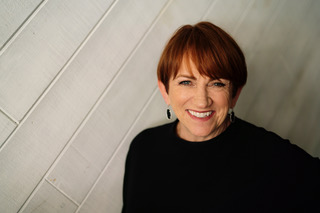 continue to serve her personal and professional mission: "We take care of you." For 23 years now, Sanctuary has been committed to doing just that, and is incredibly successful because of the focus and clarity around the mission.
Nominated for the Billings Chamber's Legacy Award by Julie Seedhouse, she described Kris's commitment to providing valuable services to her customers as unfailing. "The care with which she treats her employees is unsurpassed," wrote Julie. "She has a keen awareness of the importance of treating everyone connected to her businesses as crucial and valued—but it's not just about a bottom
line or profit for Kris, it's a way of life."
Opening a boutique serving primarily women (or those buying gifts for women) fell in line with Kris's mission to take care of people. The Joy of Living is a one-stop gift shop with a carefully curated selection of gifts ranging from elegant and unique to kitschy and hilarious. She offers locally made items as well as pieces that shout out pride in Montana and Billings.
Her commitment to taking care of people extends beyond her businesses, and she isn't afraid to push outside of her comfort zone to better her business or her community. "Kris is a Billings icon," continued Julie. "She not only tirelessly runs her businesses, but she is a valuable and constant presence at local charity events, activities that support arts and culture, and any opportunity to advocate for positive and progressive change and growth for our community."
From shop local promotions to digging deep to encourage a Master Plan for Coulson Park, or advocating for a Local Option Tax, Kris seeks out the big picture and works to make difficult projects and initiatives come to fruition. "I absolutely love Billings," Kris said. "I've lived here my entire life, but I also travel frequently. I know how amazing we are." Kris explained her commitment to building a community for future generations. A community they will seek out and be proud to be part of. "Being part of the Chamber brought me
together with other people who see a problem and roll up their sleeves to get the work done," she noted.
Summarizing her nomination of Kris for the 2021 Legacy Award, Julie said, "I can think of no one who deserves to be recognized through this award more than Kris does. Kris is the consummate professional, an exemplary business owner, and an enthusiastic supporter of all things Billings!"
Kris credited her family and her team with this achievement. "To receive this award is such an honor," she said. "I look around this community and there are so many people who have made such an impact. It means a lot."