"But It Was Not The End, I Felt Life In Me Again."
The legislature is on Easter Break today, one day after many would have celebrated the resurrection of Jesus Christ. Tomorrow is Legislative Day 71, giving lawmakers 19 more days before legislative business must conclude. And despite having over two weeks left to work, I'd wager they wrap up in April, going Sine Die (concluding the legislative session) without using any days in May. Just a hunch…
Considering the recent holiday, I felt it appropriate to highlight a different rise from the dead. No, I don't mean to detail our favorite Maiar's return to the mortal realm of Middle Earth, given new life by Eru Ilúvatar. I want to look at legislative blast motions, the process by which either body, house or senate, can vote to bring a bill to the full floor, giving it renewed life.
During floor sessions, members of the house or senate can make the motion to take a bill that's been tabled in committee and place it on the floor agenda for a scheduled 2nd reading, allowing a vote by the whole body, and bypassing the previous decision of the committee. Successful blast motions breathe life back into a bill that had been effectively dead, although many of the bills that receive a second chance will still end up dead in the end.
Billings Strategic Partners and supporters of the One Big Sky District project should remember the importance, and disappointment in, the potential of blast motions. After it was tabled in (S) Tax, SB 340, the 406 Impact Districts bill, failed a blast motion by a couple votes on the Senate Floor, the final nail in the coffin for the bill in 2019.
As you can see from the information below, each legislative session is different. Legislators have varying appetites for making blast motions, and the bodies differ on whether they want to entertain them, somewhat undermining previous committee decisions. While the 2017 and 2019 sessions each have over 40 blast motion attempts, the success of the efforts remained limited. We'll see how many more blast motions are made this session as legislators make last ditch efforts to save their bills. With lawmakers starting to see the light at the end of the legislative tunnel, it's unlikely they will want to bring many more bills to the floor.
---
2023 Legislative Session (thru Apr 7)
Successful blast motions: 4 out of 24
HB 432 – Generally revise abortion laws (Fail)
HB 448 – Revise laws related to right to work (Fail)
HB 515 – Revise property tax payment procedures (Passed)
HB 784 – Revise laws related to school elections (Fail)
HB 837 – Require curriculum transparency in K-12 education (Fail)
HB 953 – Create election security & integrity complaint/enforcement process (Fail)
HJ 5 – Resolution for congressional term limits (Fail)
HJ 13 – Resolution for Article V Convention for a balanced budget amendment (Fail)
SB 15 – Provide for all ages homeowner and renter tax credit (Fail)
SB 110 – Provide property tax assistance to elderly homeowners (Fail)
SB 120 – Establish the Chief Earl Old Person memorial highway (Passed)
SB 141 – Create indigenous people's day (Fail)
SB 161 – Revise board of investment laws (Failed on both attempts)
SB 194 – Income tax credit for landlords who rent for below market rate (Fail)
SB 233 – Enhance legislative understanding of state-tribal relations (Failed x2)
SB 276 – Revise laws related to prevailing wage (Fail)
SB 361 – Prohibit discrimination by any person/entity because of firearms (Passed)
SB 390 – Provide freedom in school choice (Fail)
SB 437 – Generally revise abortion laws (Fail)
SB 449 – Provide limitations on collections of taxes (Fail)
SB 464 – Revise laws related to eyewitness lineups (Passed)

SB 517 – Establish graduated fee on short term rentals (Fail)
2017 Session
Successful: 7/43
HB 13 (Fail)
HB 46 (Pass)
HB 142 (Fail/Pass)
HB 162 (Fail)
HB 169 (Fail)
HB 193 (Fail/Pass)
HB 225 (Pass)
HB 229 (Fail)
HB 253 (Fail)
HB 287 (Pass)
HB 295 (Fail)
HB 336 (Fail)
HB 376 (Pass)
HB 430 (Fail)
HB 514 (Fail)
HB 532 (Fail)
HB 538 (Fail)
HB 552 (Fail)
HB 580 (Fail)
HB 593 (Fail)
HB 602 (Fail x2)
HB 628 (Fail)
HB 630 (Fail)
HB 636 (Fail)
HB 667 (Fail)
HJ 11 (Fail)
HJ 28 (Pass)
SB 72 (Fail)
SB 133 (Fail)
SB 201 (Fail)
SB 215 (Fail)
SB 255 (Fail)
SB 305 (Fail)
SB 319 (Pass)
SB 326 (Fail)
SB 330 (Fail)
SB 338 (Fail)
SB 356 (Fail)
SB 358 (Fail)
SJ 17 (Fail)
2019 Session
Successful: 16/41
HB 129 (Pass)
HB 135 (Fail)
HB 217 (Pass)
HB 227 (Fail)
HB 298 (Fail)
HB 300 (Fail)
HB 318 (Pass)
HB 333 (Fail)
HB 338 (Fail)
HB 354 (Fail)
HB 425 (Fail)
HB 451 (Pass)
HB 477 (Fail)
HB 536 (Fail)
HB 594 (Fail)
HB 609 (Fail)
HB 645 (Fail)
HB 651 (Fail)
HB 660 (Pass)
HB 710 (Fail)
HJ 17 (Pass)
SB 2 (Pass)
SB 18 (Pass)
SB 21 (Pass)
SB 24 (Pass)
SB 103 (Fail)
SB 187 (Fail)
SB 190 (Fail)
SB 193 (Fail)
SB 224 (Fail)
SB 238 (Fail)
SB 245 (Fail)
SB 259 (Pass)
SB 284 (Pass)
SB 313 (Pass)
SB 322 (Fail)
SB 324 (Pass)
SB 338 (Pass)
SB 340 (Fail) SB 353 (Fail/Pass)
2021 Session
Successful: 7/20
HB 235 (Pass)
HB 285 (Fail x2)
HB 324 (Fail)
HB 329 (Fail)
HB 397 (Pass)
HB 487 (Fail)
HB 495 (Fail)
HB 640 (Pass)
SB 10 (Fail)
SB 16 (Pass)
SB 187 (Fail)
SB 254 (Pass)
SB 271 (Fail)
SB 387 (Fail)
SB 390 (Fail)
SB 397 (Fail)
SB 407 (Fail)
SJ 2 (Pass)SR 46 (Pass)
---
Partners In Policy Appreciation Reception
You're invited to a Partners in Policy reception, presented by the Billings Chamber of Commerce and Montana Chamber of Commerce, on Tuesday, May 2nd from 5:30 – 7:30 pm at the historic Billings Depot.
Come connect with chamber members, industry representatives, and legislators as we raise a glass in celebration of the business wins this legislative session. This was the Montana Chamber's most prolific legislative session ever, carrying (10) Priority Bills that would improve the business climate in the Treasure State. Regarding the Billings Chamber's priorities, the legislature made major progress on public safety, tax reform, and workforce issues. From sweeping tort reform to dramatically decreasing the business equipment tax and capital gains tax, to ballot initiative modernization, we are tackling the issues to make Montana the most attractive place to live, work, play, visit, and do business. We would like to thank you, our 'Partners in Policy' for helping to make this possible.
Reception will include drink tickets and a cash bar, hors d'oeuvres, and a brief presentation. RSVP's are required for this event. Let us know you'll be attending by submitting your RSVP today! 
---
Coffee With Councilman Neese
Join us Wednesday, April 19th, at 8 a.m. for an informal discussion with Ward 2 Councilmember, Roy Neese. Please be sure to register at the link below.
---
Working for You
Senate Bill 14
Revise MEDIA Act film credit cap
Sen. Greg Hertz (R)
SD 6
Billings Chamber
SUPPORTS
Senate Bill 14 raises the cap for the MEDIA Act tax credits from $12 million to $20 million, with 25% of the credits going to a company domiciled in the state. The MEDIA Act was passed in 2019 and then increased in 2021. Incentivizing film production in Montana leads to numerous other benefits, providing manufacturing and trades jobs, increasing tourism, growing local businesses and economies, and diversifying Montana's mix of industries. This bill passed the senate 30 – 20 and will be heard in (H) Taxation on April 13th.
---
House Bill 819
Create Montana community reinvest act
Rep. Paul Green (R)
HD 41
Billings Chamber
SUPPORTS
The Montana Community Reinvestment Plan Act creates an affordable housing program that distributes funds to communities, proportionate to a counties' gross domestic product, to fund housing cost buydowns for eligible home buyers—those making between 60% – 140% of average median income. The bill has over 50 cosponsors and passed the house with nearly 3/4 in support. Passing HB 819 would provide one element of a multi-element housing affordability strategy, including reducing barriers and regulations to housing development. This bill will be heard in (S) Business and Labor Tuesday, April 12th.
---
Legislative Videoconferences
Noon – 1:00pm
January 19th
February 2nd
Billings REALTORS
February 16th
Big Sky EDA
March 2nd
March 16th
Downtown Billings
March 30th
Visit Billings
*April 13th* FINAL MEETING
Videoconference sessions will be held in the Liberal Arts Building, Room 208 at the MSU Billings campus, where individuals will have the opportunity to hear from, and ask questions of, our local legislators. There is a limit of 25 people for each in-person session and a box lunch will be provided for those who RSVP. Come and hear from our local legislators about what is happening in Helena and give your feedback. Thanks to MSU Billings and our sponsors: Billings Association of REALTORS, Big Sky Economic Development, Downtown Billings Alliance, and the newly-certified LEED Gold, City of Billings.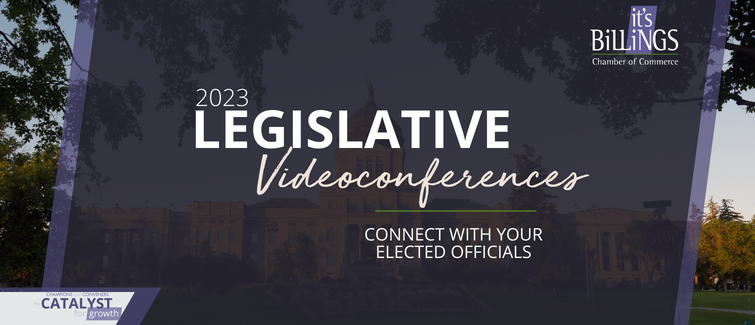 ---
Virtual Testimony Makes It Easy
You will be able to select from the bills scheduled for the next 3 days.
By 5PM the day before the hearing, you will be able to submit your written testimony, write a brief message, or request a Zoom link to testify in the bill hearing.
Fill out the form with the pertinent details and submit. You will receive an email confirmation.
You do not have to testify in order to submit written comments. Written comments received by the deadline will be distributed to all committee members. However, if you request a Zoom link, we request that you write a brief message in the event of technical difficulties so that your name will be entered into the record.
If you wish to submit written testimony after the 5PM deadline, please call the Information Desk at (406) 444-4800 for assistance​.
Rules of decorum must be followed, and the Presiding Officer will call on you when it is your turn to speak. Follow the Zoom directions and raise your hand to let the Remote Committee Coordinator know when you want to speak. We will not assume that because you requested the Zoom link that you automatically want to testify. There may be limits placed on how many people are allowed to testify remotely on each bill.
---
Additional Resources
---
Business Advocacy Sponsors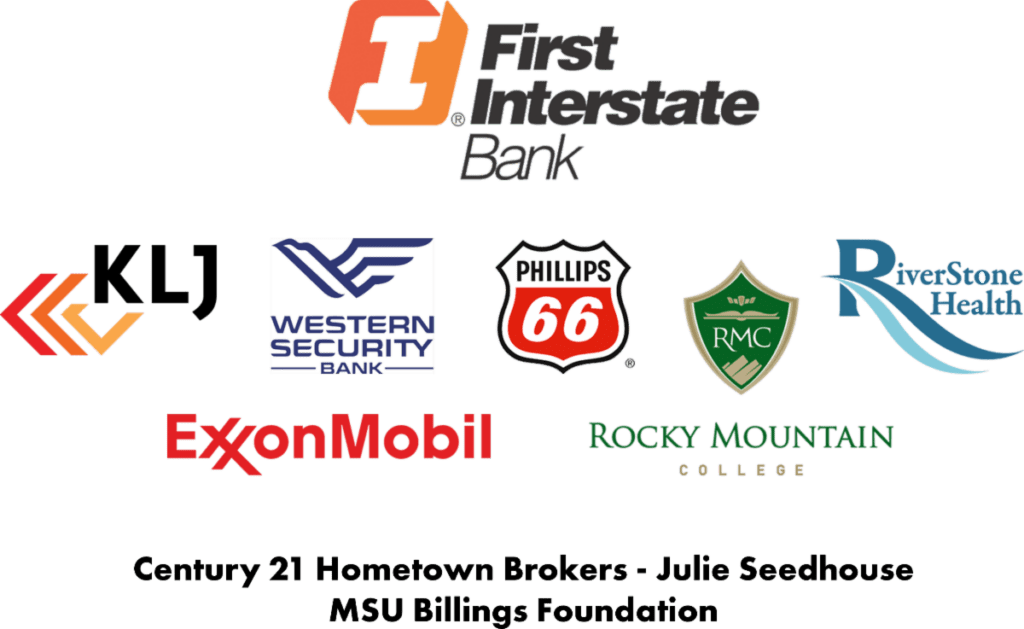 ---
Questions/Comments?
Please don't hesitate to reach out to the Billings Chamber's Business Advocacy Director, Dan Brooks with questions, comments, or just want to chat about the legislature.