Make No Little Plans
Fifty Billings Leaders Visit Allentown and Bethlehem Pennsylvania
By Kelly McCandless
Employers invest in professional development for their employees, in part, to grow a sense of enthusiasm and effort. The opportunity to learn generally sends people back to their desks filled with inspiration and eagerness to be better and do more. Building off of that concept, the Billings Chamber of Commerce created its Aspirational City Visit program – a strategic gathering of leadership brought together in a specific place in order to learn and build momentum toward improving Billings.
In early May, the third such visit took a group of fifty area leaders to the Lehigh Valley in Pennsylvania. This experience is created to be different; leaders are invited to attend, they must pay their own expenses, and the group is directed toward an open-minded devotion to learning about another community and considering how what is learned can be applied in Billings.
The three trips the Chamber has executed to date have carried travelers more than 7,700 miles across the United States. First to Sioux Falls, South Dakota in 2014, then to Oklahoma City, Oklahoma in 2016, and finally to the Lehigh Valley last month.
Change happens with action – and these leaders are brought together for this visit because they are willing to shake things up and push for transformational impact to the Billings community.
"Community leaders are the first responders to economic challenges in their cities," explains Chamber President and CEO John Brewer. "They respond to the crisis's and the wake-up calls and determine the path forward. In each of these cities, leaders had to address issues that made them uncomfortable and that others weren't addressing yet. They recognized the gap in leadership and overcame it. In each city, we learned from their experiences."
Why Allentown?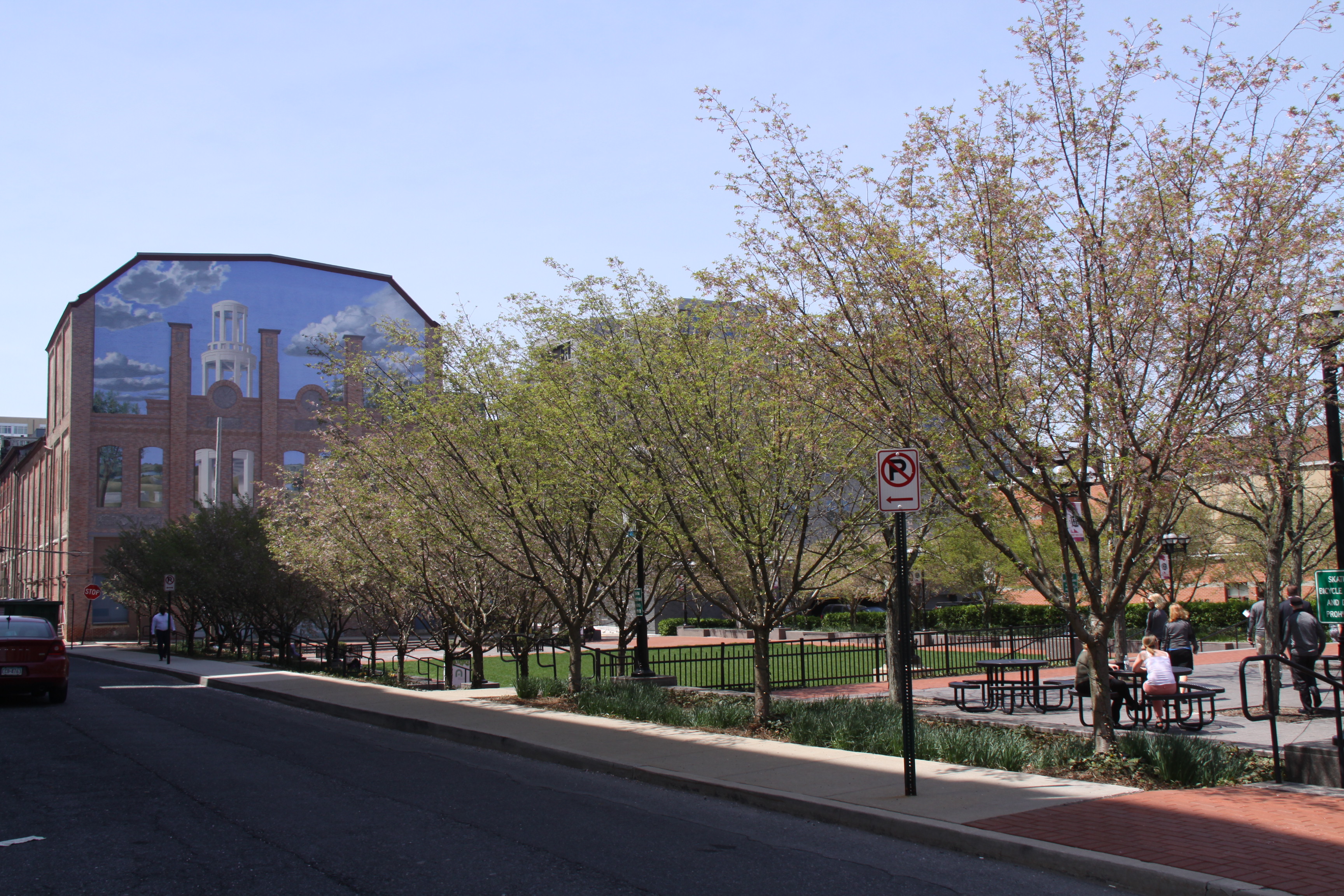 Each city was selected for a reason, and Allentown was a clear opportunity this time, as Brewer explained: "Allentown was a city in a downward spiral a few short years ago. Through the combined passion of some driven civic leaders, it's a thriving, growing community." Hammes Company, the developers leading the One Big Sky District Development in Billings, played an integral part of moving Allentown forward. The opportunity to see their work in motion and talk to people who have worked alongside them was a perfect recipe for Billings leaders to learn as our community begins its own journey with the company.
During the Billings groups' time in Allentown and nearby Bethlehem (undergoing its own renaissance – separate blog post coming soon) they met with over 40 area leaders who impacted the major changes. "Each of them told us the same thing: Billings is way ahead of where they were when they started," continued Brewer. "With 50 leaders and the Hammes Company willing to invest in a trip like this, we've got momentum today that we can put to work."
Rob Brooks, master lease holder in the PPL Center and one of the initial investors looking to develop Allentown, told us, "Originally, Bob Dunn (Hammes Company) walked through downtown Allentown and told us we were crazy. He'll tell you himself he's never seen a downtown core as blighted as Allentown was then. Our response to him was simple: we didn't hire you tell us what we can't do. We hired you to tell us what we can do."
So, they did.
"Allentown has come a long way," remarks Chamber board chair, Kris Carpenter. "The PPL Center is an impressive catalyst project with a ton of surrounding development in progress. It's hard to believe where they started such a short time ago."
Though it happened faster than anticipated, it certainly didn't happen overnight. Or without challenges. But today Allentown can proudly celebrate $1.5 billion in core development over the last five years – a target they planned to meet over the course of 15 years.
Sara Hailstone, who at the time was the Director of Community Development for the City of Allentown and today runs Hailstone Economics, told us that "no one believed Allentown could be more than the devastated city is was. Not only have we proven everyone wrong, but we're doing it faster and better than we anticipated."
Taking it all in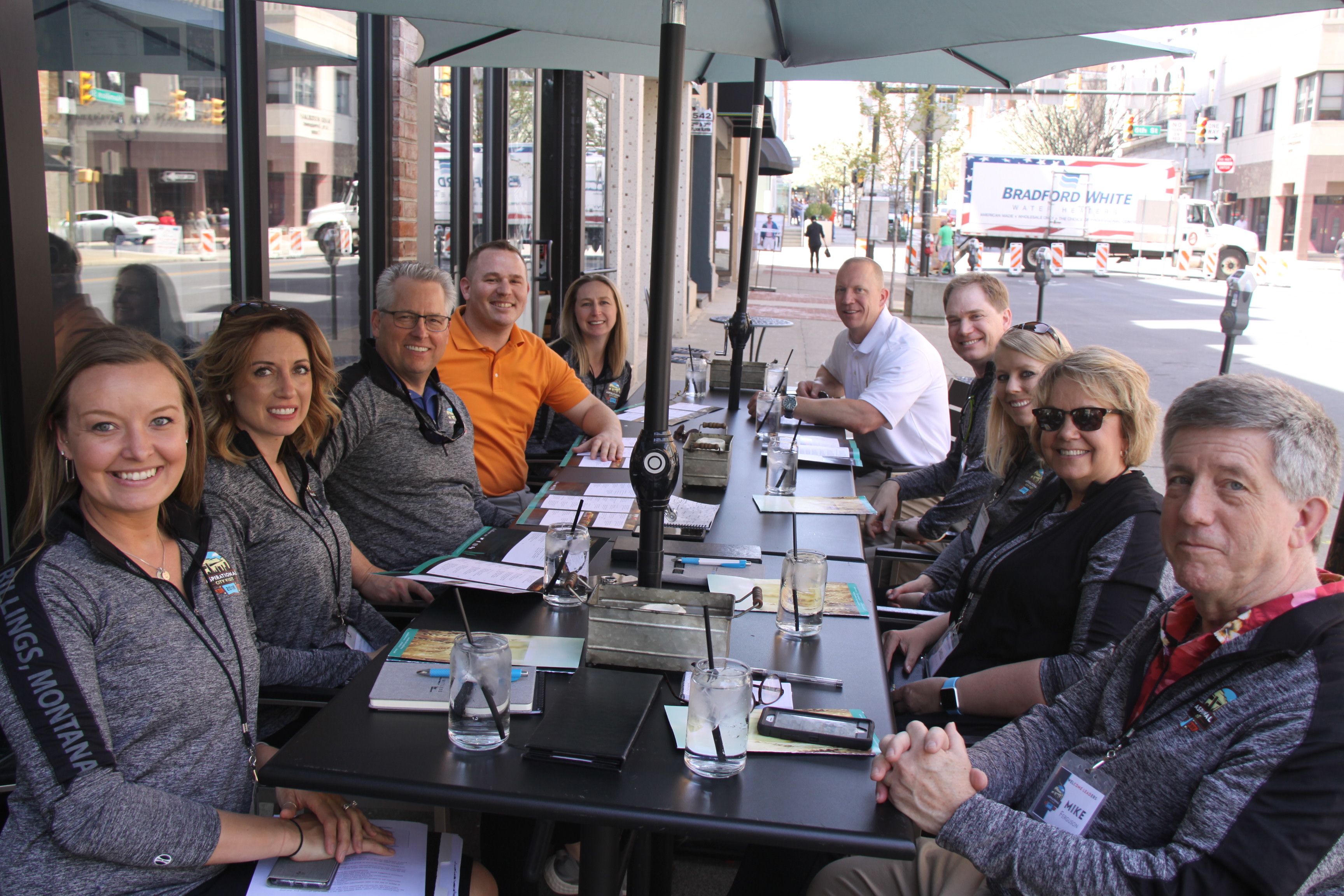 It takes three flights to get from Billings to Allentown, meaning all the travelers endured a full day of travel on either end of their visit. Add to that the two full, fourteen-plus hour days they spent taking in everything both Allentown and Bethlehem had to offer, and the group certainly had to go into this trip committed.
"Not only were we willing to take the time of out our lives and away from our businesses to do this, we all paid our own expenses," explains Carpenter. "This opportunity was simply that important."
What did the group do over those long days?
"We toured, we listened to panels of the community leaders discuss their progress, we asked questions, and we toured and listened and asked questions some more," notes attendee Mike Nelson, owner and operator of the Northern Hotel and a Chamber board member.
He explains that the group spoke with economic development professionals, investors, city and county government, tourism entities, elected officials, sports team owners, small business owners, and others. "We learned about how the development began, the funding mechanisms they had to create to move forward, the challenges and obstacles they faced along the way, and what might've been done differently as they look back."
Preparing for action
What did the group come home with?
"Even more momentum," says attendee Jeremy Vannatta with PayneWest Insurance. "This group is poised to shake things up and make things happen."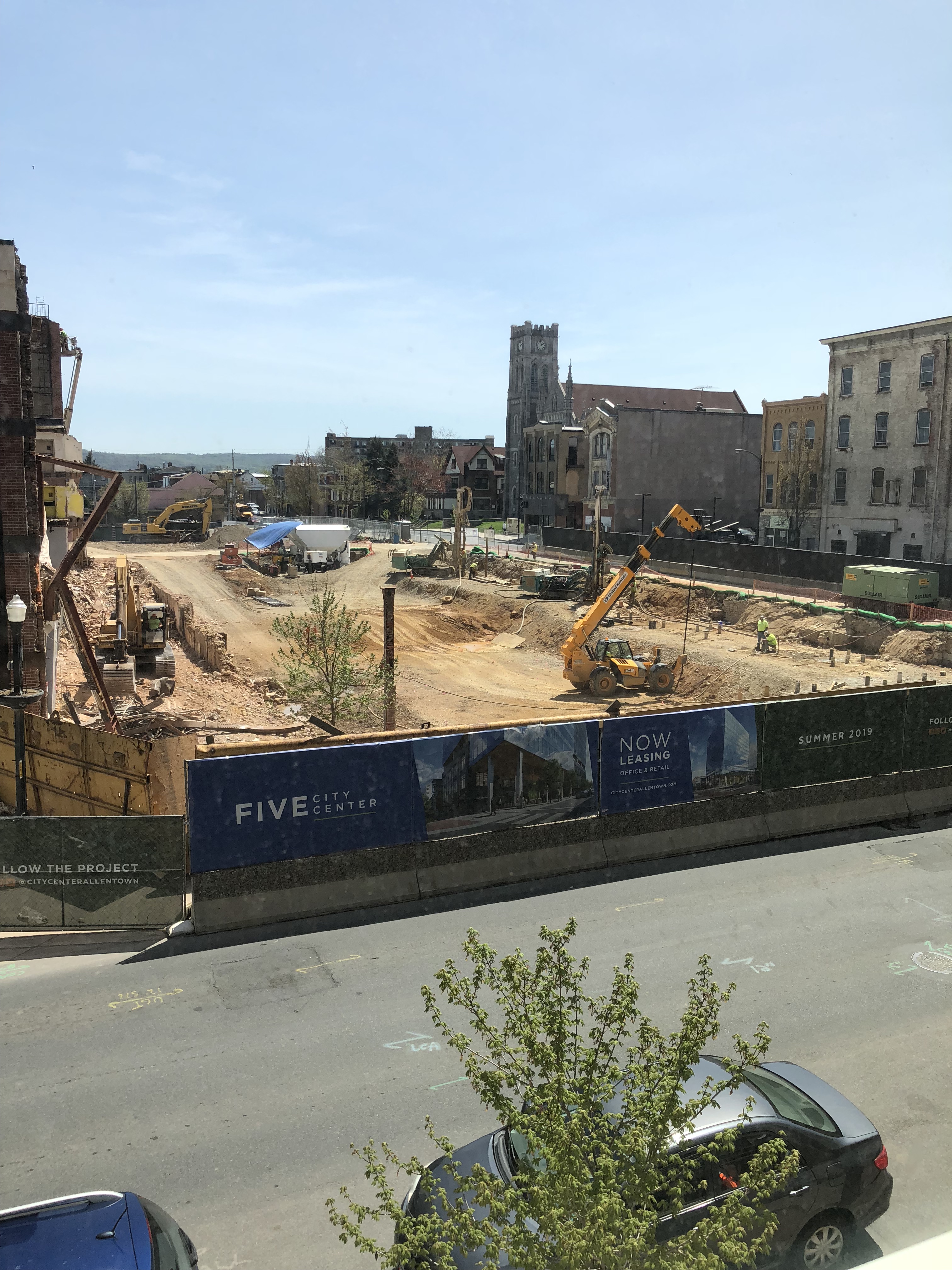 Alex Tyson, Executive Director of Visit Billings, echoes that thought. "We have to remember we are leaders. It is up to us to make change. We can't just be practical – we should strive for amazing."
Appropriately, then, many high scale Billings projects bubbled to the top as the group took in the work they saw around them: Coulson Park and the Corette Plant site, the need for a major community pride initiative, opportunities large and small throughout downtown Billings, and the need for a convention center, to name a few.
The bottom line for most was that Billings cannot wait until it faces the economic hardships Allentown was forced to address. The time to act is now.
Jim Duncan, president of the Billings Clinic Foundation asked the group "What's the turning point for Billings? How do we convince our community that a little bit of investment will reap big rewards? And that without investment, we continue to fail."
When the group met to download all of the information they took in, one key takeaway rose above the others: the need to develop a long-term vision and stick to it, and to keep that vision above the obstacles and inconveniences that will undoubtedly arise.
"We're in this thing with you," said Bob Dunn with Landmark Development Group (also known as the Hammes Group). "Billings needs to expect everyone is a non-believer in the One Big Sky Districts. We should accept that the vote margins, especially early on, will likely be slim. But we also don't plan to accept failure. I'll be taking the blows right alongside each of you."
Senator Pat Browne, the key legislative backer for Allentown's economic development funding, echoed Dunn's sentiments, "Don't stop at no. Get creative. Push harder. And remember, it's more about heart than money."
"Make no little plans…"
"Make no little plans; they have no magic to stir men's blood and probably themselves will not be realized. Make big plans; aim high in hope and work." This quote, from Daniel Burnham, an American architect who specialized in urban design, became the mantra of the group early on their first day.
"I am more convinced than ever that we need to deliver the promised comprehensive development plan, beginning with our downtown core," stated Steve Arveschoug, Executive Director of Big Sky Economic Development.
That plan, he says, should be community-development-centric to provide the platform to attract private investment and economic growth. "We must build for future generations, push for intentional, multi-use development, and ultimately, respect our obligation to lead."
"Transformation begins with large, catalytic projects," Brewer said, summarizing some of his takeaways from the trip. "But big plans take time. We have to be in it for the long haul, we have to talk about why we're in it and bring people along with us."
The group also talked about the need to recognize that detractors exist in every town. "We have to embrace the visionaries," remarked Carpenter. "We can't let anyone stand in the way of our vision, and we have to be prepared to move forward with those who are ready to come along with us."
"You'll find very few people in Allentown today who will admit to being against the project when it started," Sara Hailstone said. "But I assure you, most people were against it, in the beginning. They're extremely proud of it today."
What's Next?
With all of the work, the learning, and the momentum, what should we expect to see in the coming months?
"Communication," says Brewer. "We need to build understanding throughout our region for what we're trying to do and why. Not only will this help build excitement locally, but it will help us identify our opportunities for support at the state level as well."
According to Arveschoug, Billings' economic development funding toolkit is limited, and legislative options to create others are few.
"Our creative leadership needs to put our heads together to find a funding model that will serve Billings," he continued. "And, to better our odds of passing it, we need to figure out an option that will serve other Montana communities as well."
One thing seems certain: the group will not be deterred. "We've convened the leaders, we're championing the cause, and we're all working together to catalyze our community," summarized Brewer. "Billings is poised for significant growth – with this group helping to lead the way, that growth will mean we're a cutting-edge community attracting and retaining the best and brightest talent for our workforce."
With a positive outlook like that, Billings is sure to see the kind of intentional development these leaders envision.
Takeaways:
Billings cannot wait. Allentown and Bethlehem faced significant challenges and Billings is well-positioned to act today and reduce the risk of facing major issues.
Billings must create a vision, commit to it, and prepare for the non-believers.
Over-communication is key. Tell the compelling story, generate community pride, include public awareness meetings, and bring ambassadors and visionaries along.
Civic facilities can operate at a profit as the group observed with the PPL Center in Allentown.
The trend toward re-urbanization is a new trend, yes, but not a new phenomenon. We've done this before when the trend was suburbanization. The reversal should not come as a surprise – and cannot be ignored. Cities must recognize the trend and develop for their citizens who are and will continue to demand it.
Billings' economic development funding toolkit is extremely limited. This group must seek out new and creative means for funding investment options for improving the community. If this group can propose a tool that serves many communities across Montana, the odds of success significantly increase.
Confirmation (again) that Hammes Company has a great reputation for producing and is an experienced partner in the One Big Sky District Development Plan project.
Billings must identify a legislative champion to help the group move planning work immediately into action; and that political will needs to be encouraged by private-sector partners.
Billings is not Allentown or Bethlehem. It is not facing the same challenges, nor will its solutions and progress look the same.
Stay tuned for additional blog posts showcasing highlights of Allentown, PA, an in-depth look at the SteelStacks at ArtsQuest in Bethlehem, PA, and an update on the One Big Sky District and what's on the horizon for Billings.