Bipartisanship is trending in Congress. Lately, we've witnessed not only historic spending but overwhelming agreement as well. Earlier this month, a bill extending the Paycheck Protection Program passed with only a single dissenting vote out of the 535 senators and representatives in Congress. This is the exception rather than the rule. Once the pandemic is behind us, Congress will likely descend back – perhaps even deeper – into partisan division. Thankfully, Montanans can appreciate the recent bipartisan efforts of our two senators, who are finding solutions rather than fanning the flames of party polarization.
Last week Senator Jon Tester was honored by the US Chamber of Commerce, the world's largest business organization, with their first annual Jefferson-Hamilton award for Bipartisanship. This award is based on the number of bills (excluding those formally opposed by the Chamber) in which a congressperson cosponsors a bill introduced by a member of the opposite party. Members are ranked relative to the performance of all other members of their party, with the top ranked in both parties earning 100%. Senator Tester earned a 94% – the fourth highest score among Senate Democrats.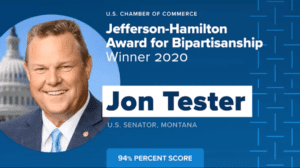 (Image from US Chamber's award presentation)
While Senator Steve Daines was not similarly honored, he has recently engaged in bipartisan work in Congress. So far this year Senator Daines has cosponsored nearly a dozen bills sponsored by Democrats. In March, Senator Daines lent his support to the Great American Outdoors Act (GAOA), which was cosponsored by nearly 59 senators from both parties—a majority of the Senate, including Senator Jon Tester who has worked on this issue for the last decade. Assuming the bill passes Congress and gets signed by the president, the GAOA will provide much needed funding to public lands and national parks, while providing mandatory funding for land and water conservation.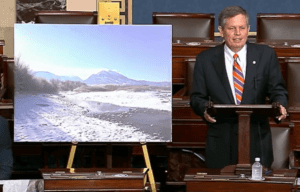 (Senator Daines addresses Senate on importance of GAOA)
The work required to identify and pass bipartisan solutions is too often disincentivized, with demands for party loyalty and opposition to compromise. While the country is fiercely polarized, it is more important than ever to recognize lawmakers who can put country before party and work across the aisle to produce real solutions to real problems. We want to say thank you to the US Chamber of Commerce for emphasizing and recognizing members of Congress for this too often thankless work.
And most importantly, THANK YOU to Senators Tester and Daines for their leadership.