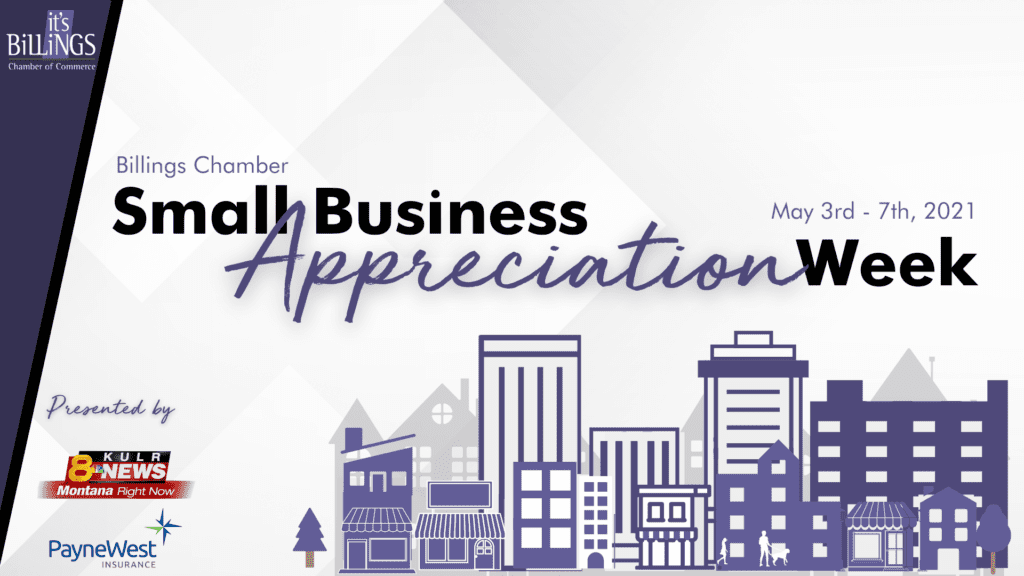 After a year of turbulence, the Billings Chamber is thrilled to celebrate 2021 Small Business Appreciation Week May 3rd- 7th. Small businesses are crucial to the local economy: there are more than 30.7 million of them in the United States accounting for 99.9% of all U.S. businesses. Specific to Billings and the chamber, our membership of over 1,100 businesses is made up of over 80% small businesses. We call them small, but they are definitely mighty!
What is a small business? The Small Business Administration defines a small business as a firm which has fewer than 500 employees. This means many of the businesses within the Billings region – even some that seem large to most – are considered a small business.
Small Business Appreciation Week was created to celebrate and show appreciation to these businesses. The shops who sponsor our little league teams, donate to non-profits, fundraisers and raffles, who give to the Go Fund Me campaigns arranged for our community members in need. Small businesses show up, even when they're down. We saw how the COVID-19 pandemic devastated many small businesses and the Chamber is creating opportunities for everyone to show up and show appreciation for all they do.
We are grateful to our presenting sponsors, KULR8 and PayneWest Insurance. Without their support and investment, this event would not be possible.
Read on to learn how you can get involved!
Chamber Member Spotlights
Throughout the week we will highlight 10 Chamber Member businesses. You will learn what they do, what they offer, and how you can support them. Take some time to hear their stories and learn how these businesses support our economy and how you can support them!
Pursuit of Billings Virtual Scavenger Hunt
Small businesses are what make any community unique, and Billings is no exception. We have created an engaging opportunity to support these businesses while being entered in to win a grand prize bundle.
Each day a clue will be posted to the Billings Chamber Facebook page. The clues will also be announced on KULR8 during their early morning and evening news broadcasts. If you guess correctly in the social media comments, you will receive one point. If you post a picture of you at the correct location, you will received five points. On Monday, May 10th we will announce the first and second place winners of the Pursuit of Billings Virtual Scavenger Hunt. The prize bundles are amazing and will absolutely be worth your time and attention!
Do not miss opportunity to test your detective skills and visit some of Billings' best and most unique small businesses!
Fun Facts about the Small Business Community
While we all love to get out and support the incredible small businesses we have in Billings, it's also important to learn why they are so important. Follow along on our social channels to learn and share interesting facts about small businesses.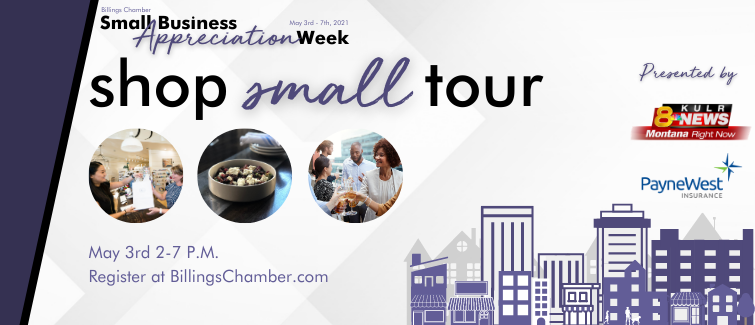 Shop Small Tour
Register for Small Business Appreciation Week Shop Small Tour and experience some of the businesses that make Billings such an amazing place to live and visit.
Monday, May 3rd from 2:00 p.m. – 7:00 p.m. join the Chamber while we travel to different retail stores and hear their story. We will meet at the Chamber and load the bus promptly at 2:00 p.m. The bus will have room for physical distancing.
Come ready to shop, learn, and support business. Each stop will include a short talk from the ownership, an opportunity to shop and explore the store, and snacks and drinks while you network with friends and load up your shopping bags. Cost is $25 for members, $35 for non-members. Space is limited!
Stops include:
SOMETHINGchic
Zest Billings
The Base Camp
The Joy of Living
Commons 1882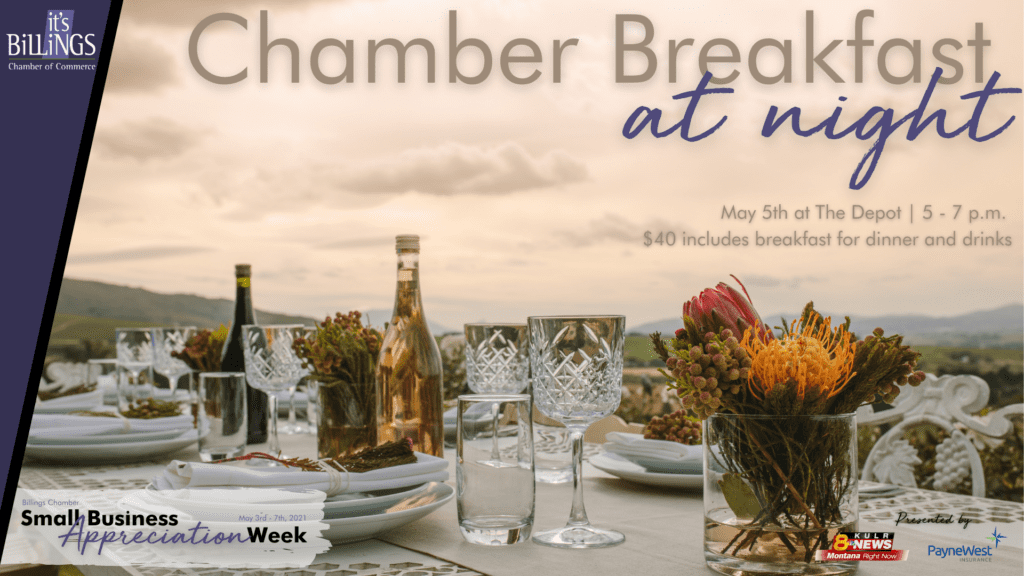 Chamber Breakfast at Night
The Chamber Breakfast at Night is an opportunity to celebrate our community's small businesses, honor the 2021 Business Excellence Award winners, and network together in a safe space.
The event will be held from 5:00 – 7:00 p.m. on Wednesday, May 5th. Doors will open at 5:00 p.m and tickets are $40 per person. Be sure to get your tickets before April 26th, when the ticket price will increase to $60. We're putting together delightful breakfast themed hors d'oeuvres to enjoy, a no host bar and a short program.
The health and safety of our members is the Chamber's top priority. Below is an outline of the precautions and safety guidelines for this event.
All guests must wear masks and pass a temperature check upon entering the event.
Hand Sanitizer will be placed throughout the venue for your use.
All food will be individually packaged.
One-way walkways will be implemented to encourage physical distancing.
All tables are placed 6ft apart.
Please do not attend if you are feeling ill
Instagram Reel Challenge
Instagram Reels are a fun and engaging way to discover and create short, entertaining videos on Instagram. The Billings Chamber challenges your business to create a Reel about your favorite small businesses in Billings. Just post your Reel to Instagram, tag @billingschamber and use #ShopBillings. Get out there and spotlight the best of the best in Billings!
Interviews with Local Small Business Owners
Every business has a story, and we can't wait to share some of them with you! Tune in to the Billings Chamber social channels to listen to the Chamber Staff interview different small businesses. Learn how these businesses impact you and our community.
—
We've all been waiting for an opportunity to come together and celebrate. We're not quite ready to throw a giant party, but Small Business Appreciation Week is a way for us all to show gratitude for the innovative small businesses who fought their way through an amazingly difficult year. And, it's also an opportunity for all of us to get together around a common theme while still being safe and responsible. Don't miss out on the opportunity to learn, engage, win prizes, and show appreciation for the businesses that make Billings great! Thank you for joining the Billings Chamber during Small Business Appreciation Week May 3 – 7!
If you are looking for ways to be involved, please email Alyssa@billingschamber.com.
Don't worry, if you purchased tickets to see Tony Hawk, he's coming to Billings for Chamber Breakfast 2022 and your tickets will be valid! More to come on Tony Hawk for April 2022!