Learning from Others: How the Bethlehem, PA SteelStacks could be a Model for Coulson Park in Billings, MT
By Kelly McCandless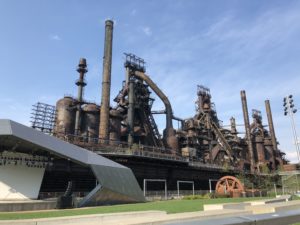 What happens when the region's largest employer pulls out of the market, cannibalizing 20% of your tax base, resulting in 30,000 people without jobs, and leaving 1,800 acres of brownfields behind?
"Well, you don't celebrate it," laughs Kassie Hilgert, President and CEO of ArtsQuest in Bethlehem, Pennsylvania.
"Really, the community found itself in a dire situation when Bethlehem Steel plant closed in 1995. We could standby and hope things got better, or we could take action. We took action."
Bethlehem Steel produced nearly three-fourths of the steel needed during World War II. Thanks to motivated leadership, this heavy industrial area transformed into a cultural and tourism destination attracting over two million visitors each year.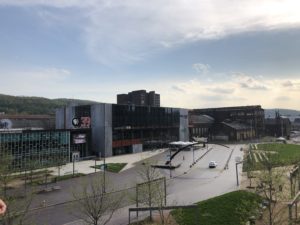 For the Billings leaders who spent time in Bethlehem, clear similarities exist between their work following Bethlehem Steel's closing and the opportunity presenting itself with the area along the Yellowstone River recently occupied by the Corette Plant and progress toward master planning Coulson Park.
The community of Bethlehem rallied, bringing key partners to the table, establishing a Tax Increment Finance (TIF) district, and bringing in the Sands Casino Resort.
"We saw an opportunity," explains Kassie, "We could address the blight, offer programming to attract the creative class, spur economic development, highlight local/national businesses, increase access to the arts, and support tourism development, all while embracing our authentic history."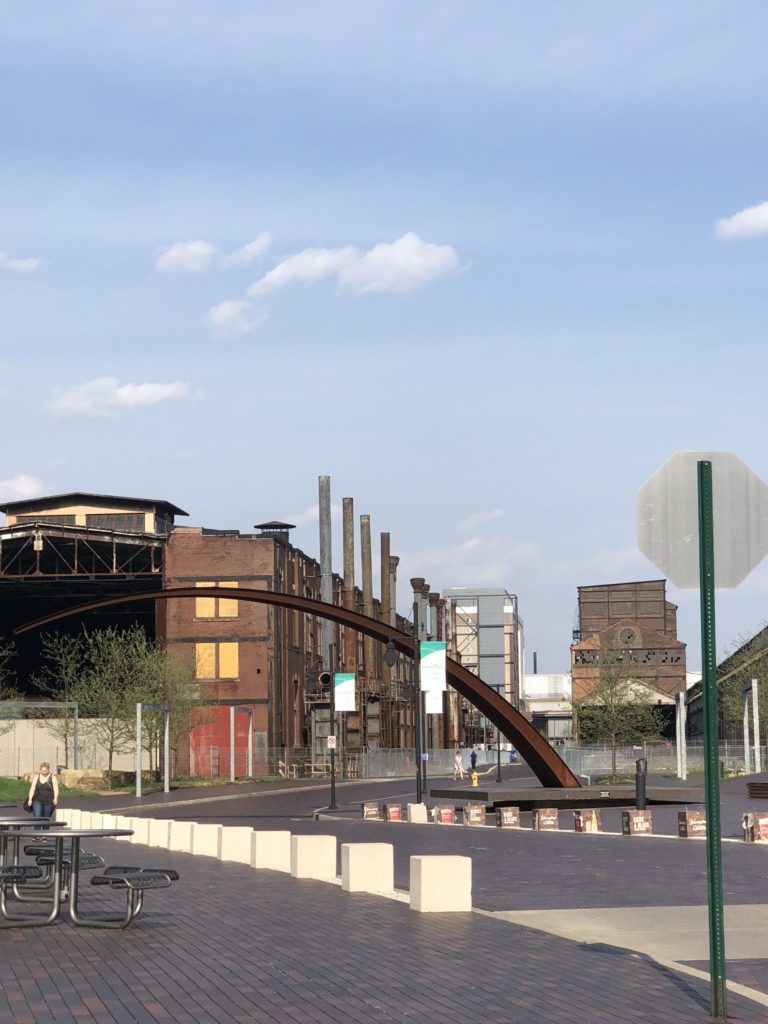 How did they do that? ArtsQuest, a non-profit started in 1984, for its part drew on its experience in providing art, culture and educational programs for the diverse residents of the Lehigh Valley and others who seek access to their community. They were one of a number of public/private partners who pulled together to revitalize the nation's largest brownfield by utilizing arts and culture to create foot traffic and the public sector established tax incentives to lure a major casino to the area.
"ArtsQuest attracts over two million people annually because we're a thriving, cultural hub," continued Kassie. "We offer major events attracting tens of thousands throughout the year, we hold tours of the SteelStacks, we include our community and we seek to make the community of Bethlehem better."
Better it they did. To the tune of nearly $60 million in economic impact to ArtsQuest campus alone in 2017. Cast that calculation out to the region and the impact rises to $145 million.
"This area of town – the one that drug us down further than we thought possible in 1995, is now the heart of the community," Kassie says. And the data certainly supports that: the programming coming out of ArtsQuest and the SteelStacks is generating job and tax revenue through tourism, attracting and retaining talent, supporting real estate values to attract residents, and spurring urban revitalization and economic development throughout the region. And instead of blight, the SteelStacks are affectionately referred to as the "largest public art installation in the northeast."
It's pretty easy to visualize the improvement some thoughtful, progressive development along one of Billings' most visible gateways would make. And after viewing the creative solutions at work in Bethlehem, Billings should be prioritizing this area of town. Coulson Park, the Yellowstone River – it's all ripe with unrealized potential. Bethlehem's SteelStacks is proof that, with the momentum fueling the 50 leaders on this city visit, Billings can, and will, do better.