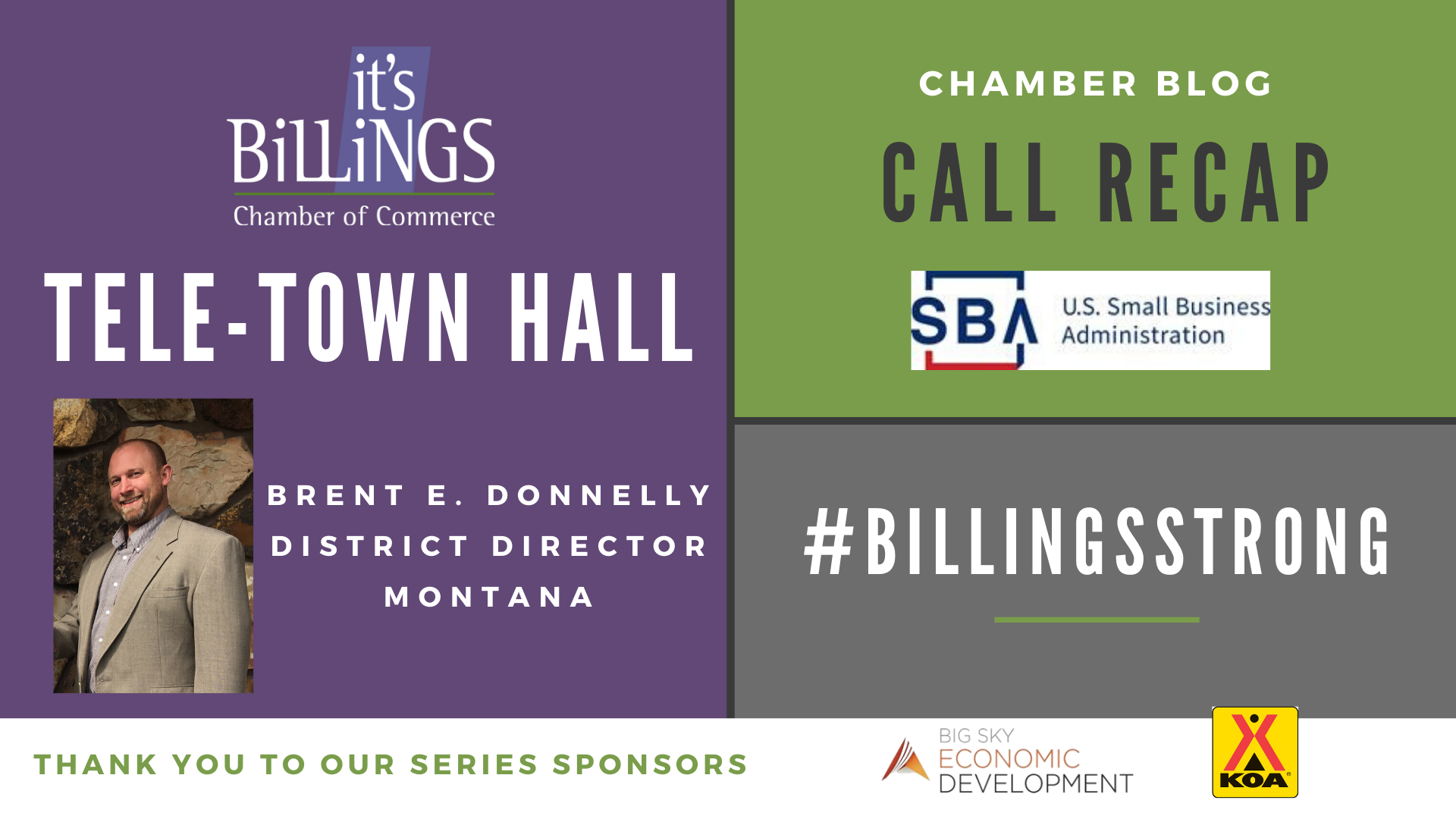 Re-cap from Montana SBA Director, Brent. E. Donnelly and Region 8 SBA Director/Denver Dan Nordberg
(For Billings area businesses, please reach out to our local SBA liaison: Martin DeWitt Senior Area Manager in Billings Montana. Martin.dewitt@sba.gov. 406-459-5347)
Lenders are key partners in helping the SBA offer funding opportunities.
We are all waiting for the congressional package to see what it will hold, but he reviewed what has already been done:

Two weeks ago Congress passed legislation allowing the SBA to utilize disaster loan funding to assist small businesses impacted by natural disasters. This type of authorization is a first for the SBA, allowing them to respond to a biological event: the coronavirus pandemic.
States have been lining up to be eligible for these funds, and this has been a challenge. The existing infrastructure was not built to serve a country-wide need. However, it's servicing all 50 states now.
SBA loans offer up to $2 million in loans to pay for fixed debts, payroll, accounts payable, and other bills that could not be paid for due to the virus.
For profit rates at 3.75%, private non-profit rate is 2.75%
Up to 30 years
Eligibility is on a case by case basis. This is not for large businesses, it's for small businesses. Generally 500 employees or less. They may evaluate size of business or revenue samples.

As we move forward the SBA and businesses wait to see what the congressional package will hold. The SBA anticipates major changes in their offerings and will be working as quickly as possible to get loans out quickly.

SBA will be at the forefront of these funds and will be disseminating information as soon as they have it. If they can't answer questions now, they're working to learn and educate as the information is defined and released.

Montana office will not send information out until they have accurate and actionable details.

This will help to break through the information overload. You can be assured if you see info from the SBA, there is action that can be taken.
Questions and Answers:
If they apply for the SBA loan, then they won't qualify for the payroll protection loan. Can you elaborate?

Current SBA understanding is that the legislative package will allow a forgiveness period if you applied for the economic injury funds previously.

Will there be fees associated with the loans?

There are no application fees and no origination fees associated with the economic injury loans.

Do the loans apply for businesses open less than a year?

Currently, they would not be eligible. However, the legislative package is likely to change that eligibility.

Do you know how much of the proposed $2 Trillion package will go to Montana small businesses? And how long before it hits Main Streets?

This will be a $367 billion investment for the country. SBA hope and anticipation, based on how they're trying to work with lenders and how they're ramping up teams, will be to see swift action.

I've heard there may be financial assistance from SBA and others state program for rehiring displaced employees during these closures and while we ramp up to normal operations. Is this true?

We can't speak about state government programs outside of the SBA. Check with the Department of Labor for Montana specifics there. With respect to the congressional package and the loan programs associated, there will be a forgiveness portion around the part you use to retain your staff. This is meant to be a lifeline to businesses and help for them to keep their employees.

What constitutes a non-profit eligible for the funds?

This will be changing and we haven't seen the final determination on what kind of non-profits will be eligible.

Will businesses be eligible for emergency funding if the owner had debt handled through bankruptcy?

We're not sure. Ultimately, they're trying to make access to the funds easier, and congressional action is around that, too. But they can't speak to that specifically yet.

Will there be any workshops scheduled for hands on (virtual or in person) help with this process?

For the economic injury disaster program, staff of the SBA and partner entities like SCORE Chapters, SBDC, Women's and Veterans Business Centers have had training to help guide applicants through the process.
As things are rolled out with the new package and provisions the SBA plans to offer training to partners to keep them up to speed.
This congressional bill will include funding for resource partners. Big Sky EDA/EDC and the SBDC will receive funding to help amplify the message and assist as many small businesses as possible.

Are there opportunities for current SBA loan holders for payment deferral during business closures?

The latest guidance they've received is that SBA lenders are authorized to offer up to a 6 month deferral.
They expect more coming on this, but today 6 months.
The Billings Chamber will hold another session with SBA next week once the Congressional action is set.
The Chamber and other partners will help disseminate information to small businesses so they can obtain assistance quickly and efficiently.

Our lender has been proactive in getting our loan payments down to interest only. 504 loans have been adjusted, will this apply to 7A loans?

SBA lenders have been authorized to defer up to 6 months currently, but we expect more changes on this.
It's a good idea for small businesses to talk with their lender and learn what they can do with their loan/products.

When will the application site be back online?

Regrettably, the website is currently down. They're doing maintenance and staff are frustrated. But this is an unprecedented situation and they are working to bring the website up to where it needs to be to serve the need.
They're already processing applications and doing what they can to boost bandwidth and IT capabilities across the board to be better equipped to serve.
The Chamber is working to schedule another webinar so we can offer finality around the congressional bill and SBA funding. Much of what was shared today could be changing.