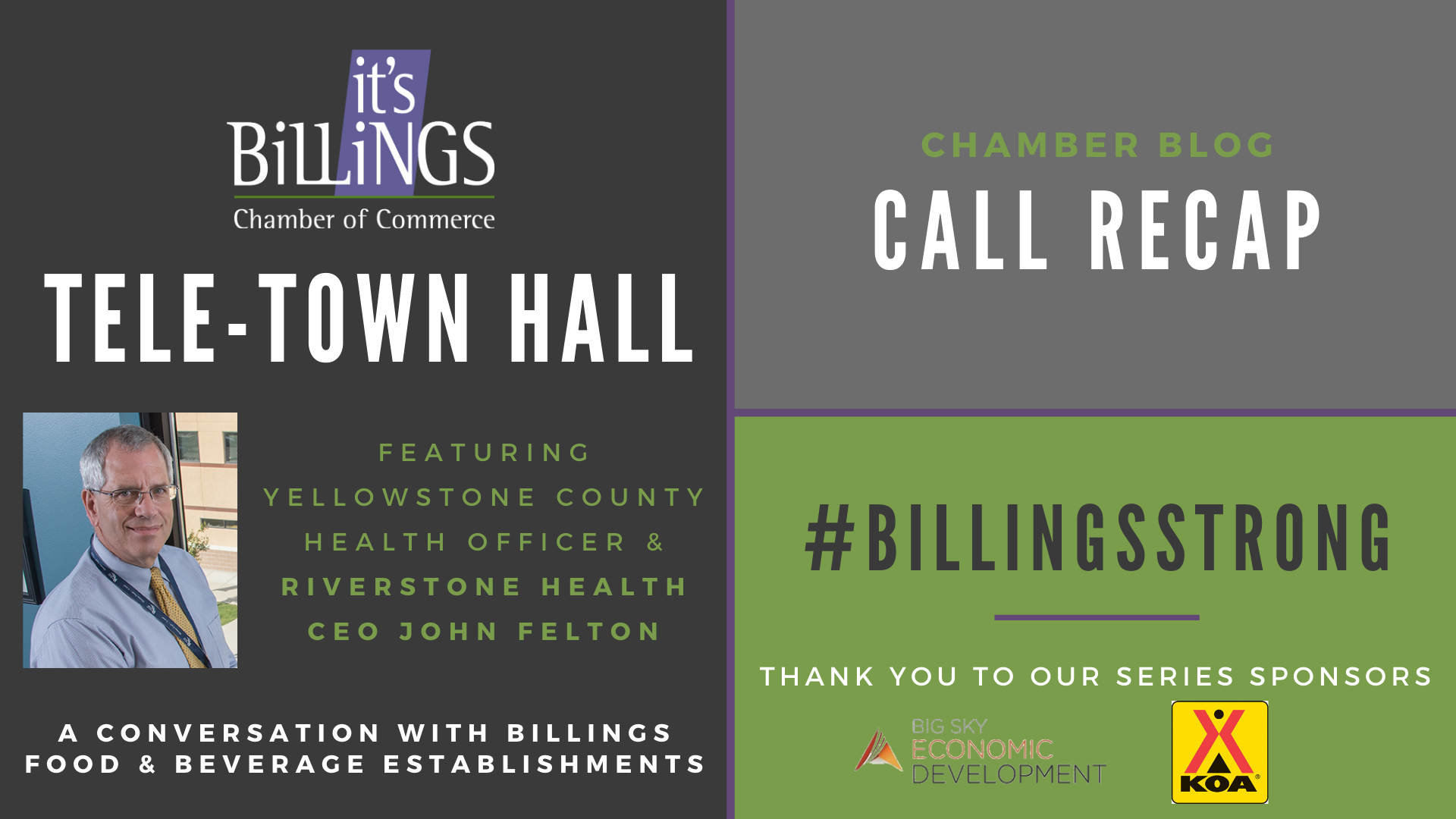 Re-Cap: Tele-Town Hall with Yellowstone County Health Officer and RiverStone Health CEO John Felton
About 50 food and beverage establishments joined us on Tuesday, March 24th for our first Tele-Town Hall. This series is designed by the Billings Chamber of Commerce to connect our businesses to decision makers at the state, local and federal level. Thank you to our sponsors KOA International and Big Sky Economic Development.
John Felton provided a general update:
These are entirely uncharted waters. We've prepared for pandemic disease before, but haven't really executed these plans in recent history.
A pandemic is a world-wide outbreak of disease. This began and was identified in China in late 2019.
This is called a novel virus, meaning it's brand new and no one has immunity to it. Every time someone is exposed, it's the first time and each person has to build immunity. This is what makes it very dangerous.
As people get exposed, a large number have mild symptoms and don't get sick enough to stay home. So, the disease gets passed on and on in a mild way until someone gets sick enough that the virus is tested for and caught.
Fundamentally, to stop a pandemic, you minimize the chance for people to spread it from person to person. This is the reasoning for all of the orders limiting public activity.
COVID-19 is transmitted through droplets (sneeze, cough, etc.) which is why the 6 foot distancing is so important. This bug doesn't live well in the air, so if the droplets succumb to gravity and don't land on a person, likelihood of transmission diminishes.
Closure orders: Mr. Felton expressed he well understands the economic impacts and the personal and family impacts of the closures. They are attempting to slow down the spread of this disease. The only way to do this is to keep people apart.
We have to flatten the curve. This means that the vertical axis of a chart is the number of cases diagnosed daily and the horizontal axis is time. If we don't stop the contact/spread, the chart will spike vertically – which is what we're trying to avoid. Case transmission is going to happen – we won't stop it. But we must try to prevent it from overwhelming the healthcare system by spreading the transmission over time.
We manage this pandemic in Billings through the Unified Health Command, combining the decisions with feedback from Billings Clinic, SCL Health, RiverStone Health & Yellowstone County Disaster & Emergency Services, with John Felton as the Yellowstone County Health Officer making the final call.
Questions and Answers:
If Yellowstone County goes on full closure, which businesses are designated essential?

This is not a value judgement, but is determined by which services must remain to continue mounting a response. Things like healthcare, government, etc. We evaluate what critical services we must provide and how can we shut down other services. For example, hospitals have shut down elective surgeries because they're not required to maintain life. This allows them to redistribute staff to address this pandemic.
o If we get in to a full closure order getting down to everything but essential services, the decision is typically a governor order and he would define what those essential services are.

I'm concerned about lifting the order too soon and the pandemic springing out of control. Can you discuss?

This is part of why Mr. Felton set the order for longer than the Governor last week. The Unified Health Command is attempting to give as much advance notice to businesses as possible to allow for planning and preparation.
Even when businesses reopen, social distancing measures will be required. This will be a new norm until the number of cases drops significantly.

Is there a way to tell if the closure order is making a difference?

That's the ultimate question. Waiting too long and not being aggressive enough is dangerous. Consider Italy as an example of this. Once that curve goes vertical, it's extremely difficult to get ahead of it. We are trying to maintain the slow accrual of cases, but won't know for sure how this works until we look back.
Our best hope as a community is to be more aggressive rather than less aggressive.

Is this going to lead to a permanent code change on capacity for interior spaces?

Mr. Felton shared that he can't predict the future with precision, but he doesn't think this will be a permanent change with respect to capacity.
For a time we will need to limit capacity, but it's not anticipated that this will be a permanent, structural change. But it's going to be awhile. Longer than weeks. We will have to continue to limit transmission.
It's also important to remember medical advances and scientific research are in motion. A vaccine is in the works. And, every time someone gets the disease and recovers, they become immune.

What is your recommendation from a preventive cleaning standpoint and who is qualified to provide these services?

No recommendation for a particular company or service. But this particular virus doesn't do well with standard cleaners. The virus can live on surfaces for hours to days (depending on temp, humidity, UV light, surface, etc.).
What really needs to happen from a cleaning perspective: clean more frequently. Diluted bleach solution does seem to do well. Wipe down everything: counters, tables, door knobs, chair arms, rails, light switches, etc. Clean all of these things frequently. Droplet transmission is best mitigated by frequently cleaning.
Don't touch your face. Wash your hands frequently.
Chamber resource page includes members who can help clean.

Won't the virus die as the seasons change and temps get warmer? If we do the work now, won't we reduce the number even further as the virus dies and we reach spring/summer?

We don't know yet. We don't know how this virus behaves yet and haven't seen how it's been impacted by seasonality.

If you have had the virus, can you give it to someone or get it again? Should people who have been sick be tested to go back to work?

The average time from exposure (close contact, droplet transmission) to the onset of symptoms is about 5 days (some people longer, some shorter). It can be infectious 24-48 hours before becoming symptomatic. Once you no longer have fever, stay home until 72 hours after you're fever free. At that point, you are safe to return to work.
The best way to resolve this is not testing, but to stay home if you have any symptoms of illness.

Why the inconsistency from city to city across the state? Why doesn't the Governor make the call statewide?

Public health agrees it would be nice if we were all on the same timeline and the Governor made a call statewide. Public Health Officers only have jurisdiction over their own counties and weigh a lot of factors. Mr. Felton's position has been to be more aggressive than not aggressive enough. It would be great if everything aligned, but local factors drive each individual decision.

With currently available info, do you foresee an extension on the limited restaurant operations?

It's impossible to guess what's going to happen. Our order is in place until April 10th. Unified Health Command is watching carefully what's happening with cases and evaluating community spread and watching other communities as well to help inform future decisions.
The answer may be unsatisfactory, but it's an honest answer. We have to decide as we get closer.
The Unified Health Command has tried not to put people in a last minute position and is trying very hard to give advance notice as possible.
Today is March 24th. Our first case was March 13th. We are 11 days since our 1st case. This is important to consider as we are watching how fast this is evolving.

How well situated are we in Billings with our healthcare community to deal with this?

A lot of things have been put in place to help this. Personal protective equipment solutions being created. Local gov'ts have declared a state of emergency allowing us to stockpile PPE.
Both hospitals have stopped doing elective surgeries. Encouraging people to not do their routine visits right now. Taking calls to speak to patients, but trying to minimize demand on the system.
All the healthcare facilities have plans related to surge capacity. They have plans in place to determine how to manage if they have a large number of patients requiring hospitalization.
Our Yellowstone County team has prepared for this. Unified Health Command has been around since 9/11 and has planned for this, just modifying plans in real time to be relevant to today.

Other communities you're looking at – what are we seeing?

Watching communities who are 7-14 days ahead of us in this timeline. They have more cases, but also more testing. We've learned lessons from their actions. For example, we've worked closely with our senior living and long term care facilities to limit visitors and protect residents/patients.

How many testing kits are there in Yellowstone County and where do they come from? Is there a way to know how many tests have been done?

A specimen is collected locally, so the issue isn't testing kits, but supplies to collect the specimen. This isn't a problem for us in Billings. To test the specimen is a lab issue. The State lab and a few private companies are authorized to do the test. There is a faster turnaround from the Helena lab so priority cases go there.
There is a protocol in place for who gets tested and where the test is sent.
Limitation exists at the lab level: supplies and people to do the test. Number of kits to do the test at the lab as well as the capacity of those labs to run the test and do throughput.
It is still far more likely that someone with fever, cough, and shortness of breath has influenza. So the first test done is for influenza (definitive test, not rapid). If that test is negative and COVID-19 test is appropriate, the same specimen is sent for that testing. Multiple tests from a single swab. Triaged to determine which lab to send it to.
The Billings Chamber strongly feels that to get back to business as usual as quickly as possible, we have to stop COVID-19. Experts in healthcare are reminding us to stay home whenever possible. As an organization representing business, it feels counter-intuitive to support this approach when we know our businesses are suffering in a way they never have before. But we believe if we all do our part, we'll get back on track as soon as we possibly can. Use our resource kit at BillingsChamber.com.