THIRD & LONG ON CITY PROPERTY DISPOSITION
Tonight marks the third week in a row that City Council will discuss selling city property. Two weeks ago, Council exhaustively discussed changes to the ordinance allowing the disposition of city property before ultimately sending the draft back to staff for another round of edits. Last week, Council rejected an offer to buy the retail sections of the Park 1 garage, in part because of difficulties with their disposition process. Tonight, they take another crack at changes to their ordinance.
It's a third and long discussion, unlikely to conclude quickly…or feature a Taylor Swift sighting…
You can see the redlined version below, or click here to view the PDF online. The new draft to be discussed:
Adds "public auction" and "direct negotiated sale" as options for disposing of city property.
Adds a requirement that Council must find they no longer need the property and disposing of the property is in the public's interest.
Adds a requirement for approval by six (6) Councilmembers present at a public hearing (opposed to a simple majority present).
UPCOMING EVENTS – ALL-CANDIDATE FORUM @ ABT (OCT 10)
Who Will You Vote For?
Do you know who is running for election in your city ward? The City Council members we elect this November will play a critical role in shaping Billings for at least the next four years as they make decisions that impact housing, taxes, public safety, parks, and other important issues. To give everyone in the community an opportunity to hear from all the candidates, we're hosting a City Council Candidate Forum
Date: October 10th
Time: Door open at 5 pm, program runs 6 – 7:50 pm
Where: Alberta Bair TheaterCost: FREE to attend, please RSVP below.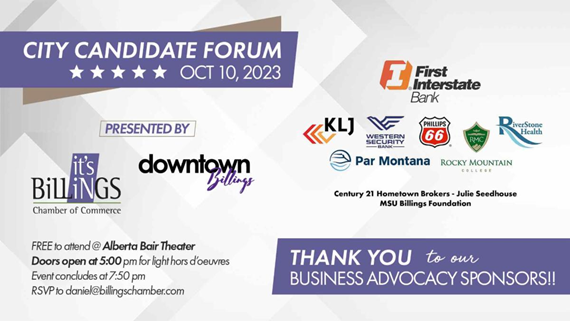 ---
SEE ALSO:
---
Thank you to our Business Advocacy Sponsors!