HOW DO I GET SIDEWALKS IN MY NEIGHBORHOOD?
Tonight's Council agenda features seven public hearings to establish allocations for Special Improvement Districts (SIDs) located in Billings. WAIT! I know that sounds super boring, but SIDs can improve infrastructure in Billings. Is your neighborhood in need of sidewalks? Lighting? No, just me? Do you know if you pay an SID assessment fee on your property taxes? Keep reading and we'll tell you how to find out!
A Special Improvement District (SID) is a mechanism to fund public improvements, whether new or ongoing maintenance, by grouping properties into a legal entity that will benefit from and pay for specific public improvements. Rather than use general tax dollars to make improvements in certain neighborhoods, SIDs target the payment for improvements on those properties receiving the primary benefit. They can be used to build new infrastructure or maintain existing infrastructure.
Assessment Methods for SIDs
Area of each parcel
Assessed value of each parcel
Total number of parcels
Street frontage of the parcel A mixture of methods above

Examples of SID Improvements
Curb and gutter, drive approaches
Sidewalks and multi-use trails
Sewer mains and storm drains
Street paving
Street lighting
Relative to the City's total annual infrastructure spending, SIDs make up a small fraction. Billings Public Works' FY24 Budget shows approximately $152 million in expenses, with $3,076,250 (~2%) funding construction in SIDs. While it's a tiny portion of what the City spends overall, it can be a substantial cost to property owners depending on the total cost of the improvements and how many properties share the burden of those improvements. For instance, SID 1411 includes only two properties which are saddled with the entire $24,000 bill to be repaid over 15 years. On the other hand, SID 1417 includes about 250 properties to share the burden of new infrastructure costs.
This brings up an interesting policy question. Who should pay for these expensive infrastructure improvements? The property owner? The City (funded by everyone's tax dollars)? Or both? Perhaps storm sewer, curb, and gutter should be the responsibility of the property owner with direct benefit. While sidewalks, with a clear public benefit, should be the responsibility of all taxpayers as an equal form of transportation. Billings funds street repairs with a street maintenance district assessment, taxing everyone, but not necessarily improving everyone's roads with that money. Or, a hybrid approach can be used, perhaps capping a property owner's contribution to protect those residents on fixed incomes. There's certainly more to the discussion than the last few sentences, but it's likely this won't be the last time to bring up the topic. If you want to see whether you pay an SID assessment, just take a look at your most recent tax bill. It'll be listed in the Special Assessments block, highlighted yellow in the sample tax bill graphic below.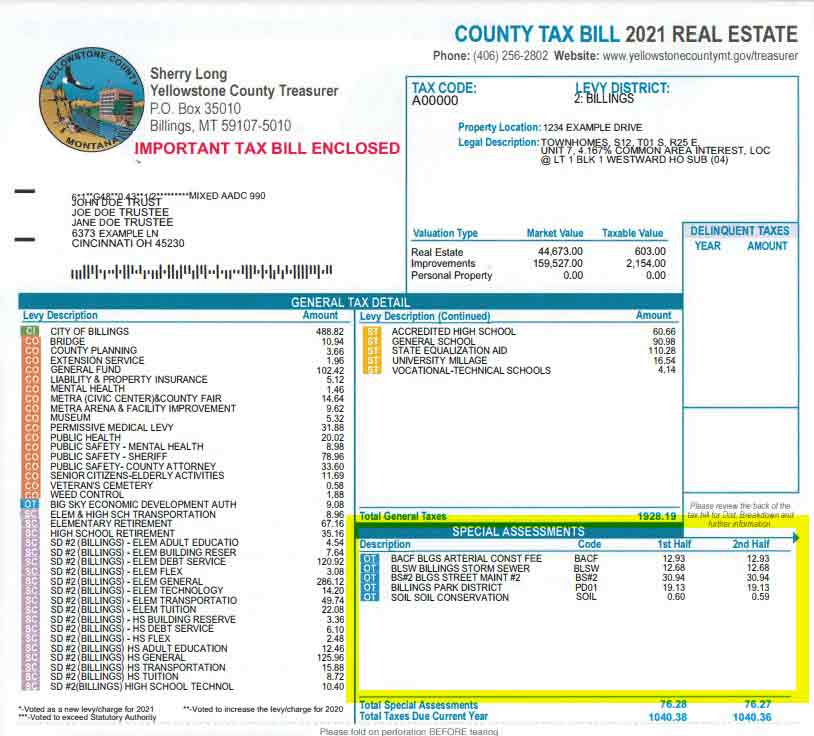 CREATING A DISTRICT
Districts can be created by a property owner or owners interested in sharing the cost for infrastructure improvements in their neighborhood. An informal petition is submitted to the City Engineer's Office with signatures of property owners (51% or more is suggested). Once the petition is received, the City must undertake additional steps as directed by State Law.
City departments review the proposal and forward a report to Council with details on: assessment/bonding data, boundaries, and ownership
City Council approves or opposes the proposal for consideration
City publishes notice and mails notice to affected property owners
15-day protest period allowed by State Law
City conducts a public hearing and Council votes on the resolution
If your neighborhood is interested in new infrastructure such as street lighting, click the link below or call the City Engineer's Office (406-657-8231) to get started.
TONIGHT'S SID DETAILS AND RESOLUTIONS
SID 1411
Curb, gutter, drive approach, and street improvements to Park Lane west of Highwood Drive
$24,191.74 over 15 yrs
6.93% interest rate
Resolution (2 properties affected)
SID 1417
Installation of water and storm drain system improvements and reconstruction of the roadway to widen and implement a roundabout at the Annafeld Parkway intersection. The project will also install street lighting along Elysian Road and the subdivision streets for Annafeld Subdivision
$2,445,935.75 over 13 yrs
4.55% interest rate
Resolution (~250 properties affected)
SID 1418
Constructed approximately 2,450 LF of roadway, including asphalt pavement, curb, gutter, drive approaches, storm sewer infrastructure, replacing approximately 2,350 LF of water main, sanitary sewer improvements, and landscaping along Holiday Avenue
$175,493.96 over 13 yrs
3.60% interest rate
Resolution (3 properties affected)
SID 1419
Construct street, curb and gutter, drive approach, driveway, water main, sanitary sewer main, and storm drain improvements to Charles Street
$752,068 over 15 yrs
6.93% interest rate
Resolution (5 properties affected)
SID 1423
Construct streetlights serving Annafeld Subdivision 4th filing
$523,740.25 over 15 yrs
6.93% interest rate
Resolution (80 properties affected)
SID 2924
Construction and installation of curbs, gutters, drive approaches, appurtenant improvements, storm sewer improvements, and asphalt pavement on Highwood Drive, between Poly Drive and Rimrock Road, including Highwood Circle, Circle Drive, and Highland Park Place, within the City of Billings
$116,754.73 over 12 yrs
6.47% interest rate
Resolution (19 properties affected)
SID 2925
Reconstruction of and improvements to Mullowney Lane from the Midland Road/South Frontage Road intersections south to Elysian Road, including two-way left turn lanes, sidewalk on the west side, 10-foot wide multi-use trail on the east side, curb and gutter, storm drain, irrigation, streetlights, and a signalized intersection at the Elysian Road/Mullowney Lane intersection located mid-way between the South Frontage Road and Elysian Road, within the City of Billings
$606,950 over 12 yrs
6.47% interest rate
Resolution (13 properties affected)
---
SEE ALSO:
---
Thank you to our Business Advocacy Sponsors!