Small Business Saturday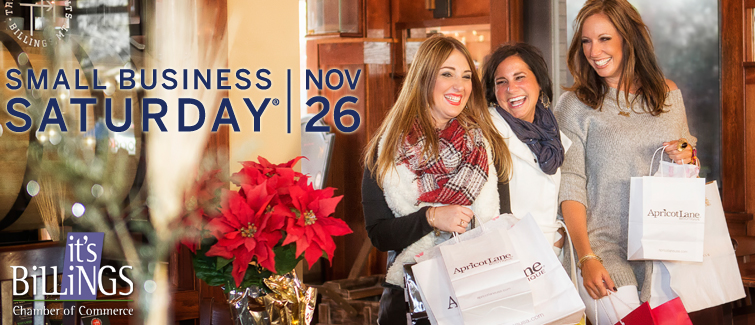 We're proud to be a major supporter of small business, and we are proud to support our community.
When you shop at local small businesses, you help our community grow. Together, let's help strengthen our community by continuing to support the Shop Small ® initiative all year. But especially on November 26th, consider shopping with small, local businesses (find a list of those that are members of the Chamber here.)
When you Shop Small on November 26th, we hope you'll join in on our game! The game board is available for download here. Read on to learn how to play. Our current list of participating businesses includes:
| | |
| --- | --- |
| 9 Round | Montana Flooring Liquidators |
| Al's Bootery & Repair Shop | Montana Santa |
| Aspinwall | N2 Cryotherapy |
| Beartooth Harley Davidson/Buell | Patti's Country Cottage |
| Big Dipper | Montana Flooring Liquidators |
| Big Frog T-Shirts | Pita Pit |
| Billing Hardware | Q360 Health |
| Billings Best Yogurt | Ranch House Meats |
| Bottega | Rustic Mountain Furnishings |
| Bricks & Minifigs | S.C.R.A.P. |
| Btown Grill | Sagebrush Trading Co. |
| Bumps 'n Bundles | Sanctuary Spa & Salon |
| Candi's Art and Party Studio | SasSpurilla's Closet |
| Candy Town USA | Scout & Molly's Boutique |
| City Vineyard | Ski Boot RX |
| Commons 1882 | Ski Station |
| Cricket Clothing | Tea City & Cupcakes |
| Gainan's | The Annex |
| Get Juiced | The Base Camp |
| Goldsmith Gallery Jewelers | The Fieldhouse |
| Good Earth Market | The Northern Hotel |
| Guccione Salon | This House of Books |
| Hooligan's Sports Bar | TimeSquare Furniture |
| Jim's Jungle | Trailhead Spirits |
| Joy of Living | Universal Athletic |
| Limber Tree Yoga Studio | Western Heritage Center |
| Log Cabin Bakery | Willow Creek Day Spa & Salon |
| Lou Taubert | Wise Wonders Children's Museum |
| Montana Brewing Co. | Yellowstone Cellars & Winery |
| Montana Dress Co. | Yellowstone Coffee and Canvas |
Some of our partners are offering specials for Small Business Saturday!
9Round: 50% off 2017 paid in full memberships. 10% off products in the gym. 50% off paid in full 6 month for $225; 50% off paid in full 12 month for $375. Offer available between 5:30AM – 1:00PM Friday and from 8:00AM – 12:00PM Saturday.
Aspinwall: BOGO 1/2 off, including items already on sale!
Bricks & Minifigs: Buy 1 get 1 free from the bulk containers; $3 build your own minifigs; 20% off used sets; 25% off loose minifigs in minifig cases.
Bottega: Win/Win Weekend – the first 100 purchases receive a special gift with purchase including a goodie bag with items from their brands as well as local businesses. And, every purchase will receive a scratch card with lots of chances to win!
Commons1882: With the purchase of an entree get 1/2 off any appetizer and a complimentary glass of champagne or red wine (Commons choice).
Cricket Clothing: 20% off all scarves.
Log Cabin Bakery: $3 each or two for $5 on cinnamon and caramel rolls.
Join the conversation! Follow us on Instagram @BillingsChamber. Click here to check us out! And remember to #ShopBillings and #ShopSmall
What is the Small Business Saturday Movement?
Last year nearly 1,500 businesses participated in Small Business Saturday and people spent an estimated $14.3 billion at small independent businesses. We're proud of our programs' growth with over 40 local businesses who have joined our Shop Small Saturday movement this year.

The Billings Chamber of Commerce is the 2016 Neighborhood Champion for the city of Billings. American Express encourages area Chambers of Commerce to champion their city's Small Business Saturday so they can link together small businesses across the city, help coordinate media and marketing, and ultimately champion the drive for consumers to get out and shop small businesses. And, now we need you to rally with us! Explore the questions and answers below to learn more about the program.
Q: When is Small Business Saturday?
A: Small Business Saturday is November 26th and marketing for this campaign will be promoted throughout the month of November.
Q: What is the Small Business Saturday Monopoly Game and how do I play?

A: The Small Business Saturday Monopoly Game is a way for you, the consumer, to get out, shop with small businesses, and enter to win gift cards from the participating merchants! The game actually lasts all weekend – meaning you don't have to cram all your shopping into Saturday. Start on Saturday, November 26th and shop through November 28th. At each stop, have an employee mark your board. Once you've visited ten participating merchants, leave your game board there. We'll pick them up on November 29th and draw winners by December 2nd ! Download the gameboard here.

Q: Can anyone participate in the game?

A: No. Participants must be 21 years of age or older. Complete Rules and Regulations available here.

Q: Do I need to purchase something at each of the ten merchants?

A: No. No purchase is necessary.  Complete Rules and Regulations available here.
A little more on the subject of small business:
The Billings Chamber is based on small businesses; in fact, 88% of our membership base is comprised of small businesses. The Billings Chamber supports all businesses through a combination of advocacy, facilitated business connections and opportunities for growth. In particular, our advocacy efforts aim to be a voice for small businesses in general, speaking out in favor of legislation, policies and movements that are pro-business, and advocating against those that will do harm to small businesses. Small Business Saturday and our Shop Billings movement are a perfect example of these efforts. Before going online this holiday season, support your friends and neighbors. Shop Billings!