Small Business Saturday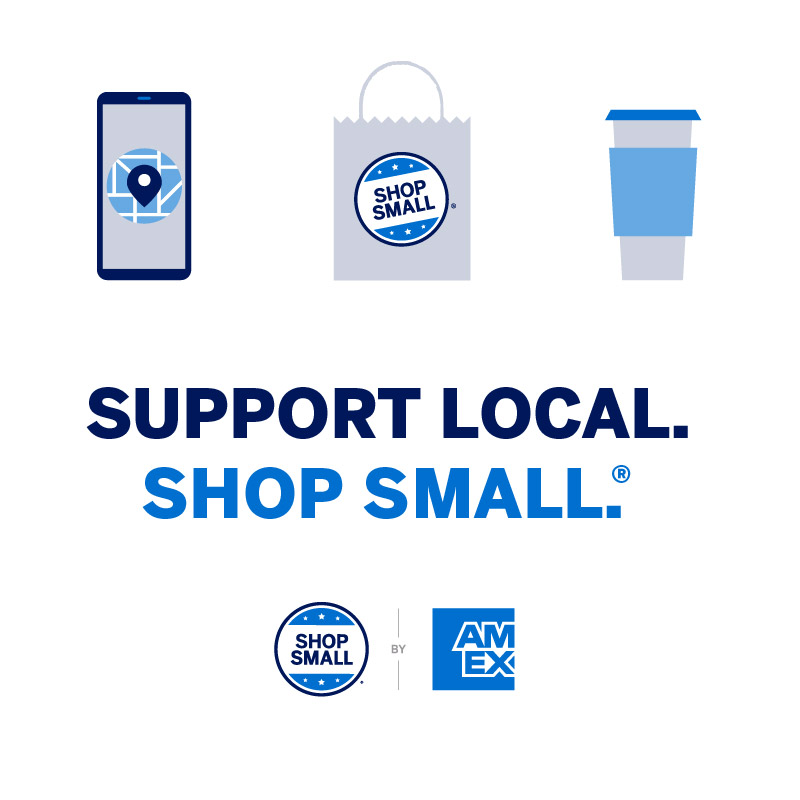 We're proud to be a major supporter of small business, and we are proud to support our community.
When you shop at local businesses, you help our community grow.
Together, we strengthen our community by continuing to support the Shop Small ® initiative all year. Especially on November 28th, 2020 shop with small, local businesses.
Interested in Small Business Saturday Game? Here is how it works:
Retailers: When customers come in November 28 – 30 with a game board, just mark your space and return it to them. If it's their 10th stop, they can leave the game board with you with their contact info filled in. Our staff will swing by and pick them up.
Consumers: Find it in the Billings Gazette on Thursday 11/26 or Saturday 11/28, or you can download the game board (once we have it finalized)! Once you have the game board all you have to do is SHOP!  Get your board signed off at each participating merchant you visit.  Once you've visited ten, (any ten – there's no need to get ten in a row – just any ten!) leave your game board there to be entered to win one of the many prize baskets full of goodies from the participating member businesses! (Prizes valued up to $500 each.) Check out the official rules and regulations here.
You're a key part in helping Billings' small businesses thrive. By shopping or dining at small businesses, you're showing your support for fellow member businesses in our community.
The game lasts all weekend – meaning you don't have to cram all your shopping into Saturday. Start on Saturday, November 28th and shop through the 30th. We'll pick them up on December 1st and announce winners later that week!
Mark your calendars for Saturday, November 28th to shop and support our local businesses.
Join the conversation! Follow us on Instagram @BillingsChamber. Click here to check us out! And remember to use #BillingsShopsLocal and #BillingsEatsLocal.
Thank you to our 2019 Small Business Saturday Participants!
Aspinwall
Big Sky Coffee Roasters
Black Dog Coffee
BodyROK
Candy Town
Chalet Market
Chalet Market Kiosk
Cricket Clothing Co
Dee- O-Gee
Gainan's Heights
Gainan's Midtown
Goldsmith Gallery
Hooligans
Jake's Downtown
Joy of Living
Joy of Living Downtown
Le Fournil
Levity Bar
Montana Brewing Company
Northern Bouqtiue
Potagers
Pub Station
Ranch House Meats
Real Deals
Red Door and Lounge
Red Wing Shoes
Sanctuary
Seafoods of the World
SOMETHINGchic
Swanky Roots
The Basecamp
The Christmas Store
Thirsty Street
This House of Books
Total Nutrition
U-Do yogurt
Walkers Grill
Wild Birds Unlimited
Wise wonders
Yellowstone Art Museum
ZooMontana
What is the Small Business Saturday Movement?
Small Business Saturday was started in 2010 by American Express in hopes of building a day dedicated to shopping small businesses and offers a fun way to celebrate the holiday shopping season. For the past several years the Chamber added a fun spin to the shopping day through the Shop Small game board, allowing us the opportunity to promote our small business members and help drive sales by engaging our community. In fact, Small Business Saturday 2016 reported $15.4 billion in sales for independent retailers and restaurants on that day alone.

American Express encourages area Chambers of Commerce to champion their city's Small Business Saturday so they can link together small businesses across the city, help coordinate media and marketing, and ultimately champion the drive for consumers to get out and shop small businesses. And, now we need you to rally with us! Explore the questions and answers below to learn more about the program.
Q: When is Small Business Saturday?
A: Small Business Saturday is November 28th and marketing for this campaign will be promoted throughout the month of November.
Q: What is the Small Business Saturday Game and how do I play?

A: The Small Business Saturday Game is a way for you, the consumer, to get out, shop with small businesses, and enter to win gift cards from the participating merchants! The game actually lasts all weekend – meaning you don't have to cram all your shopping into Saturday. Start on Saturday, November 28th-30th. At each stop, have an employee mark your board. Once you've visited ten participating merchants, leave your game board there. We'll pick them up on December 1st and draw winners by December 4th!

Q: Can anyone participate in the game?

A: No. Participants must be 21 years of age or older. Complete Rules and Regulations available here.

Q: Do I need to purchase something at each of the ten merchants?

A: No. No purchase is necessary.  Complete Rules and Regulations available here. 
A little more on the subject of small business:
The Billings Chamber is based on small businesses; in fact, 88% of our membership base is comprised of small businesses. The Billings Chamber supports all businesses through a combination of advocacy, facilitated business connections, and opportunities for growth. In particular, our advocacy efforts aim to be a voice for small businesses in general, speaking out in favor of the legislation, policies, and movements that are pro-business, and advocating against those that will do harm to small businesses. Small Business Saturday and our Shop Billings movement are a perfect example of these efforts. Before going online this holiday season, support your friends and neighbors. Shop Billings!