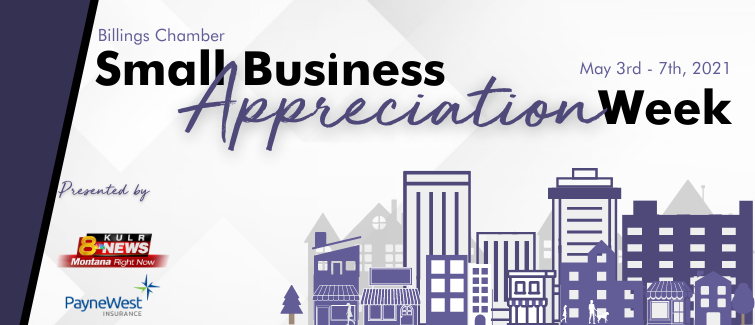 After a year of turbulence, the Billings Chamber is thrilled to celebrate 2021 Small Business Appreciation Week May 3rd- 7th. Small businesses are crucial to the local economy: there are more than 30.7 million of them in the United States accounting for 99.9% of all U.S. businesses. Specific to Billings and the chamber, our membership of over 1,100 businesses is made up of over 80% small businesses. We call them small, but they are definitely mighty!
What is a small business? The Small Business Administration defines a small business as a firm which has fewer than 500 employees. This means many of the businesses within the Billings region – even some that seem large to most – are considered a small business.
Small Business Appreciation Week was created to celebrate and show appreciation to these businesses. The shops who sponsor our little league teams, donate to non-profits, fundraisers and raffles, who give to the Go Fund Me campaigns arranged for our community members in need. Small businesses show up, even when they're down. We saw how the COVID-19 pandemic devastated many small businesses and the Chamber is creating opportunities for everyone to show up and show appreciation for all they do.
We are kicking off Small Business Appreciation Week with Billings Chamber President and CEO John Brewer, along with Colin Sauskojus of Rail Line Coffee, Stephanie Elumbaugh of Adult Resource Alliance of Yellowstone County, and Xiaoyi Wang with Job Service Billings.
We are grateful to our presenting sponsors, KULR8 and PayneWest Insurance. Without their support and investment, this event would not be possible.
KULR8 News
PayneWest Insurance
Make sure to watch this fantastic video created by PayneWest Insurance highlighting one of our favorite downtown businesses, Rock Creek Coffee Roasters.
Watch this great video created by PayneWest Insurance highlighting one of our hard working local businesses, Comfort Heating and Air Conditioning.
Business Excellence Award Winners
Make sure to watch this fantastic video created by KULR8 showcasing all of our amazing Business Excellence Award winners!
Interviews with Local Small Business Owners
Every business has a story, and we can't wait to share some of them with you! Watch these interviews with some of our Chamber members and learn how these businesses impact you and our community.
Check out this great interview with Sherry Weamer of the Red Lodge Area Chamber of Commerce as she talks about the importance of tourism for small businesses in Montana, and why being a part of a Chamber is so beneficial for not only a business but the economy.
Watch this great interview with the team at Transitional Marketing as they share about the exciting wins but also challenges in running a small family owned business, as well as what they love most about being Chamber members.
Watch this fantastic interview with Cole and Katie Whitmoyer of Flex Family Health as they share about their unique business model and the focus they place on individualized, collaborative, high quality and affordable health care for individuals and for other small businesses! They also believe that being a Chamber member has really helped their business to grow and prosper.
Small Business Appreciation Week Blogs
Celebrating Small Business Champions during Small Business Appreciation Week
by John Brewer, President/CEO Billings Chamber
Small Business: An Inspiration for Memorable Travel
by Luke Ashmore, Special Projects & Program Manager Visit Billings
Here for Business. Here for Billings.  
by Marya Pennington, Public Relations Manager Billings Chamber

A Toast to Montana's 2021 Legislative Session
by Daniel Brooks, Business Advocacy Director
Smart Design. Safer Spaces. A Thumb on the Scale for a Safer Billings
by Jack Jennaway, Business Advocacy Coordinator
The Importance of Connecting
by Jennifer Reiser, Chief Operating Officer
Pursuit of Billings Virtual Scavenger Hunt
Small businesses are what make any community unique, and Billings is no exception. We have created an engaging opportunity to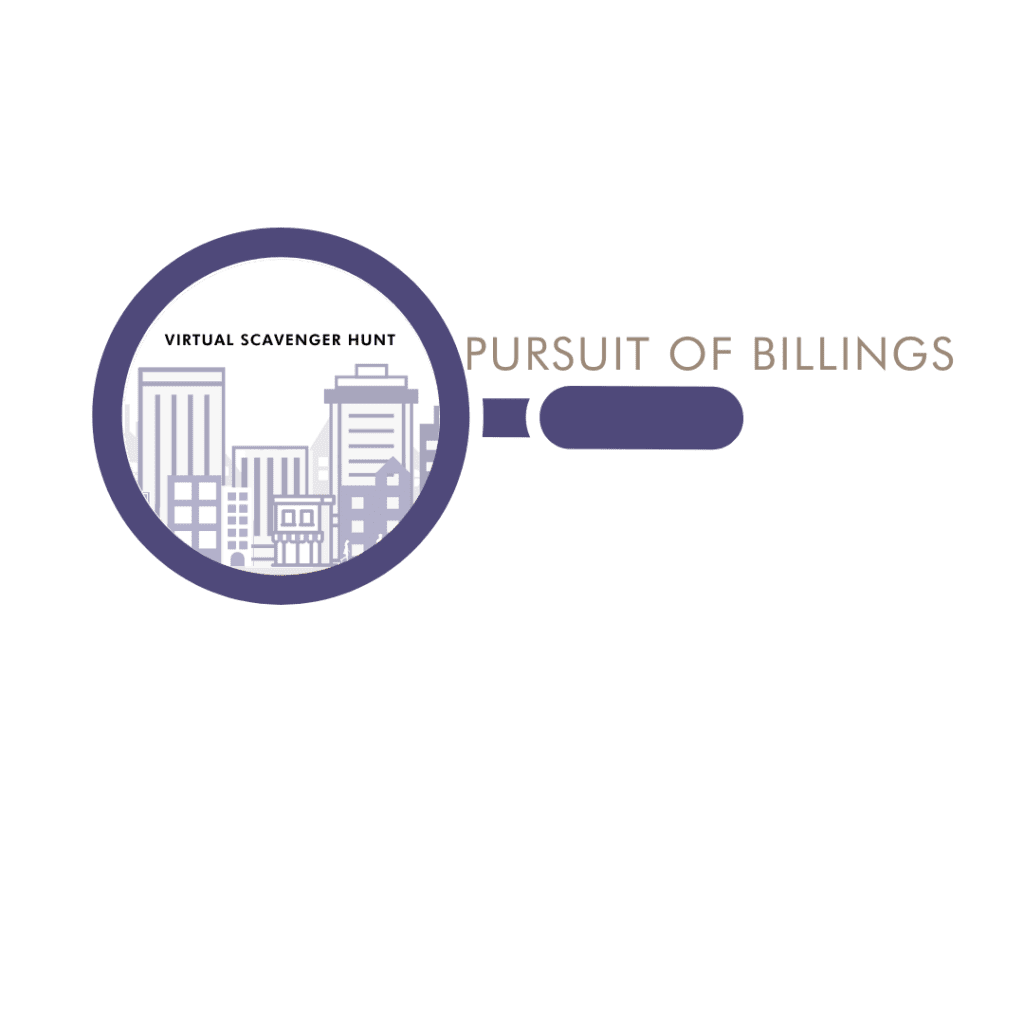 support these businesses while being entered in to win a grand prize bundle.
Each day a clue will be posted to the Billings Chamber Facebook page. The clues will also be announced on KULR8 during their early morning and evening news broadcasts. If you guess correctly in the social media comments, you will receive one point. If you post a picture of you at the correct location, you will received five points. On Monday, May 10th we will announce the first and second place winners of the Pursuit of Billings Virtual Scavenger Hunt. The prize bundles are amazing and will absolutely be worth your time and attention!
Do not miss opportunity to test your detective skills and visit some of Billings' best and most unique small businesses!
Fun Facts about the Small Business Community
While we all love to get out and support the incredible small businesses we have in Billings, it's also important to learn why they are so important. Follow along on our social channels to learn and share interesting facts about small businesses.
Instagram Reel Challenge
Instagram Reels are a fun and engaging way to discover and create short, entertaining videos on Instagram. The Billings Chamber challenges your business to create a Reel about your favorite small businesses in Billings. Just post your Reel to Instagram, tag @billingschamber and use #ShopBillings. Get out there and spotlight the best of the best in Billings!
Small Business Appreciation Week is a way for us all to show gratitude for the innovative small businesses who fought their way through an amazingly difficult year. And, it's also an opportunity for all of us to get together around a common theme while still being safe and responsible. Don't miss out on the opportunity to learn, engage, win prizes, and show appreciation for the businesses that make Billings great! Thank you for joining the Billings Chamber during Small Business Appreciation Week May 3 – 7!
Small Business Appreciation Week Wrap-Up
Finish up your celebration of Small Business Appreciation Week by watching this final wrap-up video at Thirsty Street Brewing Company, with Billings Chamber President/CEO John Brewer, Chamber Board Chair Mike Nelson, KULR8 Station Manager Becky Hillier, and Senior Marketing Manager at PayneWest Insurance, Vicki-Lynn Terpstra.